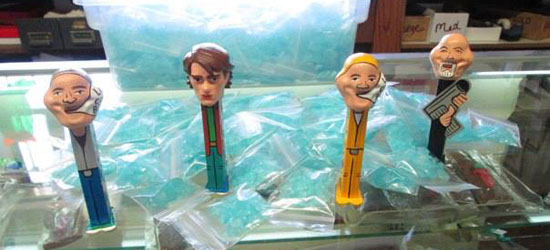 Photo Courtesy Kaeli Conforti. Article by Kaeli Conforti of Budget Travel.
As the commercials say, all bad things must come to an end. The AMC hit television show Breaking Bad may be drawing to a close this summer -- don't miss the first episode of the last half of the season Sunday, August 11th -- but we've got four ways fans of the show can get their fix before it's all over.
If you're lucky enough to be anywhere near Albuquerque, N.M., where nearly the entire series has been filmed, catch a ride on The BaD Tour by the Albuquerque Trolley Company, a 3.5 hour open-air joyride that covers 38 miles and 13 main locations from the show including the exteriors of Walter White, Jesse Pinkman, and Gus's houses, the car wash and laundry facilities that act as the meth-maker's storefronts, Tuco's headquarters, the ever-shady Crossroads Motel, and the infamous railroad tracks. To top it all off, you'll get a complimentary drink during a stop at Twisters Grill, the restaurant that doubles as Los Pollos Hermanos on the show. Tickets cost $65 per person including taxes and leave from 208 San Felipe St. NW in Albuquerque's Historic Old Town. Check website for available dates and to purchase tickets online. Please note that the tour is rated 'R' because of the show's dark subject matter and may not be appropriate for children.
If you're short on time or if tickets happen to sell out due to the tour's popularity, the Albuquerque Trolley Company also offers an 85-minute long Best of ABQ City Tour, featuring a peek at several major sites from the show like Jesse Pinkman's house and Hank's DEA office during a fun trip through Historic Old Town, Museum Row, Nob Hill, the University of New Mexico, the historic Barelas neighborhood, and along Historic Route 66. Tickets cost $25 for adults, $23 for students and seniors over age 65, and $12 for children under age 12. Tours leave from 208 San Felipe St. NW in Albuquerque's Historic Old Town.
If you'd rather discover the magic of the Breaking Bad locations yourself, the Albuquerque Convention & Visitors Bureau's website lists places of note and information for a self-guided tour of the hotspots like Los Pollos Hermanos and the Octopus Car Wash, both featured in the series. Die hard fans of the show should not miss the chance to buy iconic "blue ice candy," rock candy colored to look just like the main characters' special product, from The Candy Lady, a specialty sweet shop located in Albuquerque's Historic Old Town. Also for sale are a slew of Breaking Bad t-shirts and other merchandise including Walter White's signature black hat. Blue ice candy packages sell for $1 each and are also available online—five packages for $5 and 10 packages for $10, plus shipping and handling. Walter White's hat replica sells for $39.95 in the store and online.
If you happen to be in the New York City area (which just so happens to have affordable non-stop flights from JFK to Albuquerque thanks to a new JetBlue route), the Museum of the Moving Image will be featuring an exhibit entitled, From Mr. Chips to Scarface: Walter White's Transformation in Breaking Bad, from July 26th thru Oct. 27th. The Museum of the Moving Image is located at 36-01 35th Avenue in Astoria, Queens. General admission is $12 for adults, $9 for students and seniors over age 65, and $6 for children ages 3-12. Free admission is available every Friday from 4 p.m. to 8 p.m. as well as for New York City public school teachers and active-duty military personnel with a valid I.D.