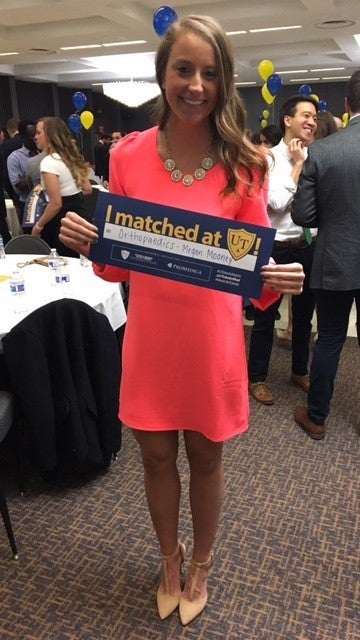 Megan is currently a fourth year medical student at The University of Toledo, in Toledo, Ohio. She has recently matched in our orthopaedic residency program. Her story is inspiring. She is the AOA Vice President, Gold Humanism Honor Society Member, and Student Committee Member of the Dean's Teaching Award of Excellence. Her story shows how a young female from a small town in Ohio was able to break all barriers and achieve her dream to become an orthopaedic surgeon. It was a hard, long and narrow road with gratifying results and we salute her.
Raised in a small farm town in Ohio, I learned a lot about life. How to use a shovel, shoot a gun and stay out of trouble- or at least try. But what I really learned from growing up in a small town was how to work hard, day in and day out. Farmers, laborers, and professionals alike, they all had grit. I watched my dad put on his work boots, come home 12 hours later, and never once complain. He did it every single day. He was epitomized hard work. From an early age I learned to put my head down, work hard, say 'thank you,' and smile. I certainly would not be writing this article if it had been any other way.
I guess it's no surprise that I find myself graduating medical school and entering into an orthopaedic residency. My initial attraction to medicine and orthopaedics had everything to do with the feeling I had after a long day. A feeling of accomplishment, satisfaction and genuine hard work. It was mechanical and logical. It made sense to me. I instantly loved the teamwork and order of the operating room. Personally, there was nothing more satisfying than seeing a fracture on x-ray, taking a drill in my hand, and fixing it.
Once I found my niche in orthopaedics, I set to working on making my dream a reality. Most would argue that landing an orthopaedic residency takes dedication, drive, perseverance, passion, and just plain hard work. I'm here to tell you all of those things are true. Now here is what you need to do to position yourself for a successful match.
1. Develop a plan of attack.
So you've decided you want to be an orthopaedic surgeon. Now go find a mentor. Make sure this person is someone who is going to push you and give you honest feedback.
2. Kill your board exams.
Orthopaedics is one of the most competitive specialties. You need to blow step one out of the water. Figure out how to do this and get to work.
3. Build your application.
Be the best version of yourself both on rotations and on paper. If there is a weakness in your application, fix it. If you don't know how, ask. Be your own advocate. Go after the things you want. It could be a publication, a medical mission, a leadership position or all three. It doesn't matter what it is, just go get it.
Everyday you go to clinic, be there and be ready to learn. Whether it's orthopaedics or pediatrics, you can always learn something. So learn something.
5. Out work everyone else.
Becoming an orthopaedic surgeon takes sacrifice and diligence. It means studying on Friday night, missing your family, and staying late to check on your patients. You have to be willing to give it your all every day and in every capacity.
The process of becoming an orthopaedic surgeon is intimidating, but take it from a small town Ohioan: if you are willing to dig your heels in and put in the work, it will pay off. The reward is worth every single sacrifice.
Related
Popular in the Community