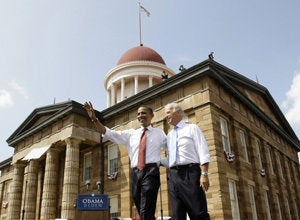 Once upon a time, Illinois was the swingiest state in all the land. Its electoral votes were critical in clinching an electoral victory for John F. Kennedy in 1960, and in each election from 1948 through 1988, it ran within 6 points of the national popular vote -- the only state in the country to do so.
Nowadays, however, save for the large footprint of the Obama campaign, Illinois -- and particularly Chicago -- is perhaps among the least interesting places to be a voter in the entire country. The Democrat wins comfortably in races for President and the state's two Senate seats, while the Republican brand is so damaged in Illinois that corrupt, scandal-prone Governor Rod Blagojevich -- who is now trying to fend off periodic attempts to recall him -- won re-election against a relatively compelling Republican opponent in Judy Baar Topinka by 10 points in 2006.
The story of Illinois' political transformation is the story of the bluing of the Chicago suburbs, which now account for slightly more than 50 percent of the state's population.
Calling all HuffPost superfans!
Sign up for membership to become a founding member and help shape HuffPost's next chapter