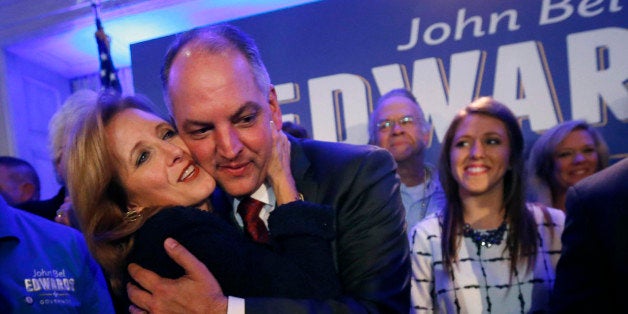 There were two winners Saturday's Louisiana general runoff. One was state Rep. John Bel Edwards, the unknown Democrat who was elected governor. The other was political polling. Why?
Political Polling Striking Back: If Louisiana's 2015 gubernatorial election was a story of redemption, it was the political polling - and not David Vitter - that was redeemed. The failure of political polls to capture the late surge to Republican Matt Bevin left most observers wondering whether the polls might be equally flawed in Louisiana. As LSU political scientist Michael Henderson observed, the polls would have to be much further off than the Kentucky polls to miss their mark in Louisiana.
In the end, Democrat John Bel Edwards defeated David Vitter by a healthy 12-point margin, not far off the 10-point margin estimated by Huffpost Pollster based on aggregated state poll results. Before we get too self-congratulatory, however, it worth noting that looking at the average misses considerable variation across polls which ranged from a 4-point to 20-point margin. The larger lesson is not that we need less polling in state elections but that we need more. Fewer observations, as was the case in Kentucky, increases the risks of error.
Turnout Matters: Turnout was up slightly in the general election. Forty percent of registered voters cast a ballot in the general election compared to 38 percent in the primary. Perhaps more important was where turnout increased. Turnout increased in 24 parishes relative to the primary election while decreasing in the other 40 parishes. These shifts were not politically neutral. Consistent with the analyses of early voting, turnout increased in larger parishes with more registered Democrats and more registered African-Americans (and more registered voters in general). In East Baton Rouge Parish, for example, 11,181 more voters cast a ballot in the general election than in the primary. Similarly, in Orleans Parish, 17,053 more voters cast a ballot. A simple model estimating John Bel Edwards' increase in the share of the vote from the primary to the general election similarly shows a direct connection to increases in voter turnout. Increased voter turnout generally increased John Bel Edwards' share of the vote at the parish level.
Divisive Primaries: Though the effects are often contingent on local context, divisive primaries can hurt a political party's chances in the general election. Within the Louisiana context, Republican divisions in clearly damaged David Vitter's chances. We can see evidence of this in the parish-level voting returns by considering how David Vitter performed in parishes where his Republican primary opponents, Jay Dardenne and Scott Angelle, attracted larger shares of the vote.
First, voter turnout was lower than expected in these parishes. In heavily Republican Livingston Parish, for example, Jay Dardenne and Scott Angelle combined for 47 percent of the vote during the October primary. Voter turnout during the general election was 36 percent. In the 2014 U.S. Senate election in which Republican Challenger Bill Cassidy toppled incumbent Democratic Senator Mary Landrieu, voter turnout was 42 percent.
Second, David Vitter underperformed relative to expectation in parishes where Dardenne and Angelle ran well during the primary. Heavily Republican Livingston Parish serves again as useful example: Republican Bill Cassidy won 82 percent of the vote in Livingston in his 2014 Senate campaign. David Vitter won just 60 percent in 2015. Figure 2 presents the effect of the Dardenne and Angelle vote on David Vitter's percent of the vote controlling for the expected vote (defined as Republican percent of the vote in 2014 Senate election). Notably, the model predicts Vitter would have received 52% of the vote without Dardenne or Vitter in the election. When their combined vote exceeded 10 percent, the predicted Vitter vote dropped below 50 percent.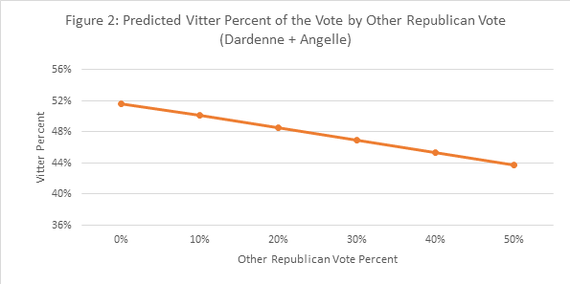 Revisiting Vitter's Scandals and the Jindal Drag: Given Louisiana's solid red voting tendencies in recent elections, primary divisiveness and voter turnout may not have been sufficient for securing a Democratic victory. Vitter also confronted two additional challenges: (1) Unpopular incumbent Governor Bobby Jindal created a mood in the state supportive of a "change" election; and (2) John Bel Edwards was able to revisit David Vitter's prostitution scandal in a novel way. While the scandal itself was old news, tying the scandal to his performance in office added a new twist and made it relevant in the current campaign. An immediate scandal can cost an incumbent up to 14 points in a reelection effort.
In the parlance of political science, John Bel Edwards victory in Louisiana is a "deviating" election, meaning that the outcome runs against underlying partisan alignments. For Democrats, this means the victory does little to change the larger political landscape in Louisiana which remains solidly red. John Bel Edwards will have to govern by working with Republican majorities in the Louisiana legislature. For Republicans, the election provides yet another cautionary tale that intra-party division can lead to general election loses even in places where they hold significant advantages.
Popular in the Community