What is it like to make a financial investment in an up-and-coming social-change leader every single day of the year? Since 2013, the Pollination Project has helped me make daily micro grants to emerging projects and inspiring people all over the world. Nearly 50 others have now joined us in the practice of making a grant a day. As of Dec. 31, 2014, we have made 790 total grants in 55 countries.
Ending Caste in India.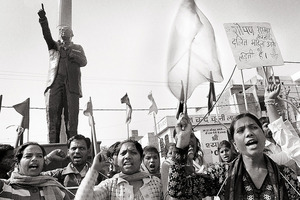 #DALITWOMENFIGHT is a media-based initiative that exposes the issue at the core of India's rape crisis: caste-based sexual violence. The project brings together scholars, artists, and activists to eradicate caste in India. Through the documentation of the historic Dalit Women's Self-Respect Movement, engagements with survivors, perpetrators, activists and public officials, the project will uncover this "invisible" human rights travesty.
Learning about Justice in California. Bringing Down the New Jim Crow Radio Documentary Series explores and gives a voice to the continuing struggle for racial justice in the United States during the era of mass incarceration. Inspired by Michelle Alexander's groundbreaking book, "The New Jim Crow: Mass Incarceration in the Age of Colorblindness," this project weaves together incisive analysis, candid interviews and evocative music. Produced by Chris Moore-Backman, in collaboration with KZFR Community Radio in Chico, California, the series shines a light on the people who are most directly impacted by the systemic oppression of our nation's drug war and prison industrial complex, and captures the emergence of the growing national movement working to dismantle these institutions of injustice.
Upcycling in Uganda.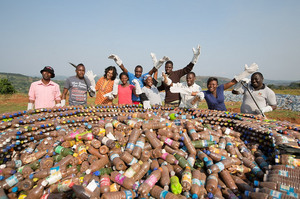 David Miiro is part of the Social Innovation Academy (SINA) in Uganda, which seeks to protect the environment and promote innovative mindsets while empowering youth. The major beverage companies in Uganda are phasing out recyclable glass bottles, replacing them with plastic bottles. Without a garbage disposal system in place in Uganda, the bottles are burnt with devastating effects on the environment. David wants to raise awareness and show innovative ways of upcycling waste, including creating bottle bricks that can be used to build environmentally efficient houses. With the goal of protecting the environment and benefiting disadvantaged youth, David and a team of volunteers will offer hands-on training to their local community in Mpigi, Uganda by building an upcycled materials learning hub.
Restorative Justice in Texas.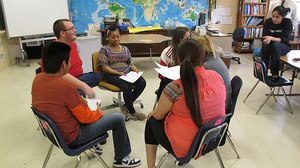 As a high school teacher in Houston, Texas, Anita Wadhwa has had a front row seat to the "school to prison" pipeline, the phenomenon in which students who are repeatedly suspended and expelled have an increased likelihood of dropping out and ending up in the criminal justice system. "Seeding Restorative Justice in Houston Schools" offers a solution to the epidemic of suspensions. The project uses restorative justice as an alternative to punitive practices by convening all participants affected by crime or conflict. Ideally, all participants come to an agreement in order to repair the harm, rather than resorting to suspensions and expulsions.
Opening Books and Minds in San Luis Obispo. Liz Krieger Liz Krieger, a retired children's librarian, is helping make reading cool for many children who have few books at home. Hawthorne School, in a working class area of San Luis Obispo, CA, has many immigrant children who speak a variety of languages at home. 50% are Latino. All classes in grades three through six visit her historic home, a veritable treasure chest of children's books. The kids depart with backpacks and bags bulging with books that they may keep. They take home books that accent heroes of social justice and ecology, along with lots of just for fun reads. They are growing their own libraries.
Empowerment in Uganda. Many people may consider Fred Batale as "disabled" because he has to maneuver through the busy streets of Kampala, Uganda in a wheelchair. After contracting polio and becoming paralyzed at 5 years old, Fred didn't let his disability hinder his dreams. He completed a three-year university program where he studied industrial and fine arts and is now leading projects that empower other citizens with physical disabilities, such as the Disability Art Project Uganda. In Uganda, it is estimated that 80 percent of people with disabilities are unemployed, with many attaining little to no education because of family denial and poor school grounds that lack accommodations. Because of this, people often beg for survival and live in the streets. Fred's organization allows people to come together with the aim of empowering those with disabilities to develop practical skills, confidence and fulfill their creative potential. They offer art and design skills and create unique products with the goal of providing economic stability.
Volunteerism in Baltimore.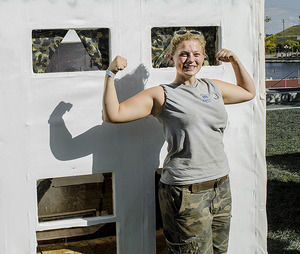 In August 2012, John Oliver, a professional photographer, envisioned an organization that would enable volunteer photographers to give back to their communities. It was a simple idea: use photography to strengthen the city of Baltimore, Maryland by helping non-profit organizations. BeMore Photography now has a team of 45 volunteers including photographers, videographers, and graphic design artists. These volunteers make it possible for organizations in the area to obtain high-quality imagery documenting their mission, events, and organization, while simultaneously supporting the development and education of a socially conscious community of artists focused on re-imagining Baltimore from the ground up.
Want to be part of the joy of giving with us? Join our Daily Giving Community, or simply create your own giving practice. It will change your life!
Calling all HuffPost superfans!
Sign up for membership to become a founding member and help shape HuffPost's next chapter