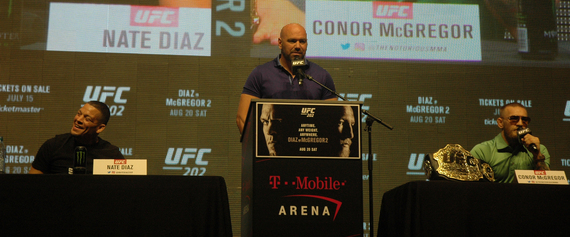 It's arguably the biggest rematch in UFC history, and has potential to be the highest grossing event in the promotion's 23-year existence.
For the second time in less-than six months, UFC featherweight champion Conor McGregor will face former The Ultimate Fighter winner Nate Diaz at welterweight. The pair will meet at the T-Mobile Arena in Las Vegas on August 20 to headline UFC 202 (10 P.M. EST, Pay Per View), as McGregor looks to avenge his lone loss inside the Octagon, after tapping out to a Diaz rear-naked choke at UFC 196.
Unlike the first bout, McGregor (19-3, 7-1 UFC) has been preparing specifically for Diaz, spending a reported 300,000-dollars on a customized training camp. Working with Brazilian jiu jitsu legend Dillon Danis, McGregor is expected to bring improved defense on the mat into this bout. But it's still on the feet where McGregor will do the majority of his work.
Diaz (19-10, 14-8 UFC), a late replacement for an injured Rafael Dos Anjos at UFC 196, is also expected to bring a more refined skillset into the Octagon, aided by the benefit of a full training camp. And much like the previous bout, Diaz will use his boxing, length, cardio and experience to outlast McGregor.
To his advantage, McGregor seems to own the edge in speed and power. But his quickness will be essential to move in and out of Diaz's reach, and the power will need to be harnessed, unlike the first bout, when McGregor punched himself out midway through the second frame.
Able to absorb hard shots from a bevvy of former champions and challengers during his eight-year UFC career, Diaz, who has only been stopped via strikes once in 29 professional fights, looks to have a massive advantage on the ground, after submitting McGregor during their previous encounter. However, Diaz credits his dominance on the ground to his relentless boxing, which is crisp and efficient; the former lightweight title challenger lit McGregor up with the jab in the second round of their first bout, prompting the Irishman to head to the mat to avoid further punishment.
There is no doubt that McGregor will come out more patient this time around, and establish a slower pace. But as Diaz stalks forward, McGregor will need to land hard and often in order to keep his distance and avoid the jab. Diaz will likely employ similar tactics as the first bout, advancing on the strength of his boxing, before working his submission game.
Sometime in the third round, Diaz will find his opening, and force the tapout.
Co-main event: Anthony Johnson vs. Glover Teixeira
A fight that will likely determined the next contender at 205 pounds, top-five light heavyweights Anthony Johnson and Glover Teixeira will finally slug it out, after a previous booking fell through in July.
Johnson (21-5, 12-5 UFC), who last competed in January, is considered one of the hardest hitters in mixed martial arts. And after losing a shot at the belt at UFC 187, Johnson has returned to his signature knockout ways, claiming two-straight Performance of the Night bonuses.
A former title challenger, Teixeira (25-4 MMA, 8-2 UFC) has not lost in 22 months, taking three-straight bouts via stoppage. Teixeira possesses big power in his hands, knocking out his last two opponents, and he'll look to connect with Johnson's chin as he stalks forward.
This fight will likely come down to who strikes first. And while Johnson is the more athletic of the two, Teixeira has the more proven chin, not to mention the advantage in the submission game. Still, Johnson will be able to avoid Teixeira's best punches, and land his own head kick-punch combo to stun Teixeira and take the bout via TKO.
Donald Cerrone vs. Rick Story
Looking for his third-straight win at 170 pounds, sixth-ranked UFC lightweight Donald Cerrone will attempt to crack the welterweight top-10, as he faces ninth-ranked Rick Story.
Having only lost to former UFC champions and title challengers during his five years with the promotion, Cerrone (30-7 MMA, 17-4 UFC) is a complete mixed martial artist, able to finish bouts on the feet or on the ground. Cerrone possesses a vast kicking arsenal, with takedowns and submissions to complement the stand up.
Story (19-8 MMA, 12-6 UFC), who owns a notable win over former UFC welterweight champion John Hendricks, is a completely different type of athlete, using his wrestling and pressure to push forward with a competent boxing and clinch game. Consistent rather than flashy, Story uses strength and control to neutralize opponents and their weapons. It's a tactic he's likely to employ against Cerrone.
Look for both fighters to come out patient in this bout. And while Cerrone will attack Story's legs with low kicks, Story will push forward to dirty box Cerrone along the fence. And while it may not be pretty, Rick Story will pull the upset here and take the decision victory.
Cody Garbrandt vs. Takeya Mizugaki
Topping the undercard (8 P.M. EST, FOX Sports 1), top-15 bantamweights Cody Garbrandt and Takeya Mizugaki mix it up with a potential title shot hanging in the balance.
A heavily touted prospect out of Sacramento's Team Alpha Male, Garbrandt (9-0 MMA, 4-0 UFC) is a hard-hitting boxer and wrestler who has knocked out his last two opponents. Mizugaki (21-9-2 MMA, 8-4 UFC) is a consistent and patient veteran, who has faced some of the all-time best in the division.
Garbrandt will likely come out fast, looking for the knockout, but Mizugaki will keep his distance to understand and read timing. Backpedaling, Mizugaki will frustrate Garbrandt throughout the contest. And while a finish is unlikely, this will be an important fight for Garbrandt's growth, as he continues to face tougher competition.
Cody Garbrandt takes this bout via decision.
Neil Magny vs. Lorenz Larkin
Capping off the UFC Fight Pass prelims (6:30 P.M. EST, UFC Fight Pass), welterweights Neil Magny and Lorenz Larkin square off in what should be a striking-heavy affair.
A winner of three straight, Magny (18-4 MMA, 11-3 UFC) has looked impressive after faltering to a 1-2 start in his UFC career. Magny, who is one of the taller and longer welterweights in the division, has excellent boxing, and is able to use his jab and reach to dictate where fights play out.
Larkin (17-5 MMA, 4-5 UFC), who steps in for an injured Dong Hyun Kim, is predominantly a kick boxer, able to light it up on the feet.
In what should be a competitive contest, Magny and Larkin will both look to finish the fight on the feet. But it will be Magny's reach, volume, and cardio that ultimately give him the edge and the decision victory.
Calling all HuffPost superfans!
Sign up for membership to become a founding member and help shape HuffPost's next chapter