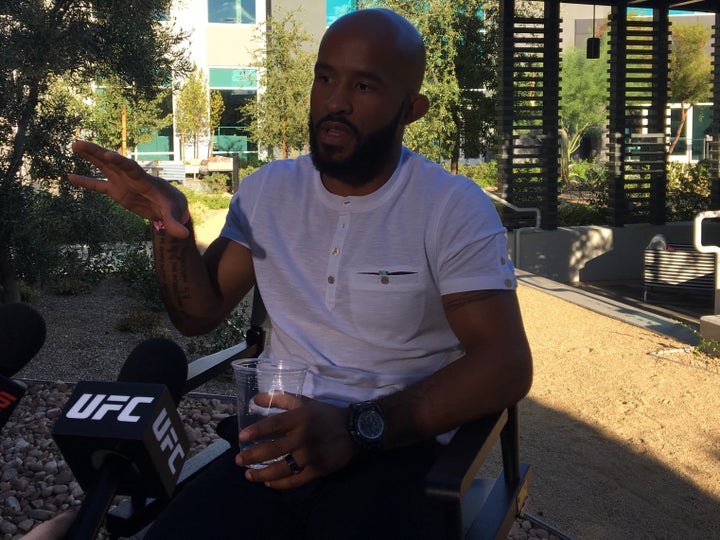 And while the names on the fight card may not be the most well known to the mainstream viewing audience, UFC 215 (10 P.M. EST/7 P.M. PST, Pay Per View) may eventually go down as an all-time historic event, should flyweight champion Demetrious Johnson surpass the legendary Anderson Silva as the UFC's most decorated titlist.
First winning the flyweight belt in 2012, Johnson (21-2-1 MMA, 14-1-1 UFC), the only champion in the history of the UFC's 125-pound division, has since gone on to defend the title 10 times. He has demonstrated excellence in every facet of mixed martial arts, ascending to the top of the UFC's pound-for-pound list. There simply has been no match for Johnson at flyweight, who is undefeated since dropping down a weight class.
Attempting to end Johnson's thirteen-fight unbeaten streak is 24 year-old Ray Borg, a winner of two straight who trains out of Albuquerque's Jackson Wink MMA. Borg (11-2 MMA, 5-2 UFC) first started calling for a title shot after UFC 207, despite missing weight prior to the event. However, he has shown improvements with every outing, utilizing a wrestle-boxing approach that relies on power punches and converting takedowns.
A talented up-and-comer, Borg will likely stay near the top of the division for quite some time, but he has yet to demonstrate skills that are on the same level of Johnson, who is on his way to being considered one of the greats in MMA history.
Look for Demetrious Johnson to take his time in this fight, using the first couple of rounds to gauge distance with low kicks, while landing punches to move into the clinch, where he'll effectively use knees and elbows to stun Borg before going for takedowns. And as Borg begins to tire, Johnson will pour on the offense in the third and fourth rounds, when he'll finish the fight via submission.
Co-main event: Amanda Nunes vs. Valentina Shevchenko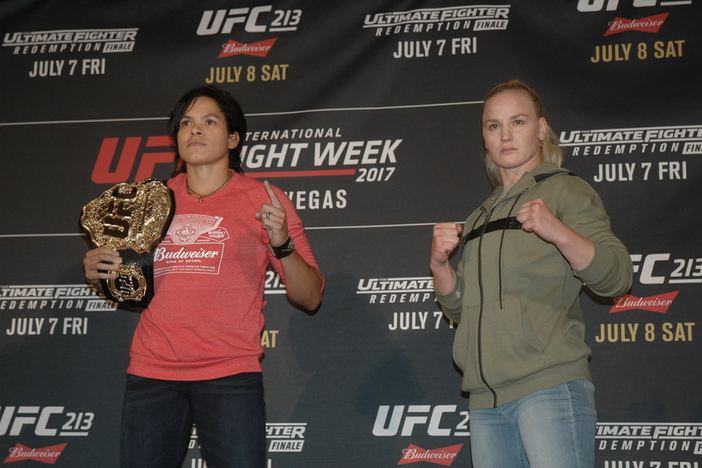 It's been two months since Amanda Nunes pulled out of her UFC 213 rematch against Valentina Shevchenko just hours before the fight, citing chronic sinusitis. And what was a major blow to the UFC's International Fight Week ultimately becomes a bonus for the Edmonton, Alberta, Canada crowd, as the two will finally meet, 18 months after their first bout at UFC 196.
A winner of five straight, Nunes (14-4 MMA, 7-1 UFC) will attempt the second defense of the women's bantamweight title she won at UFC 200 after dispatching of Ronda Rousey in just 48 seconds last December. Her preference for power punching and ability to cover distance and unload strikes has helped Nunes to six finishes inside the Octagon, although it is Shevchenko who took the champion the distance in March 2016.
Shevchenko (14-2 MMA, 3-1 UFC), a decorated Muay Thai champion, has won two straight en route to her first UFC title shot, outlasting Holly Holm in July 2016 before finishing Julianna Pena with an armbar earlier this year. Undersized for the bantamweight class, Shevchenko has used her dynamic striking arsenal to best opponents and climb the divisional ranks.
Just two months ago, Nunes was pegged as a favorite in this matchup, but the tides have shifted, greatly, in the time that has since passed. Shevchenko has had more time to refine her MMA game, while Nunes has had to battle illness with the help of medical specialists, and herein lies the shift in perception.
While Nunes possesses all the tools to steamroll through opponents, she was unable to do so against Shevchenko, who fights with a calculated and methodical approach. And looking back on their first bout, Shevchenko clearly took the third round against a fatigued and gassed Nunes, who won the first two frames.
So expect more of the same this time around. However, while Nunes will do her best to finish the fight early and use her heavy punches to stun Shevchenko, the challenger will weather the storm and pick up the pace in the later rounds.
Valentina Shevchenko takes this one via decision.
Rafael dos Anjos vs. Neil Magny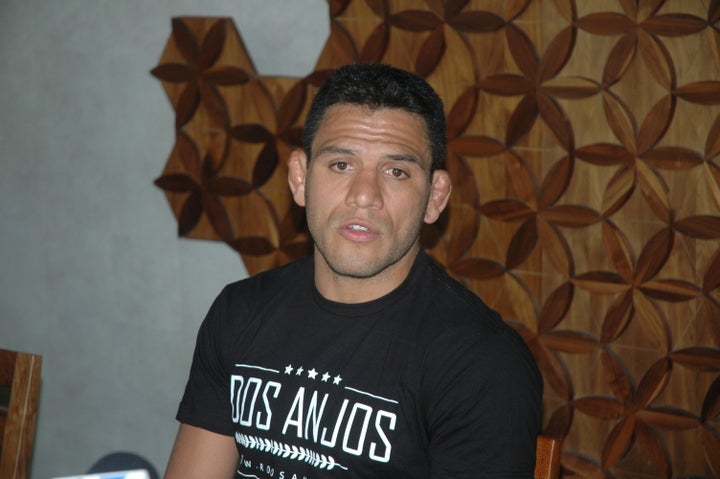 This battle of top-15 welterweights pits former lightweight champion Rafael dos Anjos against the long and lean Neil Magny. And while neither will walk away from the bout as an immediate title challenger, a win here is essential for both fighters.
For dos Anjos (26-9 MMA, 15-7 UFC), ranked tenth, the move up to 170 pounds has provided refuge after dropping the lightweight title at Ultimate Fight Night 90 in July 2016. Following a subsequent loss to Tony Ferguson last November, dos Anjos, who struggled to make the 155 pound limit, made the jump to welterweight.
Having already disposed of fifteenth-ranked Tarec Saffiedine in his welterweight debut in June, dos Anjos now faces a unique test in the sixth-ranked Magny, who is the tallest opposition he has faced inside the Octagon.
One of the most active UFC fighters in recent years, Magny (19-5 MMA, 12-4 UFC) returns to the Octagon for his first fight since December 2016. Magny is a rangy striker who has demonstrated an improved ground game, but is still susceptible to the takedown, and herein lies the main advantage for dos Anjos.
While Magny fights well moving forward, using his length to corner opponents, he's shown vulnerability while back peddling, unable to thwart his adversary's advances. And if dos Anjos is to have a chance, he will need to rush inside to nullify Magny's significant height and reach advantage. Once in close range, dos Anjos will bring the fight to the canvas, where he will earn the submission.
Tyson Pedro vs. Ilir Latifi
An intriguing matchup in the light heavyweight division, this bout between thirteenth-ranked Tyson Pedro and Ilir Latifi, ranked tenth, has a Performance of the Night bonus written all over it.
Of all the pre-fight statistics, the most glaring is Pedro's (6-0 MMA, 2-0 UFC) seven-inch height advantage. He also has six inches on Latifi in the reach department.
Size and length are not everything in MMA, but the discrepancy will limit Latifi's (12-5 MMA, 5-3 UFC) striking output. Fortunately, he's a wrestler anyway.
Pedro, who was last seen in action at UFC 209, is a savvy grappler with plenty of offensive jiu jitsu. So, if Latifi brings this fight to the ground, Pedro, who also has devastating knees in the clinch, may welcome the challenge.
A major knock on Pedro going into this fight is a lack of experience. He has, in fact, never seen the second round of a fight, finishing all of his bouts inside the first frame, leading to questions about his cardio and ability to hang in deep waters.
Still, while Latifi may have an edge later in the fight, he likely won't have the chance to take it there, as Pedro will pull the upset and earn the early knockout.
Jeremy Stephens vs. Gilbert Melendez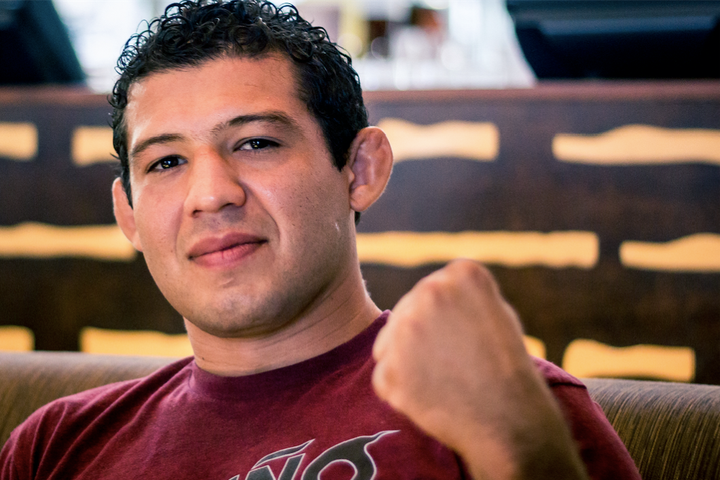 Kicking off the UFC 215 main card is a featherweight matchup between veterans Jeremy Stephens and Gilbert Melendez, both of whom desperately need a win.
A loser of two straight, eight-ranked Stephens (25-14 MMA, 12-13 UFC) is a formidable gatekeeper at 145 pounds, known for his heavy punches and brawling style. Stephens always welcomes the in-fight, preferring wild exchanges in the pocket to distance and range.
Once considered one of the best lightweights in the world, Melendez (22-6 MMA, 1-4 UFC), who is still ranked fourteenth at 155 pounds, has hit a rough patch since signing with the UFC in 2013. Fighting for the UFC belt on two occasions, Melendez has dropped both title shots, losing three straight overall. The skid prompted his current move down to featherweight, a division where he has not competed since 2005.
Stylistically, Melendez is the perfect adversary for Stephens and should engage in close range; however, a fire fight is not the path to victory here.
Cutting additional weight will make Melendez, who has never been knocked out, more susceptible to the knockout, which is exactly Stephens' game. So, look for Melendez to come out patiently and throw leg kicks to score points on an advancing Stephens. Once he understands the range, Melendez will move in and out of the pocket, unloading where he can, but moving out to avoid Stephens' best punches.
After three rounds, Gilbert Melendez takes a close decision.
Complete UFC 215 Fight Card
Main Pay-Per-View Card (10 P.M. EST/7 P.M. PST, Pay Per View)
Demetrious Johnson vs. Ray Borg — world flyweight title fight
Amanda Nunes vs. Valentina Shevchenko — world bantamweight title fight
Rafael dos Anjos vs. Neil Magny
Tyson Pedro vs. Ilir Latifi
Gilbert Melendez vs. Jeremy Stephens
FS1 Preliminary Card (8 P.M. EST/5 P.M. PST, FOX Sports 1)
Sara McMann vs. Ketlen Vieira
Henry Cejudo vs. Wilson Reis
Sarah Moras vs. Ashlee Evans-Smith
Gavin Tucker vs. Rick Glenn
UFC Fight Pass Prelims (6:30 P.M. EST/3:30 P.M. PST, UFC Fight Pass)
Mitch Clarke vs. Alex White
Luis Henrique vs. Arjan Singh Bhullar
Kajan Johnson vs. Adriano Martins
Related
Popular in the Community