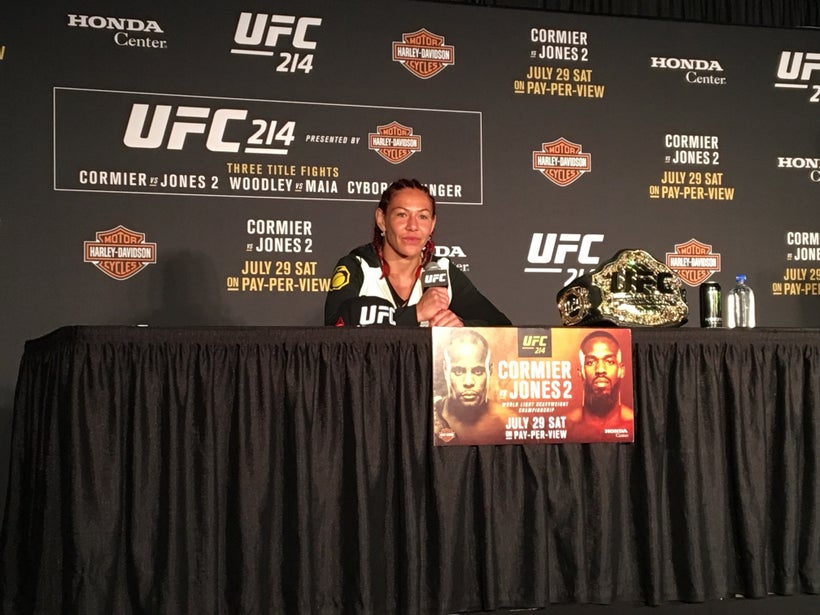 The UFC closes out its 2017 campaign this Saturday, December 30, with a women's featherweight title fight headlining the UFC 219 card (10 P.M. EST, Pay Per View). In the main event, champion Cris "Cyborg" Justino will look to defend her UFC belt for the first time, taking on former bantamweight title holder Holly Holm.
A fierce and aggressive striker, Cyborg (18-1 MMA, 3-0 UFC) is known for her power and pressure, recording three-straight knockouts inside the Octagon since joining the UFC in 2016. Cyborg last competed at UFC 214, where she won the featherweight title with a dominant performance over Tonya Evinger. This time around; however, Cyborg will be facing a significantly tougher challenger than her previous UFC opponents.
For Holm (11-3 MMA, 4-3 UFC), this will be her second stint at 145 pounds in 2017, and her second attempt to become the UFC's first female two-division champion. Having already claimed the bantamweight crown in 2015, she lost a controversial and close featherweight title fight to Germaine de Randamie at UFC 208. Following the defeat, Holm returned to 135 pounds, but is moving up again to take on Cyborg.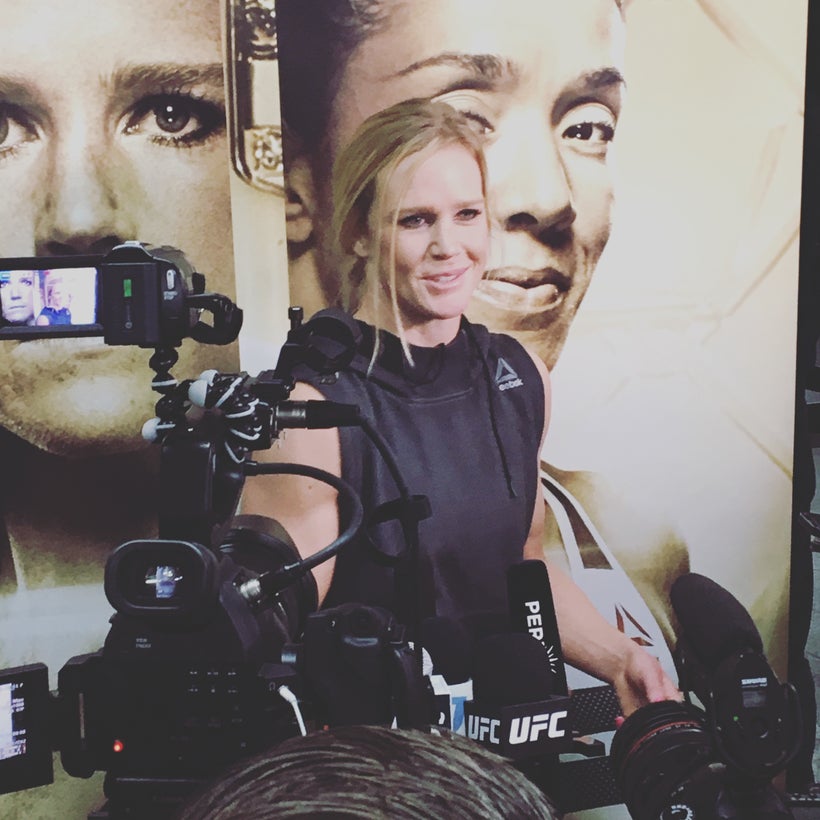 A fight between two of the greatest women to ever compete in mixed martial arts, this bout comes down to Cyborg's power versus Holm's technique.
Unbeaten since 2005, Cyborg last went the distance in 2008, having finished 12-straight bouts via knockout (not including a "no contest" in 2011). Using her heavy hands and striking acumen, Cyborg picks opponents apart while backing them down.
Conversely, Holm is adept to fighting off of her back foot, able to land select strikes while backpedaling around the Octagon. As seen in her historic win over Ronda Rousey at UFC 193, Holm is able to make adjustments during fights and find openings in her opponents' defense; however, Cyborg has sured up any holes in her own game and brings a significant size advantage into the fight.
It's an exciting matchup, without a doubt, but in the end, Cyborg finishes Holm via TKO in the third round.
Co-main event: Khabib Nurmagomedov vs. Edson Barboza
Two of the lightweight division's top fighters meet in a pivotal affair, as undefeated wrestler and Sambo whiz Khabib Nurmagomedov returns to the Octagon for the first time in over a year to take on vicious striker Edson Barboza.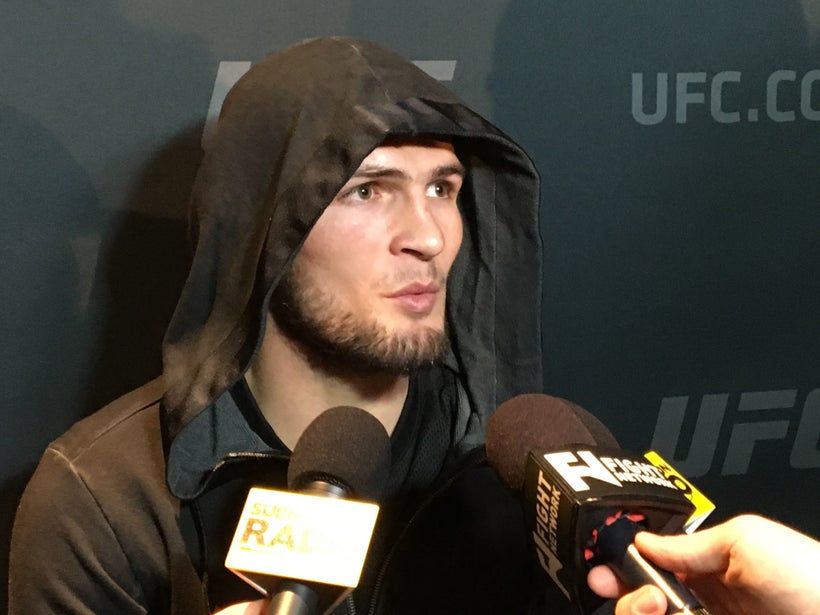 Last seen in action at UFC 205, Nurmagomedov (24-0 MMA, 8-0 UFC) ran into weight cutting issues prior to an interim title fight in March, forcing his late withdrawl from UFC 209. Health problems and injuries have plagued second-ranked Nurmagomedov for much of his career, but once he finally makes it into action, he's been perfect, using his diverse takedown game and top control to beat down opponents. However, Barboza represents a different type of challenge.
A model of consistency since joining the UFC in 2010, Barboza (19-4 MMA, 13-4 UFC) possesses one of the best kicking arsenals in mixed martial arts, having stopped opponents on multiple occasions via leg, body, and head kicks. He even delivered one of the top knockouts of 2017, landing a flying knee flush on the jaw of Beneil Dariush.
Currently ranked fourth, Barboza is riding a four-fight win streak going into his bout with Nurmagomedov. Expect that streak to end, as Nurmagomedov sticks to his pressure game and forces the fight to the ground and dominates from top position.
Khabib Nurmagomedov wins this bout via decision.
Cynthia Calvillo vs. Carla Esparza
A battle of top-ten strawweights could produce the division's next title challenger, as sixth-ranked Cynthia Calvillo takes on former champion Carla Esparza, ranked ninth.
Calvillo (6-0 MMA, 3-0 UFC) burst onto the scene in 2017, taking a short-notice fight at UFC 209. Going on to win two more fights inside the Octagon, Calvillo has skyrocketed up the divisional ranks, and could be just win away from a crack at the title Rose Namajunas won in November at UFC 217. Similarly, Esparza (12-4 MMA, 3-2 UFC) has her own claim to a title shot, having beaten Namajunas in 2014, but she'll need a dominant win to solidify her case.
Known for her wrestling prowess, Esparza has been hot and cold since entering the UFC as a member of The Ultimate Fighter 20 cast. First winning the title, she's failed to win back-to-back fights ever since. Calvillo will be no easy task.
Having already proven the worth of her jiu jitsu acumen with a pair of rear-naked choke finishes, Calvillo now faces her most experienced opponent to date.
And while Esparza has faced a much higher caliber of competition during her career, Calvillo brings fresher legs, along with a height advantage, into the bout. Look for Cynthia Calvillo to take this fight via decision.
Carlos Condit vs. Neil Magny
An intriguing bout between top-fifteen welterweights, this matchup between long-and-lanky kickboxers Carlos Condit and Neil Magny is likely to result in one of the best fights of the night.
Condit (30-10 MMA, 7-6 UFC), a former UFC interim champion and perennial contender, returns to action for the first time in 16 months on the heels of two-straight losses. Magny (19-6 MMA, 12-5 UFC) is also coming off a loss, so a win here is essential for both fighters.
Ranked eighth, Condit has always demonstrated top-echelon striking skills, mixing together punch and kick combinations. He's been inside the Octagon with some of the best welterweights of all time, and while Condit often falls to wrestlers or grapplers, the stylistic matchup against Magny seems to favor a standup affair.
Magny, who is currently ranked twelfth, also prefers to stand and trade, so it's unlikely that either fighter will attempt to bring the fight to the ground, instead obliging on the feet. And while Magny uses his reach and range to keep distance and piece up opponents, Condit's experience will prove to be too much as he finishes the fight via TKO in the third round.
REAL LIFE. REAL NEWS. REAL VOICES.
Help us tell more of the stories that matter from voices that too often remain unheard.
This post was published on the now-closed HuffPost Contributor platform. Contributors control their own work and posted freely to our site. If you need to flag this entry as abusive,
send us an email
.