Sometime last week, when I was almost done with the New York Musical Festival (NYMF), I wrote a friend: "I'm a fan of everything that brings the world more musicals. I also saw Elizabeth A. Davis in a show tonight and that is always nice. But I find it sad that like Icon is one of the best shows submitted." Then I began to wonder who (if anyone) decided it was indeed one of the best. For I'm a supporter of NYMF in the abstract idea of it--and I've definitely liked things there throughout the years--but I know very little about how the selection process works. I reached out to some authors who have had works produced and they too didn't know, nor really did their producers. The website is very little help. So I asked.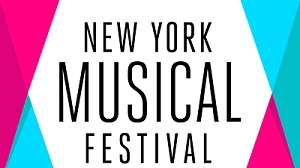 NYMF includes productions, concerts, readings and special events. This year there were ten developmental readings and eighteen productions. (Somewhere in the process of getting to the stage Single became a hybrid of a production and a reading, but for these purposes I'm counting it as a production, as that is what it was originally announced as.) I'm going to focus on just how the full productions are selected, as there is some expectation that those are further along.
Out of the eighteen shows selected for full production this year, nine (Dust Can't Kill Me, Forest Boy, Lisa and Leonardo, Newton's Cradle, Nickel Mines, Normativity, The First Church of Mary, The Repentant Prostitute's FIFTH ANNUAL Benefit Concert, Revival, and Pot Luck Dinner, The Last Word and Tink!) were selected via the Next Link Project. One was the winner of the Developmental Reading Series Award from a past festival. The other eight, including Icon, were chosen by Director of Programming and Artistic Services Rachel Sussman. "I selected additional productions to complement (and diversify) the slate," she explained over email. "[T]hese came to us through cold emails, attending readings, artist connections, and a few Next Link Project finalists."
Submissions for the Next Link Project begin soon. Submissions can be from basically anyone, as there is no requirement regarding agency representation or history of past work. Authors' identifying information is removed from the project before it goes to the readers. According to Sussman, the festival receives between 210-250 submissions a year. The NYMF website shows a Grand Jury of some bold face theater names who in theory do the final cut, but the real details of what happens before that is less public.
The Volunteer Reading Committee--which is comprised of 50-75 dramaturgs, literary managers, directors, producers, and writers who have a previous relationship with the festival or NYMF folks simply know--is the first to get its hands on a show. During the screening process, two members of the committee read a consecutive 15-page excerpt (submitted by the writer) from the tuner and listen to at least three demo tracks. Each screener rates the show overall and rates the book, music, and lyrics individually, all on a 1-10 score. They also summarize the musical in one sentence, list any special interest or angle the piece has and recommend the show to either be rejected or given a full read. If at least one of the screeners recommends the piece it escapes the trash heap and moves on for a full read.
Now you can get two tough reviewers and someone else can get easier reviewers. Out of the three Next Link offerings I saw this year in full production, I'm pretty sure only one would have gotten a recommendation from me in the screening phase. Sussman is not calling me to volunteer, but my point being there are only two people guarding the gate in the first instance. If I was a show author my first fear would be getting two people who don't like the genre or style of my piece. For instance, maybe I've written a kick-ass rap musical and I get two people who just don't like rap. It's not that if they liked rap musicals they'd necessarily hate mine, they just aren't the right judges. Now screeners self-select from a portal the shows they want to screen, so they could check my brilliant rap musical out and, knowing they don't like rap, check it back in without judgement of any sort. However that doesn't seem very likely. Two people aren't a large cross-sampling when there are 50-75 in the pool. Then there is another wrinkle--these two people are reading a minimum of two other works. Comparisons are inevitable, so no matter how good your show is, you sort of hope your reviewer has a weak group. I didn't ask her, but inevitably Sussman would say these things even out. And maybe they do.
But, regardless, at least one vote means you move on. For the "full read" section of this fun-sounding process, different members of the Volunteer Reading Committee read the show's synopsis, full script and listen to all demo tracks. They don't have the prior comments. Two or three readers evaluate each show. Again the reader rates the show overall and rates the book, music, and lyrics individually, all on a 1-10 score. Then a reader recommends the show to be rejected entirely, shortlisted for Next Link or the Developmental Reading Series, or states s/he are unsure. It takes at least two "aye"s for Next Link for a show to be considered for that. (Apparently the shows that have three reviewers are lucky because they get a bonus shot.)
But, wait, there is more. Then everyone gathers in a rehearsal studio and fights for their choices. (I would hope there is liquor, but Sussman only referenced coffee and pizza.) After that is when the Grand Jury comes in. "With regard to diversity of the programming slate and overall potential in the shows, our readers, led by me, choose approximately 25 shows as the Next Link finalists," Sussman explained. It is these that go to the Grand Jury. Each member of the Grand Jury reviews three or four submissions. Again comes the grading, this time with a little more detail.
Meanwhile Sussman is talking to the "writing teams about the show's creative development, their fundraising abilities, and above all, what it means to present a show in the context of a Festival and whether or not this is the right path for their show." Then she uses the scores she receives from the Grand Jury, her scores of the shows and the results of these conversations (basically her judgment) to choose the nine shows. The shows selected as part of the Next Link Project get a $5,000 subsidy. Some of the shows (such as A Skythe of Time) that don't make it end up being produced as a full production at NYMF anyway, without the $5,000 enhancement, or end up as a reading. There are other shows that try multiple years before they get in.
So, for at least most of the shows, it takes a lot of review to be selected. I think we all know how individual opinions can differ and it is nice to know how many people weigh in on these things. NYMF is at least trying to make sure a range of professionals choose most of the shows that are to be fully produced. The system isn't perfect, but you also aren't going to get volunteers to each read 250 submissions. There is always going to need to be a subset of screening people. That is how the majority of festivals work. Think, at movie studios and publishing houses, if you're an unknown quantity, you're lucky to get one read.
For the record, as I'm supposed to write about the individual shows I see, I will follow-up this post tomorrow with a little more detail on the shows I saw.
If you want to contact me, you can find me on Twitter @CaraJoyDavid. I also welcome emails at carajoy@gmail.com. Please do not send me a Facebook message if we are not friends on Facebook. I will not see it.
Calling all HuffPost superfans!
Sign up for membership to become a founding member and help shape HuffPost's next chapter