This is the last piece in the series about women who cook in religious houses of worship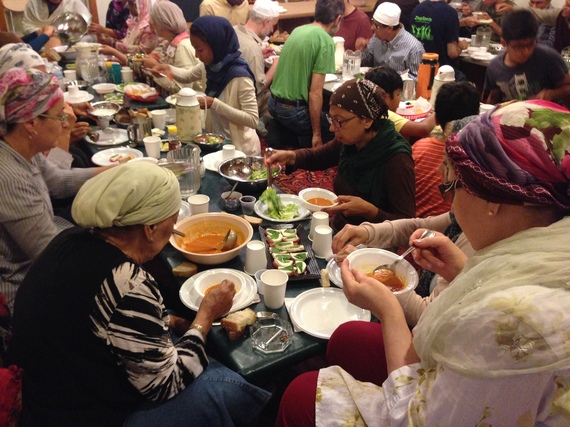 Located in a house, covered with climbing ivy, the Jerrahi Order of America, does not look like a mosque and is easy to miss as it is off the main road. But inside the kitchen, two sisters and their friends, with heads covered by scarfs, are busy preparing dinner for this Turkish Sufi tariqah (order) in Rockland County, N.Y. The occasion is Ramadan.
Sufis generally get together for communal dinner every Saturday but during Ramadan when they fast, they get together four times a week to cook and gather for the Iftar meal that breaks the day-long fast. As both sisters are American, tonights dinner is not going to be ethnic.
"People make whatever they feel good about," said Hilal Morgan, a senior Dervish (a Sufi ascetic). "We could have Pakistani food or Turkish but today I am making chili 'cause our Sheik loves it."
In addition, the dinner will consist of a tomato, basil and cheese plate, guacamole, carrot soup, salad and dessert.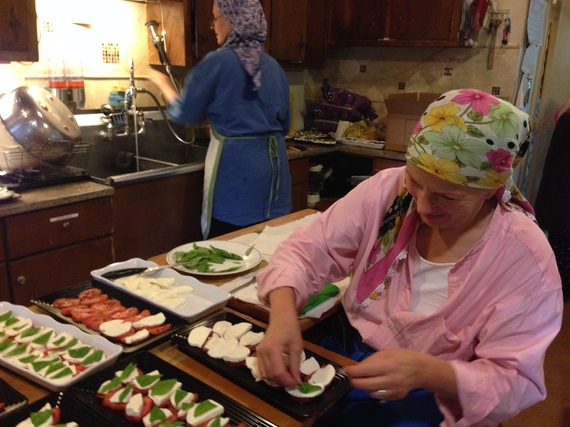 Aycha Rae, a legal assistant, explained how families take turns hosting Ramadan dinner, often in their native cuisine. She has made Turkish dishes like Borek, Kadaif and Baklava.
"We love Ramadan because it brings us together," said Rae. "We break fast together, eat together, and pray together. Ramadan is part of giving and sharing and it is a blessing to serve a dinner to someone who is fasting."
While the sisters cook, other volunteers are busy setting tables complete with plates and utensils in the garden and within the Durgah (Sufi meeting place).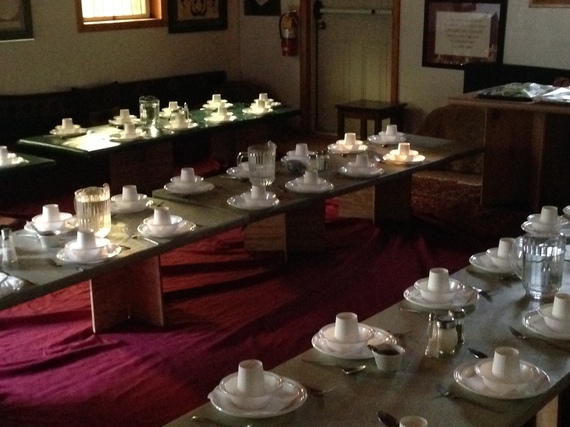 At 7:30 p.m., the congregation begins to arrive. Everyone is locked in embrace as they greet and catch up on the day's events. At 8 p.m. there is a call to prayer and they begin the Iftar (breaking of fast) with dates and water. In an organized manner, people take their places at the table while volunteers serve the congregation at an expeditious pace. The volunteers will eat only after everyone is fed.
This Durgah has members from Turkey, Afghanistan, South America, Pakistan, Germany as well as several American converts like Morgan and her family. Morgan says this is special.
"One of the things that keeps me here is that there are so many different people from all over the world. The difference between our nationality, our age, our backgrounds, just falls away and we are all connected on a basic level as human beings."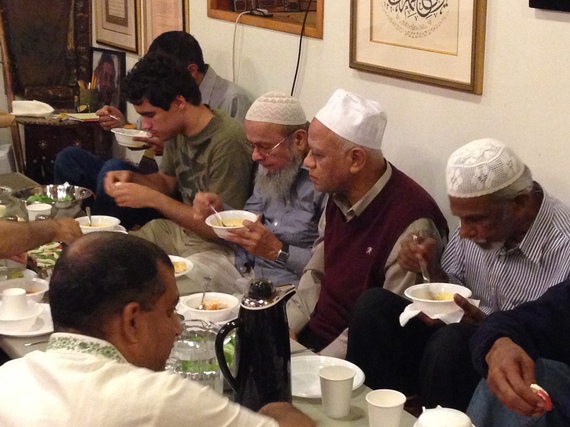 Carrot Soup
4 carrots
3 sour apples
Half inch ginger cut fine
1.5 cups chicken stock
1 small cut onion
Salt and Pepper
Cut and blend carrots and apples. In a pan sauté onions add ginger and blended mixture and cook with stock. Season with pepper and salt
PHOTO GALLERY
Sufi's break fast during Ramadan
REAL LIFE. REAL NEWS. REAL VOICES.
Help us tell more of the stories that matter from voices that too often remain unheard.