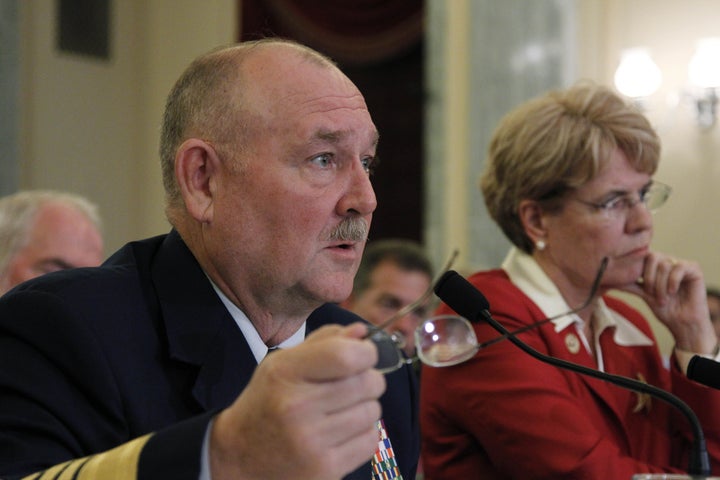 Admiral Thad Allen, the National Incident Commander for the Deepwater Horizon Response team, has today established the Flow Rate Technical Team, a multi-agency federal effort to determine oil flow rates from the BP spill at multiple time periods following the explosion, fire, and subsequent loss of the Deepwater Horizon oil rig.
Led by the U.S. Coast Guard, Minerals Management Service (MMS) and the National Oceanic and Atmospheric Administration (NOAA), along with technical representatives from the Department of Energy (DOE) and U.S. Geological Survey (USGS), the team will work on a multi-agency level in order to compute the total outflow of the BP oil spill, a critical question that still has not been answered by BP.
Lieutenant Commander J.R. Hoeft, the Online Communications Coordinator at the Deepwater Horizon Response Joint Information Center, who provided EnergyBoom.com with the news about the launch of the Flow Rate Technical Team, told me that:
"The team will work to obtain data that is available on the reservoir, wellbore, blowout preventer, subsea flowing pressures, leak points, discharge plumes and surface discharge observations. With this information, the team will identify and run state-of-the-art models to calculate flow rates and compare results."
BP announced today that it is now capturing an estimated 5,000 barrels a day of crude oil and 15 million cubic feet of natural gas from one of the leaking pipes at the bottom of the Gulf of Mexico, the first time the company has publicly admitted that its earlier estimate that only 5,000 barrels of oil were gushing into the Gulf each day were woefully inaccurate. BP is capturing only a portion of the oil from only one of two leaks on the sea floor, adding further evidence that the company's daily outflow estimate is far too low.
Several scientists who testified in front of Congress yesterday said the total outflow could be more than 100,000 barrels a day, far above BP's estimate.
Related
Popular in the Community