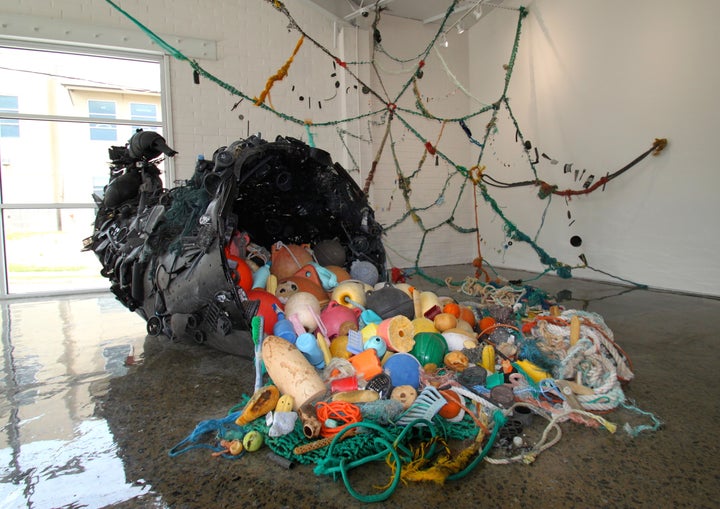 We are living in the midst of a catastrophe. Most people know it intuitively but yet it continues. Plastic pollution continues to grow exponentially and its effects are mounting. However, plastic pollution is a problem that can truly be solved at the individual level.
It breaks my heart that humanity continues to act so recklessly.
Two million plastic bags are used every minute
260 species are harmed by plastic
1 million seabirds and more than 100,000 mammals are killed by ocean debris annually
On average, each American uses 300-500 plastic bags a year of which only 3% are recycled
The vast majority of plastics are not recycled especially in states that do not offer incentives. There is also consumer confusion in the marketplace and high rates of contamination. Because oil is the primary ingredient in plastic bags, they do not biodegrade, and only break down to smaller pieces. Every plastic item that has ever been produced is still on the planet in some form. It's hard to believe but one to two tons of plastic pollution are being dumped in our waterways and oceans every minute! Only a quarter of that pollution floats on the surface, the remaining 75% creates a plastic soup hovering above the ocean floor.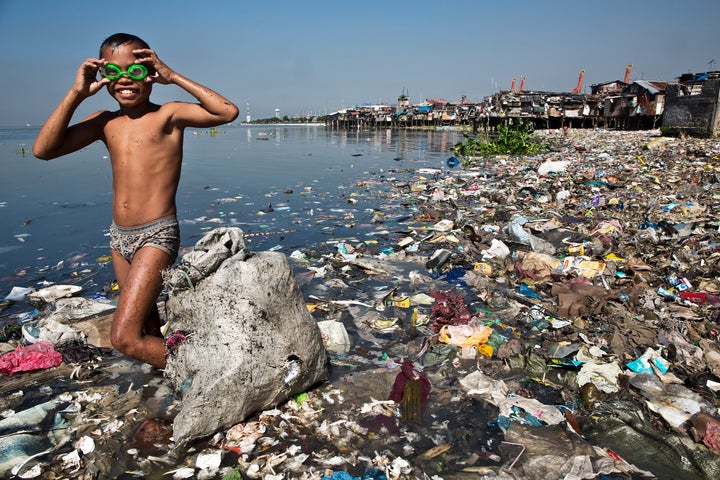 Recently the National Museum of Women in the Arts asked me to give a presentation answering the question, "Can the arts influence environmental activism?" The answer is a resounding yes! Through passion and art these five individuals are bringing plastic pollution to the forefront, pushing out solutions, and motivating and activating communities.
Plastic Pollution Coalition's (PPC) video Open Your Eyes, narrated by Jeff Bridges has been seen millions of times around the globe. Jeff was inspired to use his celebrity for this cause by artist Dianna Cohen, CEO and cofounder of PPC. A native Californian, she spent a lot of time at the beach, and like so many others became concerned about the amount of plastic pollution. After studying art at UCLA she began cutting and sewing plastic bags together as her artistic medium. She noticed after eight years the plastic in her pieces was degrading. This led her to understand the true nature of plastic – it breaks down but never biodegrades. From there she learned about garbage patches in our oceans called plastic gyres brought together by circulating currents and wind. Knowing she needed to take the next step, she formed the PPC to inspire people to put an end to the supply of one-use plastics.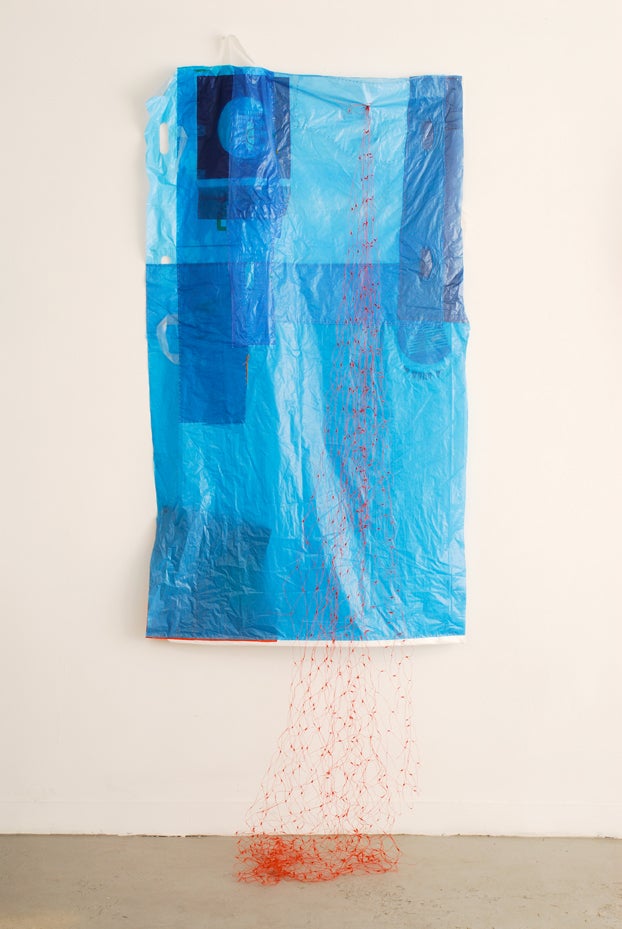 Several years ago Dianna introduced me to Pam Longobardi, an incredible artist and Art Professor at Georgia State University. Ten years ago, Pam took a trip to Hawaii to photograph beautiful beaches and sunsets. Instead, plastic trash littered the coastlines. From then on, Pam was inspired to collect the plastic trash that washes up on beaches as her medium. In 2006, she founded the Drifters Project, where she works collectively with sponsors, grantors, nonprofits and local communities to clean beaches and create art from the plastics collected.
Her works are exhibited at many museums around the world. Her newest work focuses on the refugee crisis. As people flee poverty and violence in their home countries, thousands of rafts and life preservers are being abandoned on the beaches of their arrival. Pam is working with material collected from the tiny island of Lesvos where approximately 500,000 life preservers have formed mountains of waste.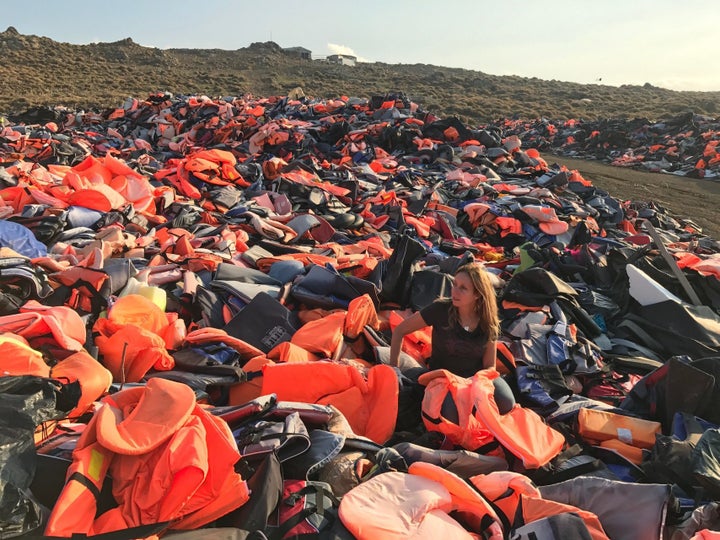 I am passionate about empowering young people to be great stewards of the planet, and it's great to see them becoming inspired to lead. Hannah Testa, 14 years old, is one of these youths. At only nine years old, she became passionate about helping abandoned and abused animals. She began fundraising and created a nonprofit. Soon after she watched a film about plastic pollution which inspired her to start educating others on the danger it poses to marine animals. Now her nonprofit, Hannah 4 Change, is aimed at protecting animals and the environment through education and awareness, particularly focusing on the global challenge of plastic pollution.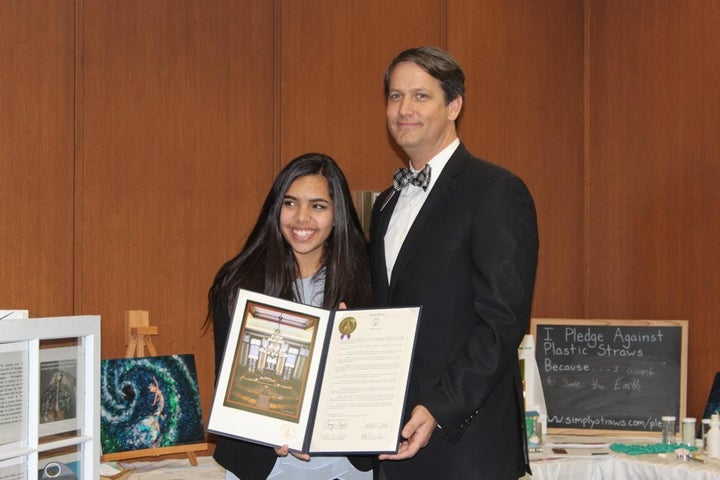 She worked with her state representative to declare February 15, 2017 Plastic Pollution Awareness Day in Georgia. She also inspired and collected other children's artwork on what this issue meant to them and displayed their work at the state capitol to celebrate the day. Event participants were encouraged to sign a traveling quilt Hannah created to signify their commitment to the elimination of plastic pollution. She has also put pressure on restaurants and retailers to stop using plastic straws. CNN featured her incredible dedication and success in an Earth Day story this past April.
Carter and Olivia Ries, were only seven and eight years old when they started their organization One More Generation to increase environmental awareness and help endangered species. Working with educators and school principals they developed standards-based curriculum blending science, art and literature to teach children about the role they play. Students are asked to save all their one-use plastics for one week, and then design an art installation to create awareness in the school and community about plastic pollution. In four years they have worked with over 50 schools and are launching their program nationally!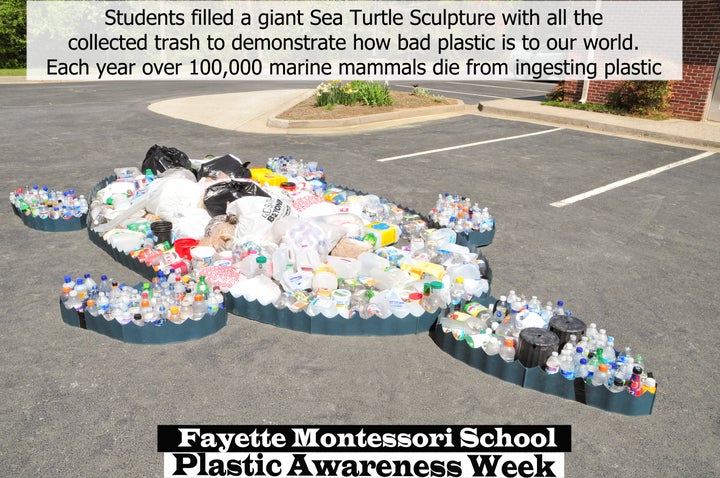 This year, they created a new initiative called the One Less Straw Campaign. They are working with Atlanta Public Schools to enact a no-straw policy. They have convinced more than 200 restaurants to stop supplying plastic straws. Delta Airlines has also removed plastic straws from some of their employee lounges.
Each of these environmental leaders' nonprofits are among the 800 organizations participating in the global #BreakFreeFromPlastic movement against single-use plastics of all kinds.
Hard work is paying off, eleven countries in Africa, nine in Asia, including China and India, and nine in Europe have banned plastic bags! In the United States, California and Hawaii have followed suit, with an additional 200 US cities either banning or charging fees for plastic bags.
You can take action with your vote, not only in federal races but state and local races as well. Find out where candidates stand on issues related to our life support systems. But most importantly continue to Reduce, Reuse and Recycle, but when it comes to one-use plastics make sure to use the fourth R and REFUSE TO USE!
Popular in the Community