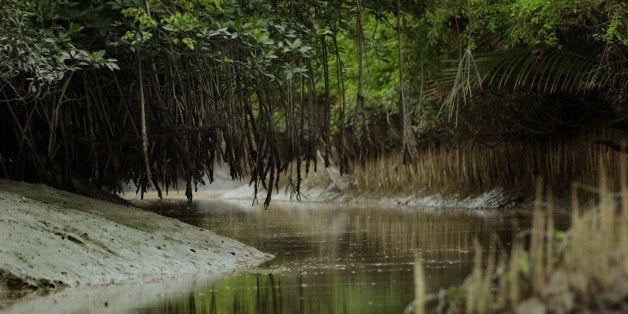 When it comes to power generation, Bangladesh faces a tough choice. On one hand the country has a burgeoning population with millions still without electricity coverage and coal reserves available to meet that need; on the other hand, it is one of the most climate vulnerable nations, and burning more fossil fuels might provide a short term fix for electricity, but will steer it on a self-destructive trajectory.
"Coal highlights the worst ills of the fossil fuel industry. It pollutes our water and air, and its climate impact is very high," says Payal Prayekh, Program Director of 350.org. "We are burning these dirty fuels so that we can have modern energy, but we are destroying our health and environment. In a way we are shooting ourselves in the foot."
The government of Bangladesh has chosen to pull that trigger - as evidenced by its decision to build many new coal fired power plants in its march towards reaching middle income status by 2021. As per the country's national power policy, by 2030, 50% of Bangladesh's total energy capacity will be generated from coal.
The project that has been gathering the most attention lately is the proposed Rampal plant - a joint venture between the National Thermal Power Corporation (NTPC) of India and the Power Development Board (PDB) of Bangladesh, named Bangladesh India Friendship Power Company (BIFPC), and funded by Indian Exim Bank. The plant will be built very close to the Sundarbans, which consists of a Ramsar bird conservation area, three wildlife sanctuaries and a World Heritage Site.
The Sundarbans is not only the home of the endangered Royal Bengal Tiger, but is also rich in biodiversity with close to 700 animal species and 340 plant species. Its trees act as the first line of defense against natural disasters such as cyclones and hurricanes. Building a coal plant will threaten the mangrove's ecosystem and the livelihoods of thousands of people dependent on this forest.
Running the Rampal plant would require Bangladesh to import close to 5 million tons of coal each year, transported by massive ships through the Sundarbans, which could scatter large quantities of fly ash, coal dust, Sulphur and other toxic materials into Sundarban's Pasur River - the habitat of the only two remaining species of freshwater dolphins in Asia.
"There are many alternatives for power generation, but there is no alternative for the Sundarbans," is the slogan for many protestors making a stand against Rampal. Environmentalists and activists are strongly advocating for relocating the project, but the government continues to reject these allegations and steamroll ahead with the plan.
Alarming as it is, Bangladesh is not the only country pursuing coal expansion. Right after the international climate conference COP 21 last year where world leaders pledged to reduce dependence on fossil fuels and reduce greenhouse gas emissions, Climate Action Tracker estimate showed that 2,440 new coal-based power plants are planned to be built around the world within the next 15 years.
"The future of energy is not in the ground; it is in the air and all around us," young environmental activist Xiuhtezcatl Martinez said at COP 21, driving home the point that fossils are the fuel of the past. The Paris agreement has laid the groundwork for developing nations to make smart, enduring development plans that skip the mistakes richer countries made in their development trajectory. This would entail gradually phasing out fossil fuels and transitioning to renewable energy.
The need for power and electricity for developing countries like Bangladesh is undeniable, but the method to attain it has to be sustainable. This blind quest for electricity to light up the nation could end up casting a permanent shadow of darkness.
Calling all HuffPost superfans!
Sign up for membership to become a founding member and help shape HuffPost's next chapter