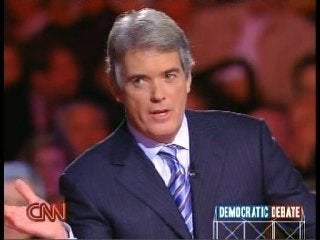 Remember how John Roberts was in a bicycle accident on Thanksgiving wherein a car cut him off, forcing him to swerve and collide with a jogger, resulting in both of them being taken away from the scene in ambulances? The CNN morning anchor, who spent a chunk of his Thanksgiving day in the hospital getting stitches in his right hand, credited his bicycle helmet with saving him from further injury — but it could have saved his life. Turns out that Roberts was hurt worse than he thought in the collision: Turns out, he broke his neck.
Roberts found out yesterday after hearing from the hospital, which had been delayed in contacting him due to a clerical error during the intake process. Turns out he broke a "facet" bone, which attaches vertebrae together over similarly-named facet joints, enabling the neck to move back and forth. According to Roberts, he had landed on his head after the collision and his neck "took all the shock," and following the accident it felt very stiff and he had difficulty moving it. Well, now he knows why.
Roberts is matter-of-fact about the accident: "I've been walking around with it for 11 days and didn't die...so, probably no biggie." He has remained in touch with the woman he collided with that day, whom he says suffered a broken nose, a partially torn ACL, had stitches in her face and has been suffering from post-concussive syndrome. So he says he feels lucky by comparison and just concerned that she should make a full recovery.
Roberts will be in a neck brace for the next 4-6 weeks, though "American Morning" publicist Christine Pietz confirmed that he won't be wearing the brace on air during that time (don't worry, the doctor said it was okay). Alas, that means we won't be able to add to our John Roberts Pictoral Collection™ with some saucy neck-brace pin-ups, but we'll be fine — we're just glad he's going to be fine. Here's to a speedy recovery, John Roberts! And to the rest of you, for God's sake, don't forget your damn helmet! Even for walking. Honestly, those crowds around Fifth Avenue during the holidays can be vicious.

Earlier:
CNN's John Roberts In Thanksgiving Bike Accident -- Saved By Helmet! [ETP]


Calling all HuffPost superfans!
Sign up for membership to become a founding member and help shape HuffPost's next chapter