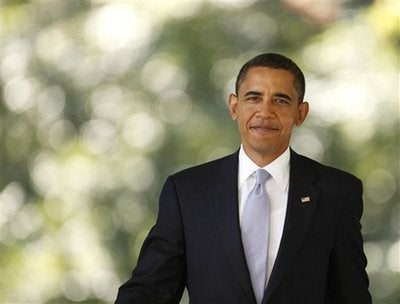 In a stunning turn of events, President Barack Obama has swept baseball's postseason honors in both leagues, a feat never before accomplished and long considered impossible.
At a hastily scheduled press conference, Commissioner of Major League Baseball Bud Selig announced that Obama has been named Rookie of the Year, Cy Young Award Winner and Most Valuable Player in both the American and National Leagues. These honors come on the heels of Obama's surprise selection as Rolaids Relief Man.
"In 2009, President Barack Obama was baseball," said Selig. "From throwing out the first pitch at the 2009 All-Star Game to visiting the broadcast booth at the 2009 All-Star Game, the President's accomplishments defined this entire historic season."
Even those players who lost to Obama were gracious. "Did I think I was going to win the AL MVP?" asked Twins catcher Joe Mauer. "Well, I led the league in hitting, played a difficult position in the field, and guided my team to the playoffs. But that pales in comparison to the contribution President Obama has made to America's pastime."
"I didn't know you could play in both leagues at the same time," said Cardinals slugger Albert Pujols, reigning NL MVP and favorite for this year's award. "But after Barack Obama won the Heisman Trophy last year, I knew he was capable of anything."
Meanwhile, some retired greats weighed in on the news. "Winning the National League Cy Young is not about playing in the National League or being a pitcher or really even being a baseball player," said four-time winner Greg Maddux. "It's about people and ideas and making the world a better place."
In a related story, competitive eater Kobayashi announced that he would not be participating in next year's Nathan's Hot Dog Eating Contest. "I've seen the President eat a hot dog," Kobayashi said through an interpreter. "What chance do I have?"
Calling all HuffPost superfans!
Sign up for membership to become a founding member and help shape HuffPost's next chapter