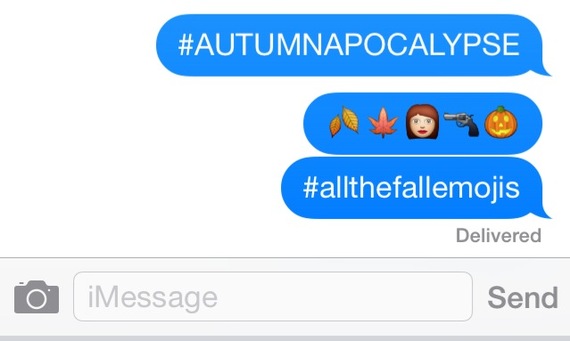 Blessedville, Md., U.S.A. -- The FDA officially announced earlier today that pumpkin spice is loaded with high amounts of gluten. The spice made popular by Seattle-based coffee chain Starbucks' Pumpkin Spice Latte -- or as it is called on the street, "PSL" -- has become a staple of fall, and of basic white women across the U.S., privileged areas of the UK, and other westernized yacht ports of Europe.
Shrieks and wails could be heard blocks away from the conference room where the news was announced.
"Literally I can't even," said 24-year-old Allie Smith, who works in PR. "First fro-yo has cals, and now this? I die." Moments later, Allie was hit by a bus. Authorities are still investigating whether this was an accident or a self-induced run into traffic.
U.S. doctors in counties with a median income of more than $100,000 have been working around the clock since the announcement to assist with an influx of patients suffering from a sudden gluten "overdose" causing them to "literally die."
The gluten content in pumpkin spice is so high it would cause unbearable stomach pain for users with a medically-diagnosed gluten intolerance, said Dr. Reed Fisher, M.D., R.D., at Greenwich Medical Center, in Greenwich, Conn.
"It's strange. I've only actually diagnosed three people with gluten intolerance in the span of my career," said Dr. Reed, GMC's Chief Physician for 40 years. "Frankly, myself and the entire medical community are baffled. How could a medical problem be 'trending'?"
When asked to comment, FDA Director of Communications Taylor Jones stated, "Trust me. Seriously, I'm just as devastated." Jones refused to comment further as "friends can not be seated at brunch until the entire party is there."
Tension in all parts of the country remains high as communities question the synchronization of trends.
"Like, what? Fall without PSLs?" said 26-year-old Sammi Watts, an undeclared 5th-year student at San Diego State. "It's just feels like bad things always happen to good people. I don't get it."
For more information, log onto Instagram and search:
#PSLFREAKOUT2K14
#PUMPKINSPICE
#LITERALLYDEAD
#AUTUMNAPOCALYPSE
#GUNEMOJI #ALLTHEFALLEMOJIS
This article will be updated as more information is received.
*UPDATE: All Soul Cycle locations will be shut down until further notice.
**UPDATE: Due to health code standards not meeting customer demands, all Whole Foods locations will remain closed until shelves are rid of products containing pumpkin spice (currently accounting for 40 percent of total store inventory).
***UPDATE: J.Crew stores nationwide will be closed tomorrow from 10 a.m. until noon for a candlelight vigil to mourn the tragic passing of pumpkin spice.
Calling all HuffPost superfans!
Sign up for membership to become a founding member and help shape HuffPost's next chapter