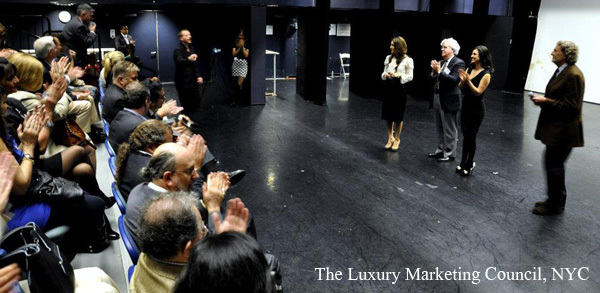 Many impressive gatherings of professionals and Hispanic market gurus take place almost weekly around the nation. From ANA meetings to AHAA, HPNG, Latinvision, Geoscape and many more, marketers wanting to congregate and dive deeper into the Hispanic Market have a wide range of options to sharpen their saw. However, is our message penetration other outer circles of non-believers and curious executives? While our Latino industry gatherings are fundamental to continue to foster collaboration, benchmarking and peer-to-peer networking, it is quite exciting to bump into unusual and non-Hispanic gatherings that recognize our market as a priority to highlight.
This is the case with The Luxury Marketing Council in New York City. The Luxury Marketing Council is a a business-building, revenue-generating organization, a community of CEOs and senior sales and marketing practitioners considered the global leader in the rapidly-growing arena of luxury marketing and the "Gold Standard" for the intelligent exploration of best marketing practices and trends in the luxury marketplace. With members such as Bentley Motors, Inc., Clarins, Tiffany & Co., Bergdorf Goodman, Cartier, Giorgio Armani Corp., Waldorf Astoria among many other prestigious brands and organizations, this month's agenda focused on Latinos as a golden nugget for growth.
The meeting was held at the Manhattan Movement and Arts Center where the José Limón Dance Foundation and Company opened set the stage prior with a passionate performance of "Variations on a theme of Othello". Limón is considered one of Mexico greatest artistic exports, and a role model for Latino communities across the country; which serve as a great opener to the business presentations that followed.
Breaking stereotypes of the poor-undocumented and unacculturated immigrant, the forum focused on understanding key insights about the fast growing affluent Latino demographic as a prime opportunity for luxury brands.
Times of recession and economic downturn call for new ways to boost growth; and this is exactly what the council identified as a viable source for its members. However, while numbers are powerful the basic question remains, can minorities and Latinos afford it? The answer is YES. Currently, the affluent Latino market is growing at a rate 8% faster than the non-Latino affluent population. (Miami is the most affluent Latino market in the country, where most of the top government and business posts in the city are held by Latinos).
In fact, companies that take a leadership role in reaching the fast growing affluent market can secure the loyalty of a vibrant group of over 5 million Latino household that make over $110,000 per year. Studies prove African Americans and Latinos spend 47 percent of their income on luxury products. Also, studies prove that adults between the ages of 34-55 spend 67 percent of their tax returns on luxury products. Many people could not afford vacations because of the crisis in America. On the contrary, minorities are somehow able to afford luxury products.
According to an AdAge article, during the past decade, the Hispanic $110,000-plus households grew 221% compared to 87% for total U.S. $100,000-plus households. This has increased the penetration of Hispanic households among the total $100,000-plus households in the U.S. from 3.7% to 6.5% during that time.
So, believe they are out there, but it is your job to go out and find them.
Here are some of the key tips shared during the council meeting:
1. Do it IN CULTURE: Understand the key affluent target. While Hispanic marketing tends to focus on the Mexican population which makes over 60% of the total U.S. Hispanics, when it comes to the affluent, a great percentage of them are concentrated in Miami and New York who are typically of South American and Caribbean decent. According to the Census Bureau, over 50 percent of Hispanic affluent are foreign born. 45 percent of affluent Hispanics live in five major metropolitan areas: Los Angeles, New York, Miami, Houston and Chicago. The economic and political issues in countries like Venezuela and Colombia have brought many immigrants to South Florida, and also in recent months Texas has seen an unprecedented influx of wealthy Mexicans settling in cities like Houston and San Antonio. Also keep in mind common truths about Latinos around cultural pride, the importance of family and a spirit of tenacidad are important emotional queues.
2. Do it IN CONTEXT: Speak with Relevancy. Relevancy refers to a company's ability to properly contextualize its messaging and approach to successfully reach a target. Relevancy is key to identify the right partnerships, events and a primary audience. This is why a deeper understanding of the four key Latino Affluent sub-segments is critical to succeed. These can be summarized as: unacculturated immigrant small-business owners who earn over $750,000 a year in sales, bicultural immigrant entrepreneurs earning more than $150,000 a year, young educated immigrant professionals averaging over $175,000 a year, and older U.S.-born Hispanic businessmen averaging over $250,000 or more.
3. Do it in LANGUAGE: Beyond Soccer, Telenovelas and Spanish only. As mentioned above, the key sub-target calls for a different approach to messaging and media mix. While language tends to get minimized into a translation of an English tagline, this audience requires a level of sophistication in line with their level of education, aspirations and key drivers. For example, this past June Telemundo partnered with Giorgia Armani Beauty for an elegant event at the W in South Beach with celebrities and Armani's makeup artist Tom Quinn, The event brought a glamorous sense of relevancy to their Club de Noveleras with top starts and the iconic participation of Armani as a partner. This was certainly an upscale take at bringing beauty, luxury and the passion for Telenovelas together with relevancy. From premium events like the Kentucky Derby to luxury publications like Ocean Drive en Español, brands must take into consideration how the message is constructed and most important, where it gets shared.
Will you boost your luxury business with Latinos? For the category and in times of economic trouble, this may be the only source of new business and incremental growth.
--
Lili Gil is an award-winning business and Hispanic market expert, media/ TV contributor and host of the online show Moments2CulturRise. She is also co-founder and managing partner of XL Alliance a cross-channel marketing strategy organization dedicated to helping business executives maximize their efforts into profitable growth. Gil was recently selected by the World Economic Forum as one of only 190 Young Global Leaders identified across 65 countries for her leadership, community and business impact.