"Give in to the unknown and take flight" explains William Mulholland with a twinkle in his eye. The rigorously trained gymnast with a self-confessed "incessant love for flying in the air" sits alongside his professional and romantic partner Gwyneth Larsen, who trained as a dancer. The two co-created aerial theater company AiRealistic, and have now created a hybrid theatrical experience entitled "Breaking Surface."
The acrobatic aerial dance piece contains no dialogue yet communicates a classic narrative -- the dizzying search for inspiration. Mulholland plays an writer so creative his ideas won't stay put on the page, who is led on an other worldly adventure by Larsen, who plays his muse. The entire piece takes place over a 30 by 25 foot pool, inviting viewers into a "world of childhood fantasy & aquatic longing." Think of it as Cirque du Soleil meets Flashdance meets the grown-up fairy tale you never knew you wanted.
Huffington Post Arts&Culture visited the set of the fantastical performance to learn more about the makers of this imaginative project. Scroll down for more images of the show.
PHOTO GALLERY
Breaking Surface
HP: What are you trying to communicate with "Breaking Surface"?
William Mulholland: We tried to get this archetypal image of having an idea and an inspiration. But then sometimes you're not able to hold on to it, sometimes you're just not quite able to find it again. It's the search for finding that idea that brings you to another place. We're using classical images like other worlds to communicate how sometimes it feels like inspiration comes from another place. Sometimes it comes to you and sometimes you have to chase it.
Gwyneth Larsen: It's about those moments of inspiration that are so profound when you have them and so all-encompassing, and trying to find a way to communicate that into a visual and physical form that everyone can relate to. The feeling of flight is such a universal theme. We're also calling on childhood imagery. This show is for adults but it is for the child in adults. We're very playfully spirited people, so we're making a show for playfully spirited people.
HP: How did you start flying?
WM: From a sports background, I was in harnesses trying to learn tricks. There is a sensation you get when you are hovering in the air, it's like a weightlessness. After you go up, before you go down, there is a place where everything stops.
GL: That place that Bill is talking about, that weightless point, that is where we got our title, "Breaking Surface." That is about us trying to find that space in the emotional tension between two people.
For me, I am a dancer and a martial artist by background, and my brother was a climbing guide so we would take these family climbing trips. We would start doing the tango on the cliffs and so I've been dancing in harnesses since I was 12 years old.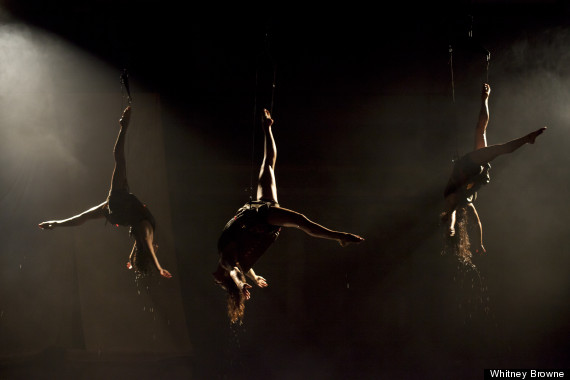 HP: Gwyneth you're a trained dancer. Bill, you're a trained gymnast. How does this play out when you work together?

GL: We have very diverse backgrounds. My background is dance but I've always loved theater and dance; my parents are mythologists. It's the study of stories, studying the archetypal themes and messages and how they relate to everyday life. As Bill and I started to collaborate on projects we each had very different approaches to the scenario, which I think contributes to creating great art.
WM: We just sort of gravitated toward each other and toward this flying thing. And we're both really interested in how to tell a physical story as well.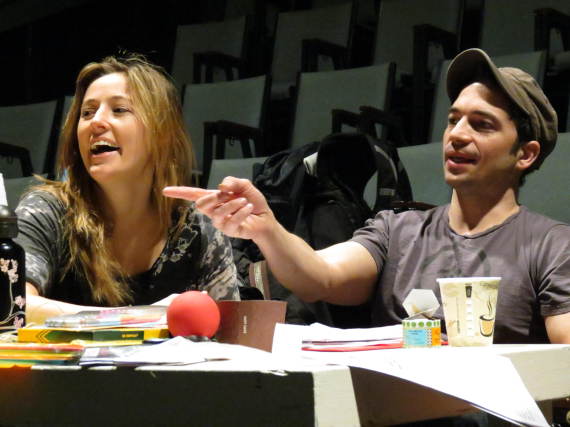 HP: Tell me about the set.
WM: It's a 30 by 25 foot skim pool that fills with water, only like an inch or two deep. And then there is the flying apparatus up top, which you can't really see. So it looks like people are dropping from the sky.
GL: The black creates a really reflective surface that creates the sensation of depth. So we actually recommend sitting in the middle or further up.
HP: How long have you known each other?

WM: We've known each other for 13 years, we've been together as a couple for 10.
HP: What challenges have arisen as a couple working together?

WM: Communication is always a thing. My style versus her style. But overall I think it makes the final result stronger.
GL: We're both extremely honest with each other and don't hold back at all, which is a good thing because we both value the art over any personal ego. [To William] For me, because I trust you so much, I know that, that we'll get there. There is no question that we're not going to get there. The trust in the relationship helps build room for us to really hear each other's opinions and to get so involved in it that it creates another level.
"Breaking Surface" runs March 20 and 21 at 7 pm and March 22 and 23 at 8 pm at Theater for the New City in New York.
REAL LIFE. REAL NEWS. REAL VOICES.
Help us tell more of the stories that matter from voices that too often remain unheard.