Chances are you've come across a public service announcement (PSA) from the Ad Council, such as their recent "Love Has No Labels" campaign that went viral with over 86 million views. I interviewed Laurie Keith, Director of National Media Accounts at the Ad Council, to shed some light on how technology is used to empower their campaigns.
#LoveHasNoLabels http://t.co/ijXjE1XOTy

— The First Lady (@FLOTUS) March 6, 2015
What went behind the scenes when the "Love Has No Labels" campaign went viral?
We have an incredible PR department, led by Paula Veale, that shared the video exclusively with Upworthy and then pitched it to other news outlets and online publications. Our team is constantly monitoring the press and tracking what people are saying about the campaign. We monitor everything in social media from views, likes and shares as well as where the campaign is being supported by social influencers...which of course helps spread the word.
This campaign has been supported by George Takei, Sofia Vergara, Michelle Obama, Deepak Chopra, Sophia Bush, Rosario Dawson, Lance Bass, Mary Lambert and Marlo Thomas. The story has been picked up by 100+ news outlets and publications including Good Morning America, Washington Post, Buzzfeed, Huffington Post, Mashable and CNN. It is also the best performing video ever on Upworthy.
How did it feel seeing this PSA play a role in changing the way we look at each other?
Using technology and simple imagery, this campaign was able to easily show that love is love and we are all the same despite our genders, races, religions, disabilities or age. In addition to social media metrics, we also monitor comments to understand how consumers are feeling about the campaign.
It's extremely gratifying to read stories from people that were personally impacted by the video. It's these stories that make me so proud to work at the Ad Council and do the work I'm able to do. It's a reminder that behind every PSA that runs, there are people that are impacted. It's empowering to be part of an organization that's leading the charge on improving lives and making measurable differences in society.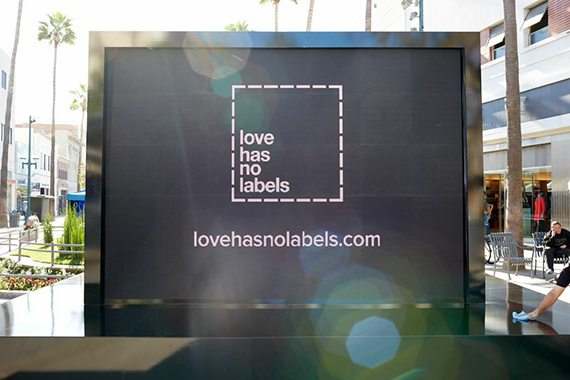 How have you been able to leverage data for your campaigns at Ad Council?
With programmatic and artificial intelligence, we now have the ability to use data to serve a PSA to the right person at the right time. The power of programmatic technology is really fascinating for a company like ours, where the calls to action in our ads are not to buy a product, but instead are behavior changes such as "Don't Text and Drive", "Learn the Signs of Autism" or "Adopt a Child from Foster Care".
We are very fortunate to have the CEO of Rocket Fuel, George John, and the CEO of Turn, Bill Demas on our Board of Directors. These companies are leaders in the programmatic advertising tech space and are helping us serve PSAs to the people that will be most engaged and likely to click on the PSA to learn more. Because we work off a donated media model, we don't always know where our PSAs will run. However, with programmatic data, we can reach the right people and impact more lives.
Have you worked with the developer community in any capacity?
We often work with developers when testing new advertising models or products with media companies. Typically before they launch a new advertising product they want to make sure ads works well within the platform. We'll partner with media companies and run our PSAs during these tests. It helps our media partners build successful products and it helps us gain exposure on our issues.
I'm moving to San Francisco in April to represent the Ad Council on the West Coast. I hope to build relationships with developers and find ways to integrate our PSA messaging into the products as they are getting built. If a digital media company with a large user base is developing a new advertising model - we want to be the first to know about it!
What are some use cases for public service announcements on mobile apps?
We have an upcoming partnership with Kik Messenger for our Teen Dating Violence Prevention campaign. The campaign helps teens build healthy relationships and acknowledge that controlling behavior online or by cell phone can be forms of abuse. We're working with the digital youth marketing agency, Archrival, to develop a Kik-optimized PSA experience allowing us to have one-on-one private conversations with teens about this issue.
Another thing we've explored is building mobile apps. Our Children's Oral Health campaign launched a mobile game app called Toothsavers last year. The app was featured on the iTunes store with over 120K downloads!
Are there any other apps you enjoyed working with?
When Instagram launched their advertising model, the Ad Council worked very closely with them to test their new platform and develop a case study for a public service campaign, which in our case was Smokey Bear's Wildfire Prevention campaign. Last August, for Smokey's 70th birthday, we launched an Instagram campaign targeting teens using 4 photos which featured fire prevention safety tips.
One action of the campaign is to sign a pledge to show your commitment to wildfire prevention. Part of the case study was to understand whether users would see the ad in their newsfeed and then click a link within Smokey's Instagram profile.
Our developers at the Ad Council created a mobile optimized website for Instagram users to sign the pledge. We placed a pixel on the pledge site so we could understand how many users from Instagram interacted with the link. This is an example of how our case studies benefit not only the Ad Council and our sponsors, but our media partners as well.
Why is it important now more than ever for tech companies to be involved in the areas of social good and change?
It's a no brainer. You want to help the people that you're providing your service to. Every company we work with has their own passion points. For instance, a media company like Facebook is very passionate about human dignity and embracing equality. Whereas, Nickelodeon puts a lot of emphasis on children's health.
The key is to serve a public service message in a medium that it will engage our target audiences. Every media company has a user base of real people with real concerns that are important to them. Partnering with a social good campaign allows media and tech companies to connect with their audiences in a deeper, more impactful way and allows them to make a difference in the lives of the people that are using their products every day.
Catch @lauriekeith on the SmART Campaigns: Art and Music Driving Social Change panel at #SXSW
Let us know what you think by leaving a comment or sharing the article.
Calling all HuffPost superfans!
Sign up for membership to become a founding member and help shape HuffPost's next chapter