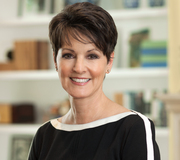 By Lynne Martin, Executive Director
Students Rising Above
More than 10,000 students are now using the Students Rising Above online College2Careers Hub, and that milestone is an opportune moment to envision what's possible in breaking the cycle of poverty in the U.S.
The Hub provides high school and college students with one-to-one professional counseling and a host of invaluable college resources. It demonstrates that technology, combined with deep expertise and people who really care, may be one of the best solutions yet for getting low-income, first-generation students into and through college, and on to a career ladder job.
The Hub was born out of our desire to help an even greater number of students. While our current program of 400 students has been one of the best in the nation, we realized we must do more to help young people achieve the dream of a college education. Education is the key not only to an individual's growth, but also to the long-term vitality and prosperity of the country.
Hub At-A-Glance:

Launched in 2014, now 10,000 users
40 partners, which include high schools, community organizations, and non-profits
Average of 4.5 pages visited per session
Most visited pages: Resource Library, Webinars, College Admissions and Financial Aid Message Boards
Think Different
The Hub is an innovative alternative to our traditional hands-on program, and it's important to apply that same spirit when measuring the effectiveness of the Hub. The metrics for a virtual environment are clearly different than for our existing program. The Hub metrics will evolve as the usage patterns become clear, but both programs achieve the same broad goal - help students graduate and land meaningful jobs.
The key question is this: Is it better for society to help 400 students intensively? Or, are the resources better directed to helping 20,000 or 100,000 students whose interaction with the Hub will help them succeed in college and their careers?
At best, it's a difficult, if not unanswerable question. At worst, it's a false choice. Both solutions are better for society as a whole, and they deserve to be pursued concurrently.
Online Solves Many Problems
Porting a traditional program like ours to the Hub solves many problems for high school and college students, as well as increasingly cash-starved schools.
First, the Hub fills a widening gap in schools. The Hub provides information about college application, financial aid, and selecting the most appropriate school, among other important tasks. It also provides a wealth of information on how to find a job - how to write a cover letter, resume, and prepare for an interview. Most high school and college students simply can't get one-to-one advising to help with these issues, let alone find a single source of high-quality, comprehensive information.
Second, the Hub gives students the best of both worlds: An opportunity to talk to a trained advisor and to interact with students in similar circumstances. We've found that the interaction among students may be as important as anything on the Hub. Online, students often feel more comfortable sharing than they might face-to-face. An online community allows students to engage in ways they can't in the physical world.
Third, the Hub is a cost-effective way for high schools and colleges to achieve their mission. Most educators want to provide the assistance that the Hub offers, but can't for budgetary reasons. For example, in public high schools today, there is just one college counselor for every 1,000 students. The Hub works closely with schools and offers a curriculum-based program for teachers and counselors.
How The Hub Helps:

One-to-one advising from a professionally trained online advisor. Students often get real-time answers to questions, with responses no later than 24 hours.
An extensive resource center that answers virtually every question about college, from how to complete a financial aid form to dealing with a difficult roommate.
Templates for creating letters of recommendation, a personal budget, as well as templates for resumes, cover letters and thank you letters.
An online community that enables students to chat with other students and exchange ideas.
A Big, Bold Vision
We believe that all children deserve the opportunity to achieve prosperity through education and hard work, irrespective of their socioeconomic status. Without equal opportunity, we have two Americas - one for people who are positioned to succeed in the modern economy, and one for those who are not.
The Hub boldly supports these objectives and is a new way of advancing the goal of a more fair and just society. The power of scalable technology, in addition to the support of real, live human beings, is a solution we've been waiting for. The Hub works and is poised to take off.
Our hearts are made heavy each day by the stories about what might have been. The Hub is a story about what can be. It's about hope, opportunity and a better tomorrow for all.
Popular in the Community