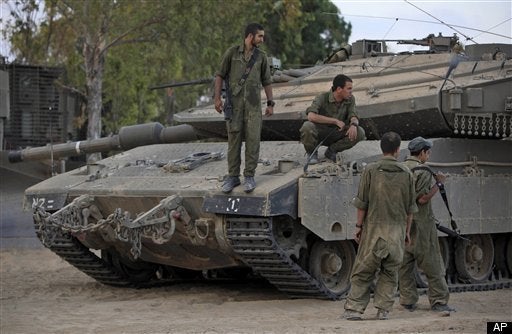 In part of an ongoing schism within the ranks of the Israeli Defense Forces over alleged abuses against Palestinian civilians during Operation Cast Lead in Gaza earlier this year, IDF reservists are coming out publicly to rebuff abuse claims and put the blame on terrorists' use of civilians as human shields, Haaretz reports.
All of [the soldiers who spoke with Breaking the Silence] feel there were things that happened in Cast Lead that were highly problematic morally. And according to the Israeli military's official line, all of these soldiers -- who gave their testimonies in separate interviews, mostly anonymously, sometimes at risk of prosecution if their identity is exposed -- are liars.

The spokesperson for the Israeli Defense Forces presents a radically different version of the Gaza operation than do these combatants who participated in it. The spokesperson claims that Israel did not use the "neighbor procedure" in Cast Lead -- the practice of forcing Palestinian civilians to open doors and search buildings so as not to endanger Israeli troops, which the Israeli Supreme Court banned in 2004. But a soldier from the Egoz unit said that the military did use human shields in exactly this way in Gaza, with the operational support of the unit commander.
However, the soldiers now coming forward are putting an emphasis on the fact that they are not anonymous, and they describe tactics used by Hamas--such as hiding rocket launchers in hospitals or using civilians as human shields--for any civilian casualties that may have occurred, according to the Haaretz report
The organization collecting the new testimonies is called SoldiersSpeakOut and, as Haaretz reports, it issued a direct statement Wednesday against Breaking the Silence:
"Breaking the Silence are misleading in their name and their aim," remarks U.K.-born StandWithUs Israel Director Michael Dickson. "There is no silence to break. Israeli society is open, democratic and self critical. This one-sided and shoddy report fails to stress the context of the war as a battle against Hamas terrorists hiding behind civilians."

"All testimonies collected by Breaking the Silence are by combat soldiers whose names and full details are known and documented by the organization," said Ran Goldstein, a spokesperson for Breaking the Silence. "We do not reveal their details as per their request."
A United Nations investigation into human rights abuses and war crimes committed during the Gaza war is reported to be in its final stage, according to the Jerusalem Post. However, the Israeli government has remained recalcitrant in its cooperation with investigators and, according to the lead investigator Richard Goldstone in the JPost report, it is still too early to determine if war crimes were committed. The investigators are to release their full report by August.
Calling all HuffPost superfans!
Sign up for membership to become a founding member and help shape HuffPost's next chapter