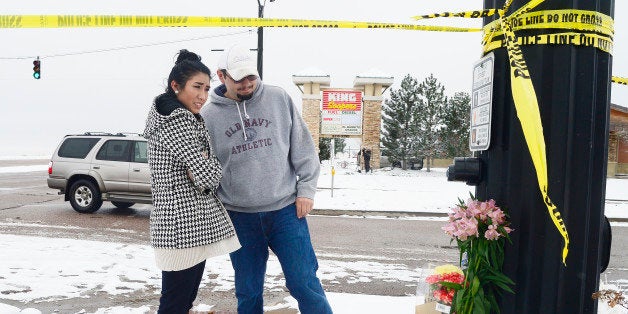 For those of us who live here in Colorado Springs, where we have endured two mass shootings in less than a month, we have become too familiar with the emotional arc experienced in a community under the siege.

It starts with disbelief. ("Not again?") There's a hope that the outcome won't be so bad this time. We refresh our Twitter feeds, stalk every local news outlet, and follow the police department. The text messages come in from friends near and far, checking if you are okay.

You read the police advisory that "the area is NOT secure," and hunker down in dread.

The reports come in about shots fired -- maybe too many to count. A man openly cries on TV after his sister called him from inside the Planned Parenthood, where she was hiding under a desk. How many may be dying, just up the road, right now?

And when we receive confirmation... there are no words. The text messages stop. There is nothing more to say, at least nothing that will sufficiently capture the horror and grief. A police officer, Garrett Swasey, a wonderful man many of us know from the local university, Ke'Arre Stewart, an Iraq war veteran, Jennifer Markovsky a mother accompanying her friend to Planned Parenthood, dead. More wounded.

"Planned Parenthood, located just a mile from my house, is both a target and a bunker."

We stay shocked into silence, numbed, perhaps. The Planned Parenthood shooting in my hometown, Colorado Springs, was the 351st mass shooting in the United States this year.

The one before that was just weeks ago, in the early hours of Halloween. A shooter with an AR-15 walked through downtown and fatally shot two women, Jennifer Vasquez and Christina Baccus Galella, on their front porch and then Andrew Meyers who was riding his bike. Meyers was a war veteran who survived three tours in Iraq only to be gunned down riding his bike down the street.

It is astonishing to realize that both veterans, Myers and Stewart, were ultimately in more danger going about their business in Colorado Springs than they were in a warzone.

Some of us organized a vigil after the Halloween attack. It was a quiet time of mourning. And again, today, many of us have a hard time putting our feelings into words.

But, if we don't talk about what is happening here, others will speak for us. We can find that we are represented in ways that are more caricature than true portrayal of who we are.

The Guardian wrote, "Colorado Springs: a playground for pro-life, pro-gun Evangelical Christians." Ouch. This one hurts. It's humiliating for many of us who live here, offensive for others. And, I am quoted in it.

I spoke to the reporter because I'm worried for my city. Our open carry policy means people can walk down the street with an assault rifle -- it's not a crime until shots are fired. I'm terrified that people with mental health problems are able to get their hands on these weapons. I'm scared of how devastatingly effective these guns are.

Planned Parenthood, located just a mile from my house, is both a target and a bunker.

Yet, no matter how much I cringe when I read that headline, I cannot refute any of the facts in the article. Not one.

Yes, I live in the same city as Colorado State Representative Gordon Klingenschmitt who suggested that when a fetus was slashed out of a Colorado woman's womb, the attack was God's curse on America for legalized abortion.

I live in the same city as the mega church, New Life Church, the home of the Ted Haggard scandal, and many might recall, the site for another mass shooting in 2007, when 6 were shot, two fatally.

I live in a city where our own sheriff at the time, Terry Maketa, said he would not enforce gun legislation. Shortly after, our County commissioners showed their support of the Sheriff's stance and were pictured in the local newspaper, at a shooting range, pointing guns to emphasize the point.

"It is astonishing to realize that both veterans, Myers and Stewart, were ultimately in more danger going about their business in Colorado Springs than they were in a warzone."

As the Guardian article circulated on Facebook, my friends, community members and former residents expressed hurt and disappointment that this was the national view of our beloved community. It hurts all the more for the truth it contains.

But yet, like any caricature, it leaves out so much about our beautiful city, at the foothills of the Rocky Mountains. Where, as rugged Westerners, we are outdoor enthusiasts and care about the environment. Where we have a wide range of political views, and guard that independence of thought fiercely. Where volunteerism is the norm. Where people would give you the shirt off their back.

And perhaps it is this view that we have from here, of the true heart of our community, which gives me hope. Hope that we are the people who can grapple with this national standoff about gun laws and come up with reasonable solutions.

Because nothing is black and white, and particularly here in Colorado -- a purple state that holds the Second Amendment dear, but still sits squarely in the middle when it comes to leniency around gun laws.

Perhaps the people of Colorado Springs, and Colorado at large, are actually better equipped than most to untangle this knot we've all tied, this political polarization that hardens like cement all around us.

But we have to talk about it. If we don't, I fear we will only see mass violence in our streets. Again.
Calling all HuffPost superfans!
Sign up for membership to become a founding member and help shape HuffPost's next chapter