But I've noticed something else, too.
So with sincere confusion and heartache and much trepidation, I want to ask, why the silence when it comes to these issues of justice and provision and daily life for people with disabilities? Is it because we remain deeply divided in this country and that divide extends to the question of how best to care for, empower, and support people with disabilities? I guess I understand that. We are divided in this country about so many things.
There is so much to be done.
We live in New Jersey because when it comes to children with special (medical) needs, the NJ state program is one of the best around. But we lucked into that with Lucia being born here rather than in say, Indiana or Texas. And we can't move out of this state because so few states offer the comprehensive skilled nursing care and Medicaid-sponsored secondary insurance that Lucia's needs require, and these are the services that allow our child to get the care she needs so both my husband and I can work (ironically our university-sponored primary insurance does very little for our child). In so many other states where benefits are scant, one parent must stay home, and even when they receive benefits, it is these parents' hard work that actually saves the state and the federal government hundreds of thousands of dollars because it's way cheaper for parents to care for their kids in their homes than for governments to institutionalize them.
But these are all best case scenarios–yes, that scenario in which you must quit your job but you get some benefits and you get paid minimum wage to care for your medically fragile child in your home, or our scenario where you have such great benefits but you're literally trapped in the state, can't consider other jobs outside your state or a home closer to family because those states don't have coverage–those are the best case scenarios. The worst cases are states that have so substantially cut their Early Intervention or Medicaid programs that families can't afford these very expensive services that their kids need to grow, or worse, survive. The worst case scenarios are ones where children still sit idle in classrooms with no appropriate or adaptive equipment because states don't have the necessary funding or won't put it toward the challenges of kids with special needs. The worst case scenarios are people who are poor or have been driven into poverty by these costs and have few resources to care for their kids despite how much they love them. The worst case scenario is a country that becomes so divided that we fail to care for these kids and their families at both the federal and state level, a country wherein we've forgotten their rights and thus denied their humanity.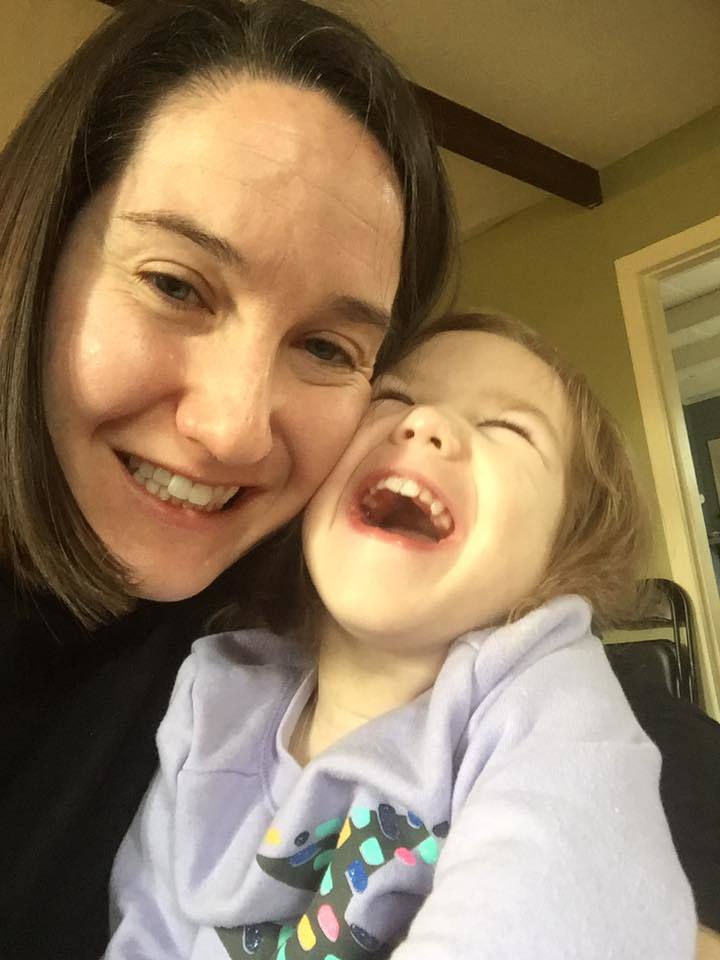 So when you hear politicians threatening to cut Medicaid and deny federal laws that protect children with special needs rights to education, will you remember our family and other families like ours and resolve to stand with us and not be silent? Will you realize and acknowledge that so many families who care for people with disabilities are currently scraping by with so little (nobody gets rich off of disability), and cuts to federal and state programming make it hard for their parents to work, hard for their kids to go to good schools, and hard for such children to get good medical care, supportive seating that helps them go places, and braces to walk, run, and stand? (There is still no comprehensive mandate across this country to enable these families to live sustainable lives–we've left that to the states and so many families are living the worst case scenarios everyday.)
These are the things I've perhaps neglected to tell as a part of Lucia's story, because they're personal and painful and arduous and inglorious but not any less true. But if I can't humble myself to speak these truths, and if this part of being different goes unknown in this country, then I've become complicit in this silence as well.
Let's change this country, friends. They're going after kids like mine, and it's not right.
Let's break the silence. One phone call, one story, many voices, together.
P.s. If you'd like to get started today,
Please call your Senator and oppose the appointment of Betsy DeVos for Secretary of Education and Jeff Sessions for Attorney General. You can read here and here why we don't trust them when it comes to protecting our children with disabilities.
Talk to a family you know about their struggles and advocate on their behalf.
Carry a sign at one of the marches this weekend that makes it clear that you value and support the rights of people with disabilities–let's make these marches truly progressive and inclusive!
Calling all HuffPost superfans!
Sign up for membership to become a founding member and help shape HuffPost's next chapter
This post was published on the now-closed HuffPost Contributor platform. Contributors control their own work and posted freely to our site. If you need to flag this entry as abusive,
send us an email
.