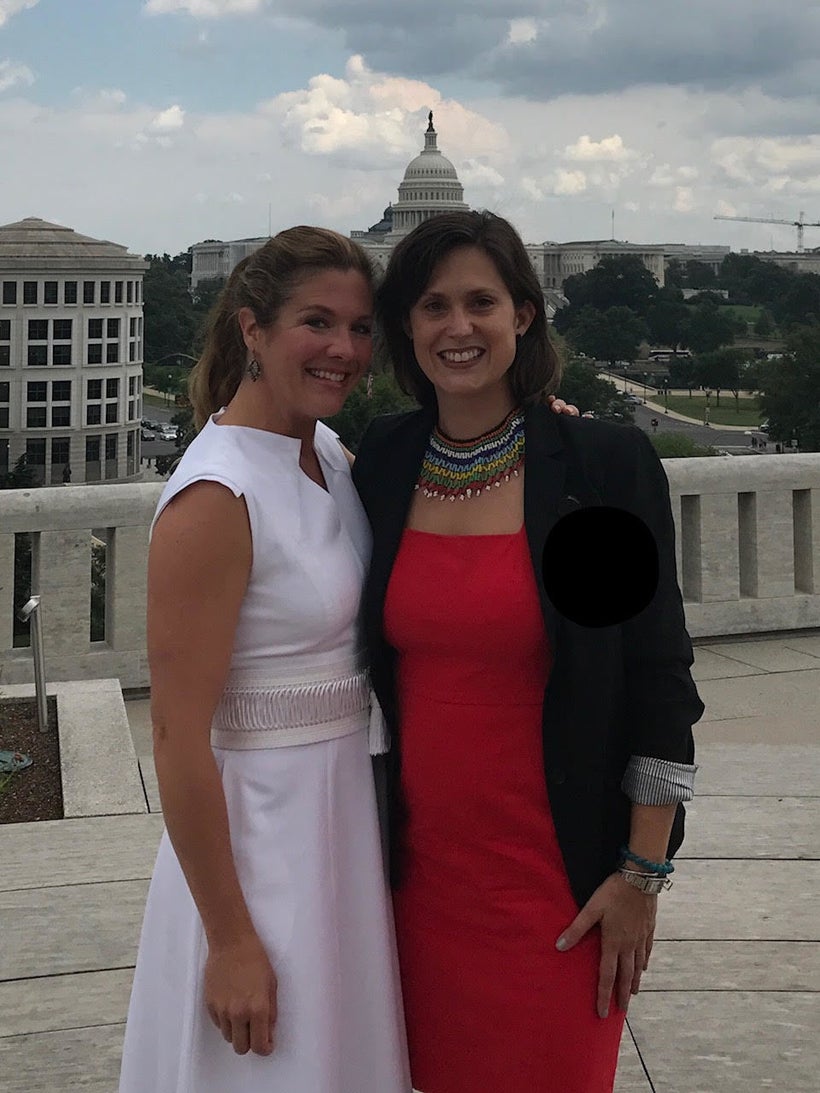 I recently had the opportunity to meet with Madame Sophie Gregoire Trudeau, a passionate activist and spokeswoman for the empowerment of girls and women around the world—who also happens to be the wife of Canadian Prime Minister Justin Trudeau.
When we met, she had just finished addressing an arena full of adolescent girls, participating in the yearly Girl Up Leadership Summit, hosted by the United Nations Foundation. During her talk, she urged young women to believe in themselves and the ability to shape the world. But she went further, and referred to her own struggles with a past eating disorder, encouraging girls to be strong and to fight back against societal messages that lead to a lack of confidence in their appearance and ability.
She concluded by paraphrasing the South Asian-Canadian poet Rupi Kaur, who wrote about true sisterhood: "My heart aches for women helping women; like flowers ache for spring."
I'm always deeply touched by those who are willing to share their personal stories and struggles to inspire others and create change.
I know all too well how heart wrenching it can be to tell a room full of strangers about painful and deeply personal experiences. As a survivor of sexual violence in childhood who has been telling her story for over a decade, I know how exposed and vulnerable one can feel. However, I have also seen how this can be extremely powerful, encouraging other survivors to come forward with their own stories, to seek help, and to feel less isolated. It can also capture the attention of decision-makers, influencers and politicians, creating greater societal awareness that leads to real change.
"Silence is a killer" was one of the first things Madame Gregoire Trudeau said to me as we began talking about the work I do at Together for Girls, a partnership between the Government of Canada, the US Government, five UN agencies and the private sector working in over 20 countries to end sexual violence. This rang deeply true.
In fact, our whole conversation reminded me that living with an eating disorder and having experienced sexual violence have much in common. Both issues are much more widespread than most people imagine and are surrounded by a culture of silence that leads to isolation, powerlessness and deep loneliness. Not surprisingly, these are also two issues that affect mostly girls and women: they are profoundly connected to gender inequality and to the objectification of women and girls' bodies.
The violence against children surveys (VACS), conducted as part of the Together for Girls Partnership, have helped shine a light on sexual violence—it's magnitude, risk factors, and consequences. The surveys have provided countries with national level data on 13-24 year olds for the first time, and we now have data for over 10% of the world's youth population. These data tell a horrifying story: approximately one in four girls report that their first sexual experience was forced or coerced, and anywhere from 20-38% report sexual violence before the age of 18.
But the surveys (led by CDC and national governments with support from the Government of Canada, UNICEF, PEPFAR and USAID) have also uncovered another disturbing finding: the pervasive and alarming culture of silence that surrounds sexual violence.
We've found that, of those who experienced sexual violence, only about half told someone about it. The top three reasons for not telling anyone were shame, fear and, most horrifying, not thinking it was a problem. In fact, for a lot of girls and women sexual violence is experienced within dating relationships, marriage, and informal unions—and many of them have been made to believe that their bodies do not truly belong to them. In other places, sexual violence has become so commonplace that many girls learn early on that it is part of life.
This means that in addition to the appalling levels of sexual violence experienced by girls around the world, a substantial group of girls are left to deal with this trauma on their own—often with severe negative consequences like unintended pregnancy, HIV, poor mental health, alcohol and drug abuse, as well as long-term effects on educational achievement and economic empowerment.
But it doesn't have to be this way.
Part of changing the unacceptable culture of silence for both eating disorders and sexual violence is having an open dialogue about their causes and about how widespread they are—across countries, ethnic groups, and social classes. The burden of this conversation should not fall uniquely on those who have lived through these issues—we all have a role to play.
However, it really does make a difference when courageous women speak up and tell their stories.
Thank you, Sophie Gregoire Trudeau, for being willing to share your story and for being a champion for girls and women around the world. Thank you for being a woman who helps other women. We need more of them.
Calling all HuffPost superfans!
Sign up for membership to become a founding member and help shape HuffPost's next chapter
This post was published on the now-closed HuffPost Contributor platform. Contributors control their own work and posted freely to our site. If you need to flag this entry as abusive,
send us an email
.