In an interview recently with Sarah Palin, Donald Trump boasted that his campaign is "bringing back the silent majority" in America -- the people who want to "see something incredible happen that is going to be great."
Unadorned by specifics, it was as vacuous a campaign pledge as a politician can make. But in those few phrases, Trump alluded to a couple of important points.
First, the rise of presidential candidates unsullied by public service seems to indicate that: A) Yes, the American people want to see something incredible happen, and B) Voters do not think they'll get something incredible from the candidates whose backgrounds are in government. In addition, Trump's poll numbers suggest that C) The voters like candidates who do not mince words on issues of national importance, even when their words are offensive. Candor appears to be more important than political correctness.
Second, Trump is correct that there is a new silent majority in the United States. Unfortunately for him and the several other Republican candidates pandering to their base by squatting in the climate-change denial camp, the silent majority consists of Americans who believe we should be doing something about global warming.
What's unfortunate here in the climate-action camp is that this silent majority may not turn out to be unfortunate for the deniers because unfortunately, many in the silent majority either do not vote or do not consider global warming to be a show-stopper. We have seen a Republican, Bob Inglis, punished by voters for daring to acknowledge change, but I am not aware of any candidate who has been punished for denial.
In fairness, not all Republicans deny that climate change is an issue we must do something about, but those with the courage to say so are former rather than current office holders. They have retired from needing special interest money or votes from the far right. There are rumors than a significant number of Republicans in Congress acknowledge the reality of global warming but see no political advantage in saying so.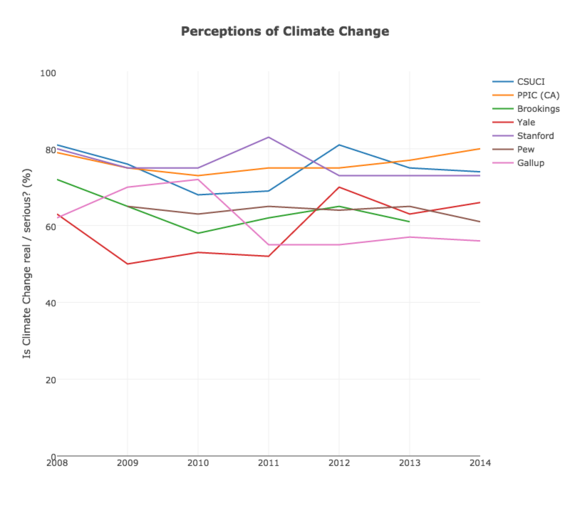 So, what is the evidence that there is a silent climate majority in America?
67% of Americans polled by Stanford University and the nonpartisan research organization Resources for the Future said in January they are less likely to vote for a candidate who does not acknowledge climate reality. They included nearly half of Republicans and 72% of independents, In addition, 74% of the respondents including 51% of Republicans and 78% of independents said the federal government should be doing a substantial amount to combat climate change.
Polling by the Yale Project on Climate Change Communications found that "not all Republicans think alike about global warming". Among the respondents who acknowledge that it is real were 62% of self-identified moderate Republicans and 68% of liberal Republicans.
In March, 68% of voters contacted in a Washington Post/ABC News poll said it is extremely or very important to have a president who leads on the issue. Only 4% said that presidential climate leadership is "not so important".
Also in March, the Benenson Strategy Group reported that 72% of the respondents in its poll said they want President Obama to sign an international climate agreement in which all countries commit to cut their carbon emissions. Fifty-two percent of the Republicans in the poll agreed.
In May, Harvard's Institute of Politics found that 80% of 18 to 39 year olds - a group that includes the prized youth vote - support climate action. Another prized group of voters - Latinos - have responded consistently and with overwhelming majorities that they, too, want action on climate change.
The question these citizens must ask themselves is how much longer they will allow political leaders to ignore or flat-out dismiss the need to do something about this most important of issues. How many acres of forest must burn, how many homes must be destroyed, how many killer heat waves and blizzards must we go through, how many overheated hurricanes, how many energy wars and climate refugees, and how many feet of priceless coastal property must disappear before climate change becomes a top-line election issue? When will the silent majority say "Enough!"?
It has been apparent for some time that we cannot expect deniers to have that necessary Pearl Harbor moment because of tragic disasters or admonitions from religious leaders. What would bring them around is the fear that they had better keep their pencils and notepads packed because they may not be in office long. In other words, the silent voters must turn themselves from an amorphous mass into an impressive mass of political muscle, like the Tea Party did.
The next opportunity to flex some of that muscle is September 24 in Washington, D.C., where Pope Francis is scheduled to address a joint session of Congress. There are plans for a citizens' climate rally outside the Capitol that day, with expectations of 200,000 people and some words from the Pope.
Trump is correct that the nation needs something great. What would be greater than the American people taking control of the country back from the politicians and special interests who do not represent them? Or restoring our nation's moral integrity? Or proving to the world that a market economy can protect the commons? Or proving that when people break their silence and use their votes, democratic government actually can work again? What would be more incredible than seeing all of our red and blue states turn green next year in a national election dedicated just once to just one issue: Our kids' future?
Wishful thinking? Probably. But it would not be the first incredible thing to surprise us in American politics. The silent climate majority could make this happen and make history, too, if its members found their voices and used them as one.
REAL LIFE. REAL NEWS. REAL VOICES.
Help us tell more of the stories that matter from voices that too often remain unheard.