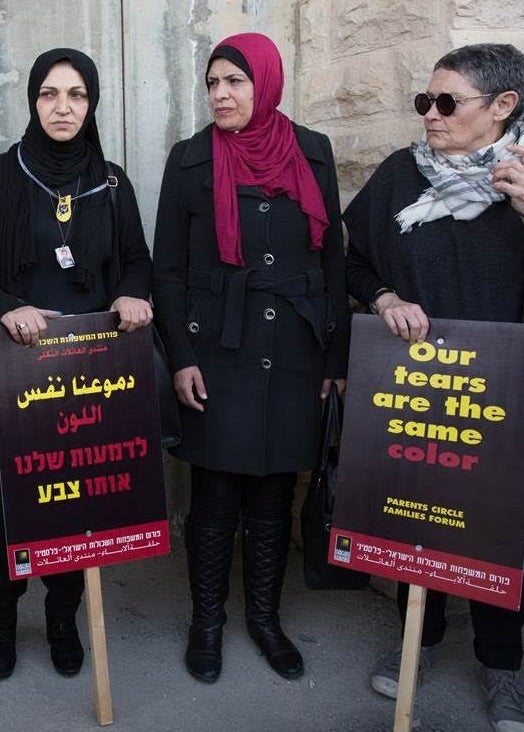 Early Friday morning, buses left from all over Israel and Palestine and some 200 women came to be together and discover the humanity in the other in honor of International Women's Day. It was thrilling to arrive and see how many new faces, friends of the bereaved members chose to spend the day together. This was such an opportunity for the Parents Circle to share our message with those who had never heard it.
This year we marked international Women's Day in the West Bank so that Palestinian women from Jenin, Nablus, Beit Omar, Deheisha Refugee Camp and many other villages would be able to attend without having to ask for permits. After all, freedom of movement is a basic human right.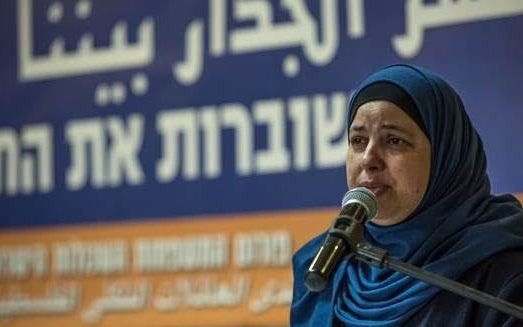 The day started with a dramatic, painful, honest and heartbreaking sharing by the mother of Muhammed Abu Khdeir who was brutally murdered and burnt by Israeli extremists. She has officially joined the Parents Circle as she believes that her son would want her to prevent further deaths on both sides. How extraordinary this woman is to make such a gesture of conciliation. The dignity with which she spoke and her wise words left us all tearful and grateful.
Three generations of peacemakers from the Parents Circle shared their loss, their road to reconciliation and their contribution to our work on the ground. IF you were looking to vent your anger and frustration at the wall which separates us from each other, you could have joined the ladies painting slogans with great enthusiasm on a artificial wall we built for the occasion and then with even greater enthusiasm breaking it down with special hammers and jumping on it to make sure it was destroyed. Just wish it had been the real wall, like in Berlin.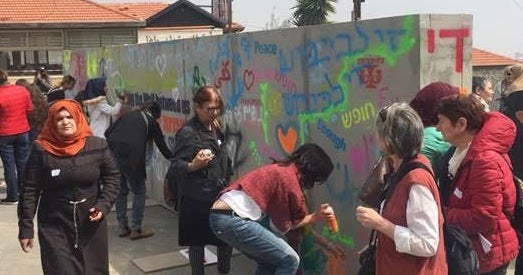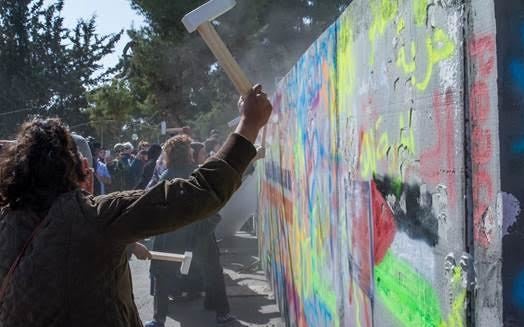 Two hundred women took a silent walk to the checkpoint with signs to end the occupation, to show that our tears are the same color and to say enough. We were accompanied by the Israeli army which arrived within minutes. However, a non-violent walk by 200 women with signs had them stumped and I think in their hearts they could not help but be moved by the head scarves and the bare headed walking complete harmony. A candle was lit in memory of all our beloved children, brothers, sisters and parents we would never see again.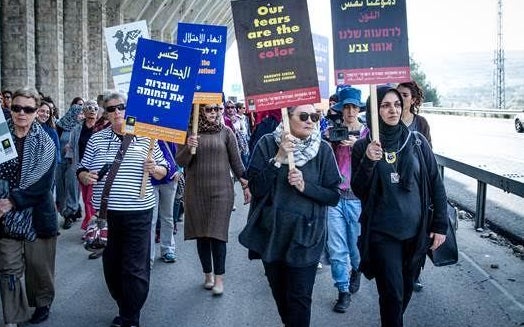 We know that the time has come for women to be at the negotiating table. When all is said and done we are the one's who are the ultimate victims of war. I remember running to the shelter in my building in the last Gaza war, watching a neighbor standing there with her small baby who was holding a ball and thinking to myself, how fortunate I am. This may sound rather strange but at least I had a shelter to run to unlike the women in Gaza or the women in Sderot. Another war is predicted this summer. How many more victims before this ends?
So dear friends, if we, who have paid the highest price can look for a way to reconcile, then perhaps you will join us the next time.
Calling all HuffPost superfans!
Sign up for membership to become a founding member and help shape HuffPost's next chapter