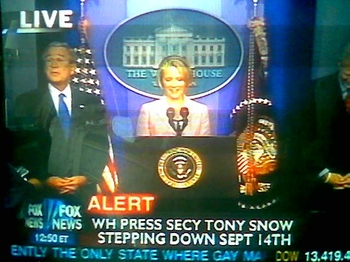 In yet another resignation for the Bush White House — broken on the last Friday afternoon in August, no less — White House press secretary Tony Snow has announced that he will be stepping down on September 14th, to be replaced by the smoothly competent Dana Perino, who stepped in for Snow earlier this year. Snow announced his departure at a press briefing today, with President Bush by his side (who said he "sadly accepted" Snow's resignation, which is to say probably more sadly than he accepted Gonzales'), before Perino came to the podium to praise her predecessor and thank Bush for his confidence in her. Then she reused that joke about how Tony Snow left really big shoes to fill and she was only a size 6. It felt like a chuckle cue, but there were none, possibly because everyone in that room has heard that joke (or at least read it, say, here, here or here).
There were no questions — that is to say, no questions taken. There was actually one question — something to the effect of "How does it feel to lose another one?" — but Bush didn't acknowledge that. We wonder if it was Bill Plante piping up.
p.s. Sorry for the lame-o cellphone shot, that's all I can offer you while living the rustic vacation lifestyle in Muskoka, which the Canadians amongst you will know of as a primo leafy-lakey summer spot. Special thanks to my mom, who held up a towel to ward off glare as I snapped the telly. Now that's teamwork! Or, teamwork that didn't work very well, because just above Bush's head you can see a lamp. Oops.

REAL LIFE. REAL NEWS. REAL VOICES.
Help us tell more of the stories that matter from voices that too often remain unheard.