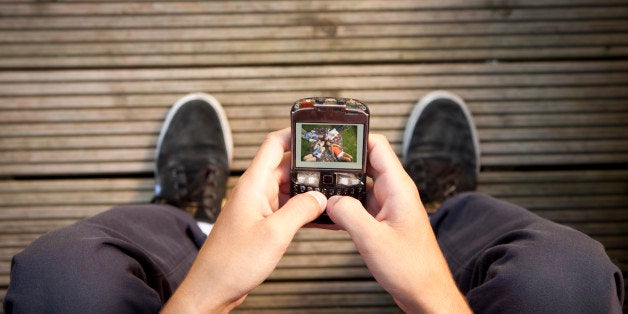 All relationships can be hard work, so it's difficult to know when to call it quits. And there is never a shortage of advice from others.
My friends kept telling me to jump ship for a long time but -- I would just stay the course -- thinking things could go back to the way they were. I didn't want to be like everyone else...just turning my back after a few glitches. I can see now that I was kidding myself. I was holding on to something that just didn't work anymore.
It started with the small things. Like, when we were out somewhere or on vacation, he refused to take pictures. The few times he would agree to snap a photo, there was no cooperation. No effort. And the photos were never useable. No matter what I did or how hard I tried, the compatibility was never going to be there. He just refused to keep up with the changing times.
I also hated how unreliable he was. Always losing things that I specifically asked him to save -- even something as simple as a friend's phone number. And god forbid he remind me when it was someone's birthday! It would really set me off when he stopped telling me if someone called or neglect to give me my messages. Spiteful.
Over time, things grew to be more difficult. He would just freeze me out for no reason. Other times, he would shut down all together, with no warning at all. Even on the day my daughter was born, it's as if he wasn't even there. He just took up space next to my hospital bed. Just another object in the room.
It's pretty sad that after all these years together, the only positive thing I could say was that we were great movie buddies. He was always courteous, especially to other moviegoers. He stayed completely silent throughout every film.
It finally got to the point where I could no longer hide how dysfunctional things were. Sometimes I would think -- maybe it's me. Did I push too many buttons? Did I call too many times?
But that's all behind me now. I have moved on. I bid farewell to my precious Blackberry.
And as cliche as it may sound... I got myself a newer, younger and much smarter companion: the iPhone 5. I can talk all day long and not have to worry about hearing complete silence on the other end. From day one, he was in sync with all the other devices in my life. He calls my friends for me whenever I ask. He even writes my text messages, verbatim. His spelling is impeccable too! If I get lost, he always finds me and guides me in the right direction. And when I ask him questions, he responds politely (in a curiously feminine voice). But hey, at least he answers me!
Needless to say, breaking up with my Blackberry was the best decision I have ever made. I'm a changed woman. This time around, it's all about ME and what I want.
Who says there is no "i" in phone!
Calling all HuffPost superfans!
Sign up for membership to become a founding member and help shape HuffPost's next chapter