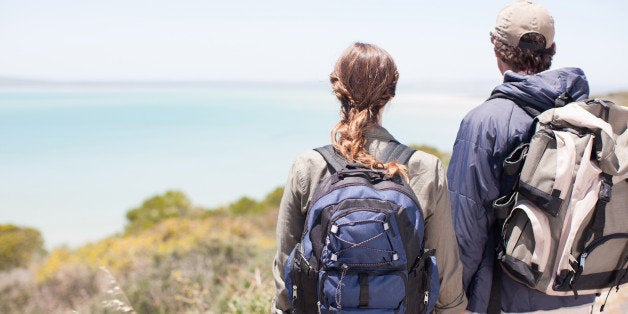 AreYouSeriousVille, CA, U.S.A.

Ali Johnston is in a physically stable and emotionally "fine" condition after literally dying Saturday when a 5-mile hike with her long-term boyfriend did not end with a marriage proposal and she jumped off a cliff, police confirm.

According to reports, Ali thought her boyfriend Grant Yates was going "pop the question" when they reached the top of the mountain. When he didn't, she jumped.

The unbelievable event has left those close to Ali utterly shocked.

"What kind of monster takes a girl on a hike and doesn't propose?" said 27-year-old Michelle O'Brien (who requested to be called "the future Mrs. Brantley Jones"), Ali's sorority sister. "No one climbs a mountain if they're not carrying a ring. I mean, seriously, just watch that movie with Orlando Bloom, Dumbledore and that elf that looks like Tobey McGuire."

Investigators believe Ali's presumptions were caused by the couples' relationship duration, their ages and the amount of engagement pics on her Facebook and Instagram feeds combined with the holiday season and the fact that they had never been hiking before.
Grant had also failed to propose the previous summer during a European vacation.

"We thought surely, surely this was it. Ali called us yesterday to tell us she was going hiking with Grant. You could hear the excitement in her voice. Ali isn't a regular hiker, I don't think she's ever been, so obviously we all knew...or thought there was no way it was a hike just for the sake of hiking," her mother Mrs. Christie Johnston said tearfully. "It's the holiday season aka engagement season. This is the perfect time to share such wonderful news with loved ones. I already told Grammie Jo that Ali was going on a 'hike.' Now what am I supposed to do? Who knows how long she has left."

Authorities confirm Ali was not the outdoorsy type despite owning multiple Patagonia fleeces.
However, Ali's sister and would-be-maid-of-honor Andrea Johnston argues a marriage proposal would have made sense because "Ali is into nature stuff."
"Ali got Grant a Yeti cooler for his birthday last year. She also has travel board on her Pinterest that's really scenic," she said while tossing 275 "now totally worthless" rustic DIY engagement party invitations into a non-recyclable trash receptacle at Ali's request.

Onlookers report that journeying up the trail Ali seemed "in high spirits," "giddy" and "anxious".

"I had taken a cat nap in the bushes and was heading back to trail with my camera to snap a couple pictures of this rare moss. I see these two kids standing there. The Ali lady spots me and immediately grabs that boy's hand and starts jumping up and down, all over the rare moss mind you, screaming 'Yes! Of course! Oh my!' even though no one had said anything to her. It was wild - wilder than anything I'd seen out here before," said witness Roger Marby. "Looking back now, I bet she thought I was a hired photographer there to capture the special moment. I captured something special all right...some type of rash from that rare moss. "

According to eyewitnesses, when the couple reached the top of the mountain Grant bent down to tie his shoe. Ali primped herself quickly, took a deep breath and stood straight up smiling with her hands at her side. Grant got up and was heard asking Ali if she was tired, wanted a sip of water or a Cliff Bar.

The scene escalated quickly. Ali was last heard yelling, "I'm so done. I'm literally going to jump off this cliff."

It was then she ran for the first time in her neon-laced running shoes. She literally died.

Forensics proved Ali was literally dead before jumping off the cliff. Doctors were able to revive her with Adele and white wine.

Grant and his legal team declined comment. He is currently charged with second-degree manslaughter for Ali's literal death and third-degree manslaughter after the news that Ali was not engaged killed Grammie Jo. It's unlikely he will be found innocent.

"She was expecting an engagement and all she got was a hike," the future Mrs. Brantley Jones said. "I would have jumped too."

Lend your support for Ali, her family and friends using:
#PrayforAli
#HappilyEverAli
#AliForTheNextBachlorette
#TAKEAHIKEGRANT

*UPDATE: Pure Barre West Hollywood and Naked Juice have teamed up to host a "Hike For Ali." The event will take place at the Hollywood Bowl. Unlimited drinks and appetizers will be served. Formal attire encouraged. All proceeds will go towards "Women Feeling OK If They're Not Engaged By 28."

**UPDATE: In respect to Ali, Whole Foods will sell only Kind Bars this week. Cliff Bars will return to the shelves once she's moved on.

***UPDATE: Chris has gotten a tattoo that reads "Live Life on the Edge." His attorneys will no longer represent him.

****UPDATE: Ali is back on Bumble and Hinge.
*****UPDATE: Mrs. Brantley Jones is expecting.
Calling all HuffPost superfans!
Sign up for membership to become a founding member and help shape HuffPost's next chapter