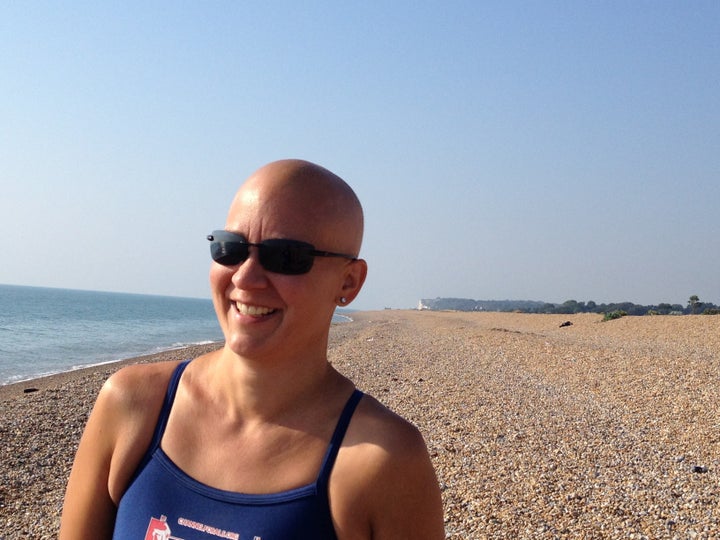 I stood on the swim platform at the stern of the Sea Satin, a 36-foot Dutch Steel ocean cruiser, shivering, teeth chattering with the frigid 60° F water of the English Channel lapping over my feet and ankles. I was wearing only my navy blue speedo swim suit, white silicone cap and green tinted goggles. There was a red blinking light clipped to my goggle straps and a green glowing light stick double-safety pinned to the back straps of my suit. It was dark -- just past 10:30 p.m. I stared down into the black choppy waters, willing myself to jump in.
Exactly four months earlier, on March 27, 2012, I underwent a lumpectomy in my left breast. My breast surgeon at the University of Michigan, Dr. Lisa Newman, removed a 2.2 centimeter mass and five lymph nodes. I was 44 years old and one day.
I could hear our boat pilot, Lance Oram, yelling that it was time to go. Gary, one of the crew members, was just above me calmly repeating what Lance was saying; letting me know it was time. I began hyperventilating. I heard more yells of, "Go, Go, Go" from Lance below deck.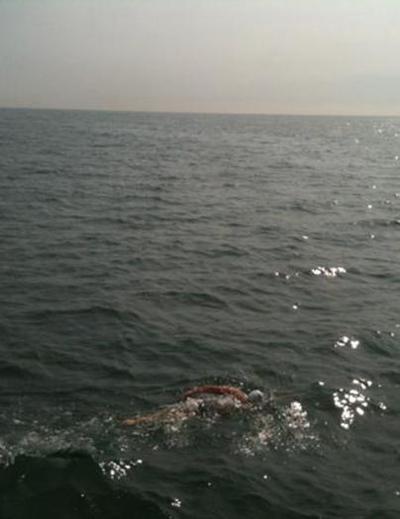 I knew we were still on track for the world record, although our margin was slowly diminishing. I knew my husband, Todd, was waiting for me at the beach in Dover. I knew there were people back home following our swim. I knew my teammates had given everything they had in them. I knew if I didn't swim we would be disqualified and it would all be over.
I was scared. I felt as if all my usual confidence and conviction had been drained away. I felt small, childlike. I was beyond exhausted. I was nauseous. I felt hot, while at the same time chilled to the bone. In a word, I was miserable.
I stared into that dark, horribly cold, uninviting water; my breathing shallow and rapid and knew that this was the moment that would define me. Not for the sake of anyone else. Just for me alone. This moment was the culmination of everything I had been through to get here, on the back of a boat, thousands of miles from home, in the dark of night. I asked myself, "Am I strong enough?"
When I received the call confirming that the mass in my left breast was ductal malignant carcinoma, one of the first things that went through my head was the English Channel. For nearly two years, myself and five other women had been planning and training to swim a two-way relay crossing of the English Channel to raise awareness and money for ALS (Lou Gehrig's Disease) research. We were doing this primarily in honor of my friend and neighbor, Bob Schoeni, who had been diagnosed with ALS four years earlier. Our goals were to raise $120,000 and break the world record of 18 hours and 59 minutes.
While struggling with the onslaught of emotions that come with a diagnosis of cancer, particularly all the unknowns, I was also angry that it would happen now -- just four months before we were to leave for England. The swim and the chance to make a difference in the fight against ALS had become incredibly important to me. The thought of withdrawing from the relay was devastating.
Within days I realized that to get through this I needed to flip it around in my head. It was good that it happened now. My fitness level was probably the best it had been in 15 years. I had the support of my amazing teammates, a community of passionate ALS supporters and my loving family. Perhaps more importantly, I had a purpose; something to occupy my mind and keep the dark thoughts away; something to get me out of bed; something to inspire me; something bigger than cancer.
Dr. Newman met with me on March 26th to discuss the recommended course of treatment. Due to the type of cancer (stage 2; triple negative; level 3 aggressiveness) as well as my relatively young age, my team of doctors recommended eight courses of chemotherapy spaced two weeks apart; the first four being the cocktail of Adriamycin (doxorubicin) and Cytoxan (cyclophosphamide) and the final four of Taxol.
I had brought a calendar with me to my appointment. I pointed out to Dr. Newman that if we could start the chemo two weeks after my lumpectomy, I could finish just in time to get to England, swim the Channel and then do my radiation when I got back. Dr. Newman responded quietly, "I discussed your desire to swim the Channel with the doctors on the tumor review board, and I'm sorry, but no one believes that you will be able to do it. The fatigue from the chemo will be too great." I looked at my husband and thought they don't know me.
I started the A/C chemo two weeks after my lumpectomy. I went in believing that because of my fitness level I would suffer minimal side effects. I also thought I could power through with a mind over matter way of thinking. I was terribly wrong. This was like nothing I had ever experienced before. I could feel the poison coursing through my body. It completely wiped me out. I couldn't imagine leaving the house, or even my bed, let alone swimming the English Channel.
Nine days after the first infusion, although still feeling lousy, I left the house for the first time in order to swim. I only swam 1,000 meters, and even though I was very slow, it felt so good, I cried. By the 12th day I felt almost normal -- back to swimming pretty fast. I once again believed that I could do it.
My next round was worse. The third round was unbearable. The doctors and nurses said that I was having an unusually bad reaction, but nothing they prescribed to relieve the symptoms made any difference. The Taxol was better overall, but the fatigue was taking its toll. I suffered neuropathy (tingling in my hands, legs and feet), but only slightly. The bone aches that came with the Taxol combined with the Neulasta injection (to increase white blood cells) were severe for about 48 hours -- a bit longer with each treatment, but I could get in the water two or three days more per cycle.
I felt more tired after each infusion. It was hard to swim with my teammates and be unable to keep up with them. As the swim grew closer, my teammates got stronger and faster while I was growing weaker. I knew in my head that it was the medicine breaking me down; literally killing parts of me, but my heart didn't buy in. The chemo hadn't weakened my competitiveness or my aspirations.
I finished my final Taxol treatment on July 11, 2012. We left for England on July 21st. The days leading up to our swim were spent trying to balance between strength building and recovery. On the evening of July 26th we received word that we were a go for the next morning.
My teammates and I, following the Channel Swimming Federation Regulations, rotated through every hour. About two hours after my second swim, the overwhelming fatigue and nausea hit. I was so miserable I didn't think I could walk for 15 minutes, let alone swim as hard as I could for an hour in frigid water.
My teammate Emily, a second year surgery resident, came down to the galley to check on me. She looked me in the eye and said, "You know it's going to be horrible. It is going to be horrible, but then you're done. You can do this." At 10:35 p.m., I stood on that swim platform asking myself if I could.
I jumped in. The first few minutes were agonizingly cold. For a short while after that, I actually felt okay. But then the cold began to seep into my core; the fatigue was settling in. I tried to push the negative thoughts out of my head. I thought over and over again that this was nothing compared to what Bob was going through, his body slowly deteriorating from ALS. My body would heal and recover from the ravages of chemotherapy; without finding a cure for ALS, Bob's never would. I thought of my husband waiting for me on shore. I counted my strokes willing the minutes to go by. It was horrible. Then it was done.
Emily got in after me and finished the swim by running up onto Shakespeare Beach in Dover. We finished in 18 hours and 55 minutes -- breaking the World Record by four minutes. Setting the World Record was incredible and a bit surreal, but the real triumph for me personally was that I was able to get back in that water. Cancer didn't stop me, it may have slowed me down, but it hadn't beaten me. I jumped in.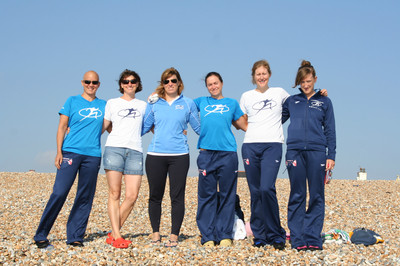 (Photographer: Chris Hiltz. From left: Amanda Mercer, Bethany Williston, Jenny Jalet, Susan Butcher, Emily Kreger and Melissa Karjala)
This piece is part of the 'My Breast Cancer Story' project. To learn more and submit your story, click here.
Calling all HuffPost superfans!
Sign up for membership to become a founding member and help shape HuffPost's next chapter