What's so funny about cancer?
"Not one damn thing, really," says Kate Matthews, a breast cancer survivor and cartoonist, "but whenever I need to feel lifted away from the fear, horror and pain of breast cancer, humor is the first place I turn."
I got to know Kate through MyBreastCancerTeam, a social network specifically for women facing breast cancer. Through the network, she shares cartoons that reflect life through the lens of someone who's made it to the other side of breast cancer, yet is still living with the fear of recurrence.
People ask, 'How can you possibly joke about this?' My answer is that the more severe the cancer, the more you need to joke about it. After my diagnosis, and before my surgery, I was in a bad place mentally, dealing with wigs, hair loss, and chemo... all the stuff that might happen. I had started journaling, but when I re-read what I wrote, it seemed so dark, bitter and toxic.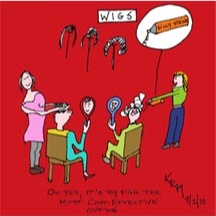 That's when she drew her first cartoon of a woman seated in a chair at a wig shop.
Her humor is not lost among the 2,300 women facing breast cancer on MyBreastCancerTeam, where she frequently shares her cartoons. She envisions a 'humor for cancer' movement that helps make patients laugh. Just laugh.
For Kate and many of those impacted by breast cancer, modesty falls by the wayside, so it's rare that anything offends her. Yet she recognizes this isn't the case for everyone, all the time.
"Sometimes as patients we're a little touchy, but I've received positive and warm responses from other women, so I try to post a cartoon a day on MyBreastCancerTeam and Facebook."
The key for her was that the expression of her humor had to be fast. Express the idea and move on, whether due to chemo fatigue or soreness post-surgery.
Kate has also seen inspiration in Tig Notaro, the comedian who made headlines recently with her legendary standup act announcing she had cancer. Kate says, "I really admire her for just getting up there and saying some of those things. The thing about God [reference to Tig's joke about God only giving you what you can handle] was a similar feeling I had. I actually opened up my book with a cartoon showing God and his angels up in Heaven plotting to add some more nasty things into a cancer victim's life.
As she finished treatment, she realized she had a folder of cartoons, which she eventually compiled and put into a book, The Little Pink Book of (mostly) Cancer Cartoons. "They still seem funny to me, and even though some of it was dark, I didn't eliminate the dark stuff."
Today, Kate is working on a second collection. "I'm starting to broaden the humor of my cartoons to be ironic and universal, and not just focused on breast cancer. Women's lives, even in treatment, are about many other things. So I broaden some of the topics."
Her advice to anyone going through cancer: "Try to find the humor in any situation. I remember standing in a room naked with eight male doctors (some interns) standing around grabbing at my stomach to see if I had enough flesh for reconstructive surgery." As awkward as it was, Kate says it was equally hilarious. "Personally, I think it's important to find humor in any situation. Opening up to things that might be amusing or beautiful helps work your way out of the dark places. I have this vision of people being in a room laughing hysterically."
SLIDESHOW: Breast Cancer Cartoons
PHOTO GALLERY
Breast Cancer Humor
Calling all HuffPost superfans!
Sign up for membership to become a founding member and help shape HuffPost's next chapter