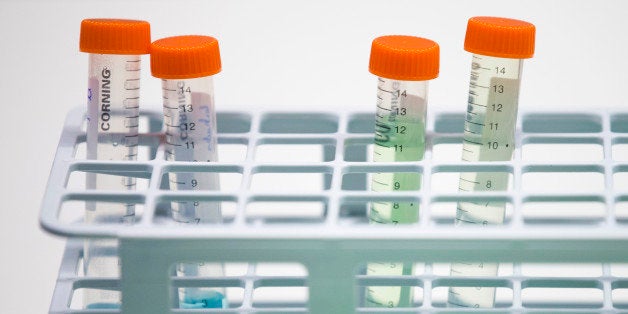 Genetic testing is often heralded as a cornerstone in an imminent and exciting new age of personalized medicine, in which our health care is customized based on our individual genetic profiles. But let's not get carried away by the fantasy and promise; progress has lagged while persistent medical, ethical and scientific issues associated with genetic testing abound.
Last week, we witnessed a major step toward reigning in what has, until last year, been a veritable Wild West of genetic testing. On Monday, a U.S. District Court Judge in Utah decided that Myriad Genetics could not stop a competitor (Ambry Genetics) from offering commercial BRCA ("breast cancer gene") testing as their current legal suit winds through the courts. (Full disclosure: Breast Cancer Action filed an amicus brief in opposition to Myriad's request for an injunction, along with the American Civil Liberties Union (ACLU), Public Patent Foundation (PUBPAT), Association for Molecular Pathology (AMP), and the AARP, each of which was also involved in a multi-year lawsuit cited below which challenged Myriad's patent claims on the two BRCA genes.)
This somewhat esoteric legal battle between two biotech companies is instructive about what is at stake in the multi-million dollar genetic testing business as well as the broader issue of corporate influence in science and medicine. Last June, the Supreme Court unanimously ruled that patents on human genes are illegal and ended Myriad's longstanding monopoly on the BRCA1 and BRCA2 genes, often called simply the "breast cancer" genes. Women's health advocates rejoiced that the ruling opened the door to newer, better and cheaper BRCA tests. Indeed, the very day the Court ruled, half a dozen labs, including Ambry Genetics, announced they would begin offering BRCA testing at a fraction of the cost of Myriad's BRCA Analysis Test (a staggering $4,000).
Many people rightly wonder how Myriad can sue other companies for patent infringement after the highest court in the land rescinded the company's monopoly rights on the BRCA genes. The short answer is that Myriad's ultimate goal may be less about winning these latest lawsuits and more about the lawsuits to stall the financial implications of the Supreme Courts' ruling, allowing them to hold onto their BRCA testing monopoly for as long as possible.
For many companies, particularly smaller biotechs, the threat of legal action means a choice between going under completely or giving in to a corporate giant with virtually unlimited resources. Just last month, another company that began providing BRCA testing after the Supreme Court's ruling settled with Myriad to end a lawsuit; Gene by Gene agreed in February not to market or sell clinical BRCA diagnostic tests in North America after Myriad's legal onslaught.
Last week's ruling by Judge Shelby is perfectly clear about all that is at stake for Myriad:
Although Plaintiffs [Myriad Genetics] have shown that they are likely to suffer irreparable harm through erosion of their test pricing structure, loss of their share of the testing market, and loss of their exclusive patent terms if an injunction does not issue ... Plaintiffs are unable to establish that they are likely to succeed on the merits of their claims.
In other words, Myriad's earnings will undoubtedly take a serious hit from increased competition, but this fact cannot override the substantial doubt about whether they will prevail in their legal claims.
Jude Shelby's ruling is part of a trend over the last year to reign in the power of companies to control the terms of genetic testing. Not only have the courts pushed back on Myriad's monopoly, at the end of 2013, the Food and Drug Administration (FDA) moved to stop the direct-to-consumer genetic testing company 23andMe from marketing and selling its DNA testing service without approval.
As with all medical drugs and devices we must balance the desire for innovative new treatments with our demands for safety and efficacy. As more labs and companies enter the BRCA testing market, we must ensure that these tests are properly regulated to protect public health and patient interest. Genetic tests claiming to provide medical information must be analytically and clinically validated so we know that what companies are telling customers is in fact accurate. Nor should companies be permitted to overpromise the benefits of genetic testing or to drum up people's fear of disease in order to sell more tests. All genetic testing should be accompanied, both before and after testing, by independent and professional genetic counseling so that potential customers understand the limitations of testing, their individual test results and all of their medical options.
Finally, we should refuse to allow companies to hoard, for their own gain, our medical and bio-data collected through the process of testing. Critics of Myriad have long noted that the company stopped contributing to the primary international database on genetic mutations related to breast cancer, in what is widely seen as a move to further capitalize on their monopoly access to more than a million women's family history and genetic information. Similar critiques have been made that 23andMe is using its customers' bio-data and familial information to launch new business products. Companies that are engaged in genetic testing should join the scientific and medical community and appropriately share bio-data through open-access databases for the benefit of humankind and public health.
As our scientific and medical communities forge ahead in developing new technologies and tests that may help us better understand our individual risk of disease and our response to treatments, we should also insist that all genetic testing companies uphold the highest, patient-centered scientific and ethical standards.
Calling all HuffPost superfans!
Sign up for membership to become a founding member and help shape HuffPost's next chapter