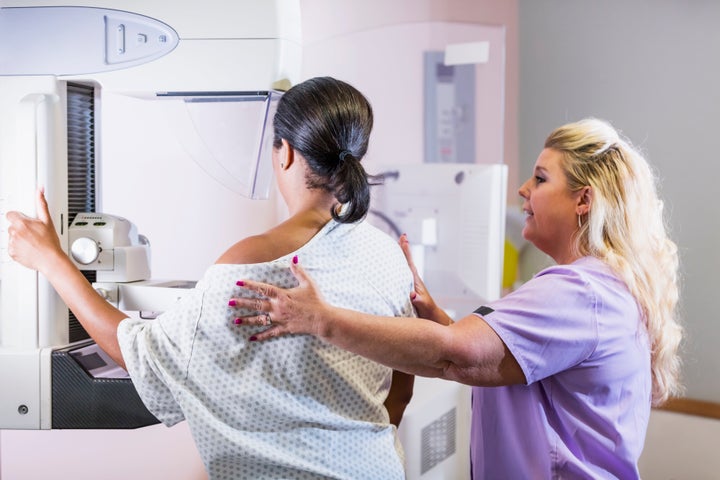 While many people begin getting annual mammogram screenings for the disease in their 40s, that wasn't the official guidance from the U.S. Preventive Services Task Force. Now, that has changed.
New draft guidelines from the USPSTF say that mammogram screenings should now start at age 40 and occur every two years. Previously, the organization recommended starting screenings at age 50 and that people 40 to 49 could consult with their doctor about mammogram options. "That was contrary to all of the other organizations at the time," said Dr. Sarah Friedewald, chief of breast imaging at Northwestern Medicine in Chicago.
The American College of Radiology and Society of Breast Imaging has already said women should start yearly mammograms at 40, and so has the American College of Obstetricians and Gynecologists. The American Cancer Society says women 40 to 44 can decide to get screened but recommends all women starting at 45 should get an annual mammogram.
Friedewald said physicians are pleased that the task force has updated its recommendation "because 1 in 6 breast cancers occur in women in their 40s, so this is an important patient population to make sure that we're getting them screened."
Why does the guideline change matter?
The new recommendation addresses rising cancer rates — including breast cancer — in people under 50. Insurance companies also largely adhere to these types of guidelines, Friedewald said.
While lowering the age to 40 is a good thing, other screening guidelines go one step further and encourage yearly mammograms. The task force's new guidelines state that people should get mammograms every other year, which some doctors find insufficient and fear that it may leave a loophole for insurance companies not to cover a yearly mammogram if they choose not to.
"They don't go quite far enough ... they don't state that the screenings should be yearly, which is really what it should be. This should be a clear message," said Dr. Laurie Margolies, the director of breast imaging for the Mount Sinai Health System in New York. "Why is that? Because when you screen yearly, multiple studies have shown that you get the most reduction in breast cancer mortality and gain the most life years."
"Screenings should be yearly ... This should be a clear message."
Friedewald said she and some other doctors are concerned that patients won't be able to get an annual screening if insurance companies only authorize mammograms every two years because of these updated guidelines.
"And this is problematic because women who are affluent and can afford to pay out of pocket for screening mammography may choose to get screened every year because that's really where the greatest benefit is," Friedewald said. "And those who cannot afford it, who have to rely on their insurance to cover their cost, won't get screened as often and that's just going to increase the disparity we are already seeing."
That said, Margolies is hopeful that most insurance companies will allow for yearly mammograms if it's right for a patient. "I think the insurance companies will be afraid not to," she said.
A spokesperson for the USPSTF told HuffPost that people ages 40 and who wish to get yearly screenings should speak with their physician. However, the task force feels that yearly screenings may also come with some downsides.
"Our review of the latest science shows that women benefit most when they are screened for breast cancer every other year," Dr. Wanda Nicholson, the vice-chair of the USPSTF, told HuffPost via email. Nicholson said that while annual screenings might help find some cancers earlier, they also could lead to a greater chance of false positives. This could result in unnecessary biopsies, tests or treatments.
The new guidelines also say mammograms should continue through age 74. The task force did not make a recommendation for or against mammograms for those 75 and up.
"They didn't make a recommendation about our older women ... what I would recommend for those women over the age of 75 is continued screening as long as you are healthy and as long you think you are likely to be alive for 5 or 10 years," Margolies said.
You should continue to get screened because of the long lifespan many folks have. "There's no reason to stop screening," she said.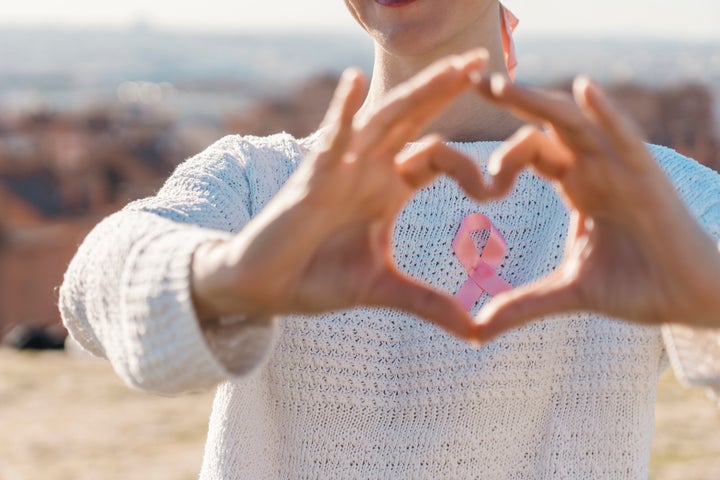 The guideline change only applies if you have an average risk of developing breast cancer.
"These guidelines are for average-risk women ... we recommend screenings should be every year beginning at age 40," Friedewald said. (Note that she and most experts still suggest circumventing the task force's recommendation of every two years.) In Margolies' opinion, an average risk means you're healthy, have no immediate family history of breast cancer, have no genetic predisposition to breast cancer and do not have dense breasts.
The USPSTF defines average risk a little differently: "The Task Force's recommendation applies to cisgender women and other people assigned female at birth who are 40 years and older and at average risk of breast cancer. People with a family history of breast cancer, and people who have other risk factors, such as having dense breasts, are included" in an average risk category, according to the site.
According to Margolies, people who have a family history of breast cancer or have dense breasts or another medical condition could be at a higher risk for developing breast cancer and may need to start screening before 40. If you fall into that category, it's always best to work with your doctor to figure out when and how often.
"If patients fall into a higher risk category, we have even more aggressive screening strategies for these patients," noted Friedewald.
Certain populations are at higher risk of breast cancer, including Black women and Ashkenazi Jewish women, Friedewald said.
Ashkenazi Jewish women have a greater chance of having the BRCA mutation, which puts you at a higher risk of certain types of cancer, and Black women tend to have more aggressive cancers at a younger age and increased mortality compared to white women, she said.
If you're not eligible for a mammogram, doctors say there are other screening measures available.
"You can ask your doctor to perform a risk assessment. The Society of Breast Imaging recommends that all women should have a risk assessment by age 25," said Margolies.
This assessment provides helpful information to your doctors to determine your lifetime risk of breast cancer. In turn, it helps determine if you need to start breast cancer screening before 40 or if you need other forms of screenings, too, Margolies explained.
"We want to make sure everyone gets risk assessed, and then we can place them in the appropriate screening strategy," Friedewald added.
There are also online risk assessment calculators through websites like the Breast Cancer Surveillance Consortium, which are not totally accurate but can be helpful for someone who is anxious about their risk. If the results come back as 20% or higher, Friedewald said you should make an appointment with a genetic counselor.
Additionally, you can conduct an at-home breast exam, which is not as sensitive as imaging, but for someone who is not eligible for a mammogram, it can be one of the few screening options available.
The best way to treat breast cancer is by catching it early.
"Annual screening starting at age 40 saves the most lives, that's the simple clear message that I would love every woman to understand — really everybody to understand," said Margolies.
Friedewald added that all organizations agree that more lives are saved if you start breast cancer screening at 40.
"Expanding the guidelines to women in their 40s is great so that we can guarantee that patients in their 40s will have access to screenings with coverage by the insurance companies," Friedewald said.
This story has been updated to include more information from the USPSTF, including a clarification on screenings after age 74.