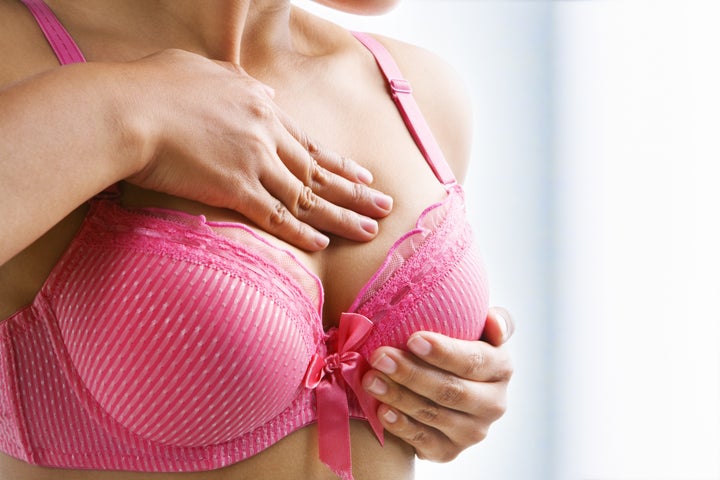 It was the last day of my junior year of college and I was packing up what was left of my dorm room when my Mom told me she had found a lump in her breast. I'll never forget that day and exactly how I felt at the moment I was told. As I stood in the bare hallway on a payphone listening to my mother's voice, she played the protective role of a mother who didn't want to worry her child.
When I landed at the airport, I was greeted by my father and sister and it was then that the significance of my mom's condition set in. My father and sister leveled with me and they told me she had had a mastectomy. Terrified, the child in me thought, "Is this real?" We walked through the terminal, hopped on an escalator and tears rolled down my face as I made my descent to baggage claim. With every step down, reality set in and what was left of those surreal emotions washed away. I would remember this feeling for the rest of my life.
From the airport we went directly to the hospital to see my Mom. Once there, we received more bad news when we learned the results of the tests on my mother's lymph nodes. The cancer had spread and two days later she had to have her other breast removed. The urgency of what my mother was up against came to light when the strength of my father caved and he began to cry. That is the only time in my life I had ever seen my father cry. And I recall this moment as the beginning of a summer that would stay with me forever.
My mother handled her diagnosis and surgery in a way that changed my perspective on life. As a devout Catholic, my mother's faith was the driving force behind the positive outlook she carried from day one of her diagnosis. Just several days after her surgery, my mother was outside mowing the lawn and tending to things the way she always had. And that's the kind of person she is -- never one to miss a beat and so sure and full of life despite her circumstances. At the request of her doctor, she became a cheerleader for other patients who were struggling and having a harder time coping with their changes. My mother's journey and experience with cancer -- 30 years in remission, she's doing great and looking forward with the wisdom of a true survivor.
I became an advocate in the fight against cancer as I saw how powerful my own mother was when her body was at its weakest. As she found the strength to fight, I found a greater sense of purpose in my responsibility as her daughter. Since my mother's cancer, I have been heavily involved in raising awareness in the fight against cancer, sharing my own personal story, and encouraging others to join the cause. My mother was given a tremendous second chance, but not all women are so fortunate. It is our job to stand up and be voices for these women who aren't with us today. And it is our job to stand up for the generations coming up after us as well.
This is not to say the fear of cancer does not haunt our family. My sister was recently diagnosed with ovarian cancer, but it was caught early thanks to the advancements that have been made since my mother's diagnosis. Thirty years of memories come rushing back. So does Mom's strength.
When Laura Ziskin, the co-founder of Stand Up To Cancer, was rallying the entertainment industry to Stand Up To Cancer, she said the goal was to make everyone diagnosed with cancer a survivor. I know what it's like to have people you love come out on the better end of this diagnosis. And I know the feeling of gratefulness that washes over you when the results go your way. This is a very real possibility for our future. But it will take sustained momentum and a symphony of voices to rise up for this shift to occur.
This October, I encourage you all to stand up for National Breast Cancer Awareness Month. I have joined The Safeway Foundation and Stand Up To Cancer in a campaign designed to help raise funds and awareness in the fight against breast cancer. Join us in the fight against breast cancer by purchasing a limited edition bag or by making a donation at your local Safeway store. Safeway Inc. and The Safeway Foundation have raised and donated over $102 million to breast cancer treatment and research over the past 11 years. The funds benefit leading-edge breast cancer research projects at some of North America's top cancer centers as well as a range of nonprofit organizations focused on new treatments, raising awareness and enabling early detection.
Breast cancer claimed the lives of nearly 40,000 women in 2011, which underscores the vital need for better treatments faster. With a powerful message in our campaign, we have come together in support of everyone who has been affected by this painful disease -- everyone who has a story.
Emmy Award-winner and Golden Globe nominee Marg Helgenberger recently ended her twelfth season of the CBS drama, CSI: Crime Scene Investigation for which she has earned two Emmy nominations.
Calling all HuffPost superfans!
Sign up for membership to become a founding member and help shape HuffPost's next chapter