 I had never considered myself a sexual person. I did, however, have large breasts, which thrust sexuality upon me at a very young age. As a shy, insecure teenager, I did not appreciate being known as the "blonde with big boobs." I avoided attention by wearing layers to conceal my breasts. As I grew older, my self-esteem evolved, but I remained uncomfortable with my shape.
I decided it was time to undergo breast reduction surgery when I landed my first job with good health benefits. My confidence immediately blossomed as I adapted to my new, 36 DD "small boobs," and I displayed my proportional body in strapless sundresses. I could cross a street without stopping traffic and, for the first time in my life, actually looked forward to swimsuit shopping.
Clearly I loved the size of my new boobs, but as time passed, it felt like the texture of my right breast was different than that of my left. I could feel some sort of golf ball-sized mass inside of it. I went to my plastic surgeon and was told it was just scar tissue from my reduction, so I didn't think much of it. No more frumpy for this girl. I was too busy buying new bras, lingerie, and one-piece numbers to show off my new curves. Dating was fun, the compliments flowed, and my confidence was soaring.
Amidst all the wooing and flirting of the next several months, I began to experience sudden bouts of numbness in my right arm. I would lose strength when holding something in my right hand. Again, the doctor said I was being paranoid and not to worry. It was not until that golf ball turned into a purple grapefruit, my nipple inverted and the pain became absolutely unbearable that my plastic surgeon ordered a mammogram and biopsy.
I was diagnosed with inflammatory breast cancer, a rare, aggressive form of the disease that has a five-year survival rate of about 40 percent. Facing my own mortality at age 27, having large breasts didn't seem like such an issue anymore.
I started chemotherapy 10 days later and lost all my hair about three weeks after that. My right breast was entirely removed. I had daily radiation treatments to my bare chest wall for eight weeks. I spent an entire year without my right breast, feeling near dead, let alone beautiful. As I stared at myself in the mirror -- bald and lopsided -- the only thing I could do was remind myself that "pretty is as pretty does." Breast cancer stole my pretty.
Interestingly, I wanted a snapshot of myself during this time. Just a single photo in which I could see a glimmer of the old confident me would suffice. I had been searching for a photographer online when I stumbled upon www.keep-a-breast.org.
The Keep A Breast Foundation made plaster molds of women's busts and auctioned them off to raise funds for breast cancer awareness. I thought this was a fantastic idea. I emailed them immediately, and days before my reconstructive surgery, I had a plaster mold made of my torso by the co-founder of the organization, Shaney jo Darden. When the mold was complete, she took a photo of me with my cast and we hugged goodbye. Several months later, she invited me to the Roxy Headquarters for their annual Think Pink event. To my surprise, she presented me with my beautifully painted cast in front of the entire company. The cast was inscribed, "No Gain, No Loss, Only Change." I cried when I first saw my form because it was the first time I had seen myself as beautiful since my diagnosis.

Seeing myself immortalized as a work of art allowed me to appreciate the beauty of my body at that time: the balance of femininity and strength. The cast helped me see the juxtaposition of my two sides and life. It was time for me to embrace life and get my sexy back.
I opted for a modified micro-vascular DIEP flap reconstruction on my right breast. Basically, the doctors created a breast out of my stomach tissue. After this reconstruction, I finally felt balanced, both physically and mentally.
I slowly began dating and found myself in a long-term relationship with an amazing man who loved my scars. And every day I wake up to see the man-made breast, the scar from my left hip to my right hip, tattooed nipple and I remind myself: THIS IS BEAUTY.
I now run the program that allowed me the opportunity to see beauty in myself six years ago. The Young Survival Coalition/Keep A Breast Foundation's Treasured Chest Program is a free program that provides DIY Breast Casting Kits to any breast cancer survivor who would like to make a mold of their torso at any point in their breast cancer journey (before surgery, after lumpectomy/mastectomy or after reconstruction). The program also invites spas and salons to hostess casting events all over the United States, Canada, and Europe to pamper and support these women.
Before my breast cancer, I would have done anything to avoid a conversation about my chest. Here I am before you today -- strong and proud -- confident in this body and grateful for the opportunity to share my story with others.
Love your body as it is right now. Be kind, compassionate, and gentle with yourself.
Pretty is as pretty does. Go out and volunteer. Contributing to a cause is a great way to remember that beauty is skin deep.
Trust your intuition. If your mind is telling you there is something wrong, seek medical attention. If a doctor dismisses you because you are "too young," seek another.
You are perfect. Plain and simple. Own it.
I hope you find your sexy too.
For more inspiring breast cancer stories, click through the slideshow below.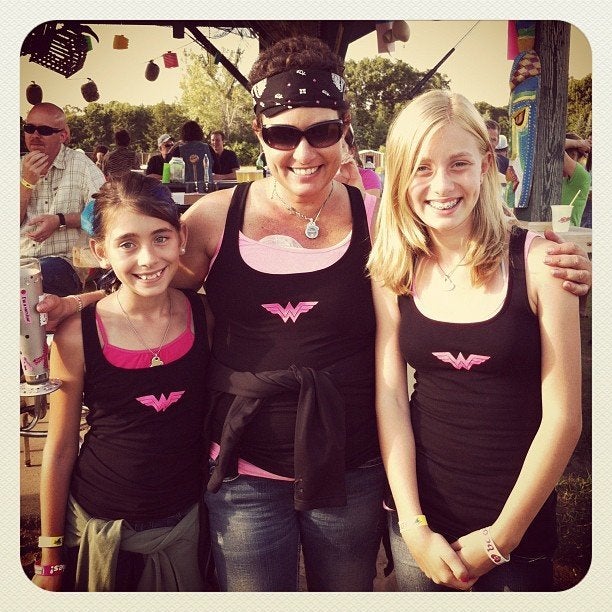 For more by Amanda Nixon, click here.
For more on breast cancer, click here.