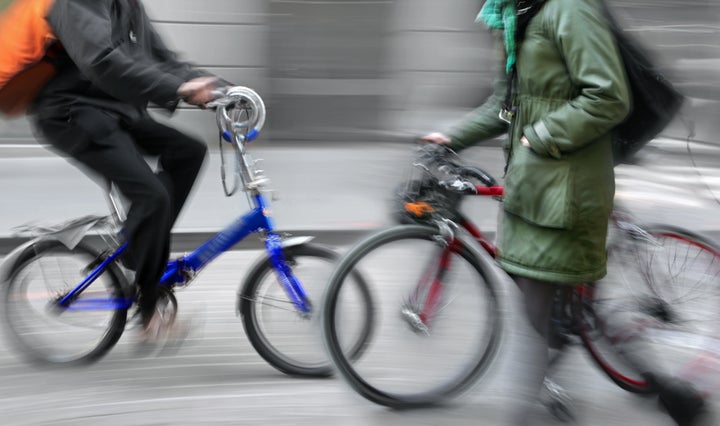 My goals were set in stone. My plans meticulously laid out.
On Sept. 8, 2002, I would ride my first "century" -- an endurance bike ride of 100 miles. I had always been a "high achiever" (let's not be judgy and call me an "over achiever," all right?), so I had no doubt that I could train and complete the ride. Back in the mid-1990s, I had completed three NYC Marathons, and I logged my 50-mile training weeks while billing 2,000+ hours as a NYC attorney and planning my black-tie wedding, which included an entirely unironic performance by me of Vanessa Williams' "Save The Best For Last." (I was a starry-eyed 28, and I don't think irony had been invented yet, or so I shall believe if I so choose.)
Immediately after the 1996 marathon, I decided it was time to start having babies. When I didn't become pregnant on the first try, I booked an appointment with the best fertility specialist on the Upper East Side. Onlookers scoffed at my attempt to control the uncontrollable. But my persistence paid off: An out-patient surgery reversed an underlying structural condition preventing implantation, and just 23 days later, I had "passed" my pregnancy test (I'd like to think that I got an A, but this test was pass/fail).
Brian was born in 1997, perfect, as expected. Adam came along in 1999, also perfect, also as expected. Within three months of each pregnancy, I was back in my skinny jeans. At first I relied on running, but over time I incorporated inline skating and figure skating. Eventually, I discovered long distance biking, because it seemed to allow me to do everything I wanted, and all at the same time: I could do my my training sitting down! I could review contracts while on a stationary bike! I could strap Adam into the little back seat of my bike and squeeze in some quality mommy-time while training!
For six weeks during the summer of 2002, my burgeoning family rented a vacation house a mile from the beach in Westport, Conn. Those were truly the salad days, or so it seemed. I had managed to score one of the first ever "limited-hours" gigs at a large NYC law firm. I grilled up gourmet meals for visiting friends, I transitioned from Cosmopolitans to Mojitos to showcase the wonderful mint I was growing in the garden, I applied self-tanner to my milky white skin so that I would look good in my bikinis, and I spent hours and hours on my bike, training for my first century.
I was tired that summer, which shouldn't be surprising when you consider all that I was doing. But looking back, I realize that I was more tired than I should have been. And when I see photos, I can see that I looked like hell.
On the morning of Aug. 2, 2002, I found the lump. It was in my right breast, and I knew immediatetly that there was nothing benign about it. It didn't have any particular shape, it didn't hurt, and it didn't move. I found it in the shower, and I came out dripping, breathless.
Six weeks later, I had both of my breasts removed, taking a leave of absence from my law firm to recover. Six months of chemotherapy followed, during which I did not go back to work. With chemo came total hair loss, irreversible infertility (e.g., chemo-induced menopause), exhaustion, depression, a transfusion, a week-long stint in the isolation tank at the hospital, and a total failure to continue to be the kind of uber-mommy that recites six bedtime stories back to back, makes homemade banana pancakes for breakfast and takes the kids to the American Wing at the Metropolitan Museum on rainy days when the playground's not an option.
After that, there was a six-week course of radiation, surgery to remove my ovaries, three attempts at reconstruction (the last one was the charm), a year of an anti-cancer drug called Herceptin, an annual infusion of a bone-building drug called Zometa, and a daily anti-cancer pill called Arimidex that I have been taking "for five years" for the past 10 years.
I consider myself lucky. I'm alive. When all was said and done, I got the chance to be thin and have long hair again, and most importantly, to be the kind of mom I wanted to be, again.
But I never did bike that century. And I never went back to being a lawyer. Today, I mother my teenage boys, I write, I speak, and I do my best to inspire people to think, or just to inspire people in general.
Although I would never say that I am "grateful" for having had breast cancer, I am pleased with the change in course that breast cancer catalyzed for me. Apparently, life is what happens while we're busy making other plans. And while I was busy making new plans (to write and produce a short film, to transcribe a friend's experience growing up in Mao's China, to write the BDSM-themed novel that "50 Shades of Grey" could have been had it been infused with gritty realism), my "10 Years After Breast Cancer" came to the attention of HERS Breast Cancer Foundation (HBCF) through their PR Agency, Gutenberg PR, and I was, in turn, introduced to Neil Walsky, 25, and Jesse Frechione, 23, two guys from Anchorage, Alaska, who had meticulously planned a 7,000-mile bike ride from Anchorage to Cartegena, Colombia.
Their noble goal was to honor Neil's mom, Agnes Walsky, who was successfully treated for breast cancer in 2011, and also to raise awareness and funds for HBCF. I wrote about Neil and Jesse's plans in the first Bicycle Diaries installment. After Neil and Jesse made it through Alaska, the Yukon Territory and down the Pacific Northwest Coast into San Francisco, I updated the story in "The Bicycle Diaries Part 2." The next leg of their ride took them all the way down the California coast The riding was relatively easy, and the accomodations -- with friends and family -- relatively comfortable. In late October, they crossed into Baja, and the course changed. Tijuana was chaotic: terrible traffic, confusing roads, difficulty communicating (neither Neil nor Jesse is fluent in Spanish). Further south, in a town called "Warm Showers," they met a man who told them stories about his grandfather -- a drug dealer -- who used his machine gun to intimidate the neigborhood kids. While riding aong a dirt road in Uruapan, a truck stopped and asked them if they wanted to help them press wine. And so they did. But with the exception of a raucus night of street soccer with some local youths, the roads heading south through Santa Maria, Catavina and Santa Rosalia were lonely... almost ghostly.
When they reached La Paz, the monotony was overwhelming, and Neil and Jesse began feeling disconnected from their original purpose. They spent days by the water, soul searching, contemplating what lay ahead on their journey.
That's when Neil and Jesse learned their own lesson about what happens when the road changes unexpectedly (as it always does). Jesse confided to Neil that he was losing sight of what they had set out to do. South America seemed to be getting farther and farther away. And while their "honorary moms" at HBCF were never far from their hearts, they were very far from Baja. Jesse he had been offered a position on the crew of The Baha Bash, a 37-foot sailboat heading to San Diego. After more soul-searching, Jesse broke the news to Neil that he was heading back north with the Bash.
Waking up the morning after Jesse left, Neil resigned himself to continuing along the plotted course, even if it meant riding without a wingman through unfamiliar countries where he did not know the language. However, a phone call with his older brother, Eric Walsky, opened his eyes to yet another possibility: Having lost his cycling partner, he had nevertheless gained freedom in terms of time and destination. The unexpected was unexpectedly filled with possibility. Ultimately, Neil decided to spend a few days relaxing into the idea of his newly-modified journey before flying back to San Diego, from which he would bike east across the United States, all the way to St. Augustine, Florida. During this time, Neil realized that now that he was cycling across the U.S., he might not have to do so alone, after all. On Dec. 8, Neil's father, Buck Walsky, met Neil in Phoenix, Ariz., bought a bike and joined the journey.
Neil adapted to the unexpected... by allowing himself the freedom to change course.
But every good lesson bears repeating, right?
Eight days into the ride from Phoenix to St. Augustine (via a route established by the American Cycling Association), Neil's knees were hurting. It was in El Paso, Texas, that Neil realized that no amount of ibuprofin was giving him relief. Buck urged Neil to call his doctor, who advised Neil that it was time to find another mode of transportation.
It was a difficult decision for Neil to make. He had already come so far. He had already adapted to unexpected events. He had already changed course. And the ride with Buck had been a truly serendipitous opportunity for father-son bonding. But it would have been foolish, medically speaking, for Neil to continue the ride. And bravely, Neil accepted this reality, made the decision to fly home with his father and phoned Karen Jackson at HBCF to break the news. Karen was supportive, of course, thrilled as she was that he had gone as far as he did.
On Christmas Eve, Neil and Buck returned home. Neil's knees are recovering, he is back to playing hockey (former pro player that he was), and he's working on a book about his journey. Jesse completed his sail and returned home to Alaska on Dec. 30, safe and sound. Mike Price, who joined Neil and Jesse in the Pacific Northwest through Northern California, has been back home in Alaska since October.
While I was recovering from my cancer treatment, I studied the works of Pema Chödrön, a modern Buddhist who wrote such books as When Things Fall Apart: Heart Advice for Difficult Times. Her comments on the topic of "changing course" continue to inspire me. "To be fully alive, fully human, and completely awake is to be continually thrown out of the nest," she wrote. "To live fully is to be always in no-man's-land, to experience each moment as completely new and fresh."
Neil and Jesse, and the friends and family who accompanied them all, got to experience something of what Pema Chödrön meant. We don't have to enjoy the unexpected obstacles, the forks in the road, the changes of plan, exactly. But we can choose to awaken to them, to view them as opportunities to accept and adapt and to form new and possibly better plans.
Epilogue: All of the "players" will be meeting in San Francisco for the HBCF HERS People With Purpose Awards Luncheon, which takes place on April 25, 2013. I will be giving the keynote address, Neil will be speaking as well, and Agnes will be a guest. I look forward to meeting Neil, Agnes and Karen in person, along with everyone else who has made all of this possible.
If you are interested in joining us, please click on this link. Hope to see you there!