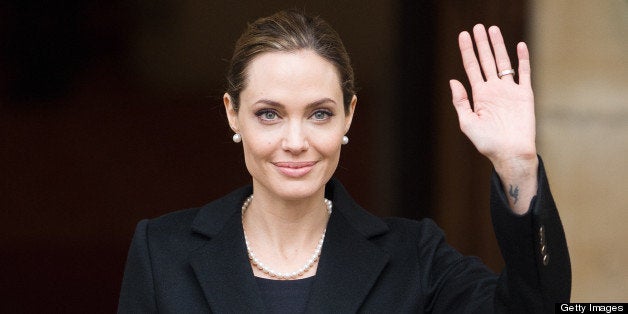 Thank you, Angelina Jolie, for your brave disclosure last week about your preventive double mastectomy. Your story instantly raised awareness about breast cancer and about women's options in this country for detecting and preventing it. As you pointed out, breast cancer is a disease that women around the world struggle with, but it is women in low- and middle-income countries -- where more than half of breast cancer deaths occur each year -- who are generally hit the hardest. Reducing the inequities that these women face in detecting the disease and accessing care must be a higher priority on the global health agenda.
I've worked in global public health for nearly 30 years, with much of that time focused on women's cancers in poor countries. Breast cancer is the most common cancer among women in the world. Of the five million women expected to die from breast cancer in the next decade, 70 percent will live in low- and middle-income countries.
Simple, proven clinical and community interventions can make a world of difference for women who equate the words "breast cancer" with a death sentence. The importance of early detection and treatment is well-recognized for reducing women's chances of dying from breast cancer. Yet lack of services for screening or treatment, poor access to the care that does exist, stigma and discrimination associated with cancer, and scant information about breast health make women in poorer countries far more likely to develop advanced cases of the disease -- and thus die from it -- than women in the United States or Europe.
Breast health awareness, a given in this country, often is not an option in others. Yet enhancing awareness of breast cancer has been cited by international experts as a key element of all interventions. It can help more women spot early signs, seek advice, and most often, allay concerns. Experts at the Breast Health Global Initiative and elsewhere propose tiered guidelines for diagnosis and treatment based on what's suitable and affordable for a country or community. We need to start implementing such guidelines now.
Things like genetic testing and screening mammography, which Jolie recommends in her article, are too expensive and not practical for most health systems. Still, increasing women's access to early detection services and essential treatment is often feasible, even in countries that don't have the latest technologies, and it's something we can do with the equipment and personnel most countries already have.
Peru is one of the many countries where breast cancer rates are rising, according to the International Agency for Research on Cancer database. In the La Libertad region, a successful project is bringing early detection services closer to where women live via primary health care services -- often the only source of health care for the vast majority of people in the world.
The Peruvian government and other groups have trained community health volunteers to educate women and families about breast health, especially the importance of regular screening. Professional midwives and general doctors at small health centers are trained to perform high-quality clinical breast exams for women in higher-risk groups. General doctors can now perform a relatively simple fine-needle aspiration biopsy procedure, and they will soon be trained in diagnostic imaging to better determine whether women's conditions warrant biopsy. Women who are diagnosed with cancer are treated at regional centers and receive informational, emotional, and logistical support from volunteers, some of whom are survivors, to navigate the health care system.
A few weeks ago, I met two women in Peru who were diagnosed with breast cancer while still raising young children. Obviously, the effect on a family when a woman is struck down by illness is profound. I know we can do more to make sure these women live and that their children can grow up with their mothers -- just like Jolie's will.
By working within the existing system and developing strong partnerships, this approach in Peru has proven both feasible and sustainable in one region, and it's opened the way for expanding the program throughout the country. We can employ similar solutions in other countries to help even more women.
As I write this, I'm packing my bags for a trip to Rwanda where the Ministry of Health is requesting support to address breast cancer. Demand for global assistance to fight this disease is strong, and there's a clear need for more resources. Ms. Jolie, I am grateful for your courage in sharing your story and spotlighting breast cancer both in the U.S. and in poor countries. It will be a long time before the same options you had are available to all women, but there are things we can and should do now to identify cancer early and to mitigate the suffering for those who cannot be cured.
Amie Bishop, MSW, MPH, is a senior program director at PATH in Seattle. She advises several breast health initiatives in Peru and Rwanda and leads PATH's efforts to develop additional programming in breast cancer.
PATH is an international nonprofit organization that drives transformative innovation in global health. PATH takes an entrepreneurial approach to developing and delivering high-impact, low-cost solutions, from lifesaving vaccines, drugs, and devices to collaborative programs with communities. Through its work in more than 70 countries, PATH and its partners empower people to achieve their full potential.
REAL LIFE. REAL NEWS. REAL VOICES.
Help us tell more of the stories that matter from voices that too often remain unheard.