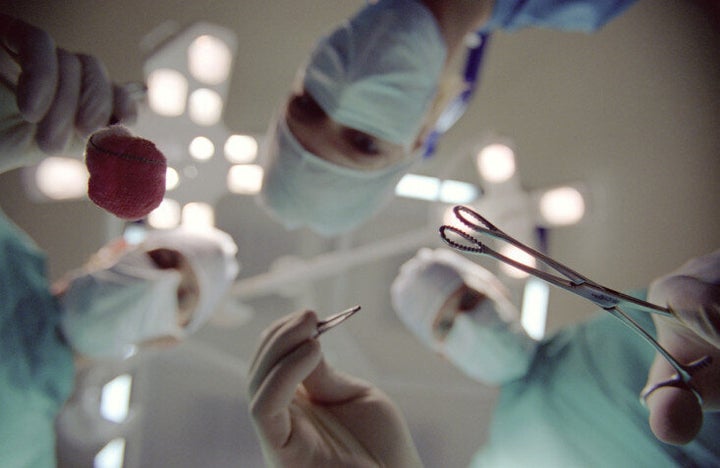 Last week the FDA reported that breast implants put women's lives in danger. The big news last week was that a small number of women can get a very rare type of cancer (ALCL: anaplastic large cell lymphoma). It confirmed that death is a possible side effect of breast implants.
But what no one is talking about are all the other more frequent, more common and very real dangers and problems that go along with breast implants. Does the FDA really believe that if we don't kill too many women it's acceptable to disfigure them and compromise women's health in other less lethal ways?
According to Diana Zuckerman, Ph.D., Elizabeth Nagelin-Anderson, M.A.
and Elizabeth Santoro, R.N., M.P.H.:
In 2008, more than 300,000 women and teenagers underwent surgery to have their breasts enlarged with silicone or saline implants, and almost 80,000 breast cancer patients had reconstruction after mastectomy, often with implants. The popularity of breast augmentation has more than tripled since 1997, when there were just over 101,000 of these procedures. More than 40,000 implant removal procedures were also reported in 2008.

Take a look at the list below and decide if you would let someone you love take these risks with their health ... just to have a bigger boobs ... What price are women willing to pay? Why are women so unhappy with their breasts? Do we really think we will be loved more if we have a bigger bra size? Maybe men could let us know how lovely small breasts really are. Hey guys ... step up to and save some women's lives. Tell us we are beautiful and you love us with any size breasts and that you would rather have us healthy than sick, alive, not dead.
Now I agree, a breast cancer survivor is justified in wanting her disfigured body restored to symmetry and wholeness. But does she really want to risk another cancer and more surgeries? And what about healthy women who go under the knife willingly?
Stop, take a breath and understand the real risks and the possible complications. Get educated. Get smart. Look before you leap.
Here is what can happen to you with breast implants excerpted from What You Need to Know About Breast Implants published by the National Research Center for Women and Families. This publication also has a long list of research and references to support the following statements:
Complications Of Breast Surgery And Silicone And Saline Breast Implants include:
infection (bacteria and mold which can be released from the implant into the body)
surgical risks
anesthesia risks
chronic breast pain,
breast or nipple numbness
capsular contracture
scar tissue
hardened and misshapen breasts
breakage and leakage
necrosis (skin death)
need for additional surgery to deal with problems
dissatisfaction with how the breast looks
disfigurement
arthritis and joint pain
fatigue
memory loss
cognitive impairment: poor concentration
metal poisoning due to platinum exposure (in silicone implants)
silicone migration into lymph nodes and other organs
debilitating autoimmne disease such as fibromyalgia,dermatomyositis, polymyositis, Hashimoto's thyroiditis, mixed connective-tissue disease, pulmonary fibrosis, eosinophilic fasciitis, and polymyalgia.
And last but not least, death
Additionally, it is harder to breastfeed (if at all), and harder to detect breast cancer. Conscientious women having regular breast cancer screenings have had their implants rupture from the pressure of a mammogram.
Within the first three years, approximately three out of four reconstruction (breast cancer) patients and almost half of first-time augmentation patients experienced at least one local complication -- such as pain, infection, hardening, or the need for additional surgery.
All breast implants will eventually break, but it is not known how many years the breast implants that are currently on the market will last. Studies of silicone breast implants suggest that most implants last 7-12 years, but some break during the first few months or years, while others last more than 15 years.
In a study conducted by FDA scientists, most women had at least one broken implant within 11 years, and the likelihood of rupture increases every year. Silicone-7 migrated outside of the breast capsule for 21 percent of the women, even though most women were unaware that this had happened.
Don't forget the financial burden and increased health insurance costs that go with multiple surgeries and medical complications. In some cases the surgery to remove implants can be like a mastectomy, complete removal of the breast tissue and sometimes the muscle underneath.
Additionally, quality of life is greatly compromised if you have chronic health problems as a result of complications from implants.
Take Home Lesson One: There are serious life threatening and life altering short term and long term health, cosmetic and economic risks associated with breast implants.
Take Home Lesson Two: Consider loving the body Mother Nature gave you rather than playing Russian Roulette with your health and your life.
The FDA has a consumer handbook with descriptions of common complications as well as photographs.
Dr. Nalini on
:
Dr. Nalini's blog on Alternative and Integrative Cancer Care
Related
Popular in the Community