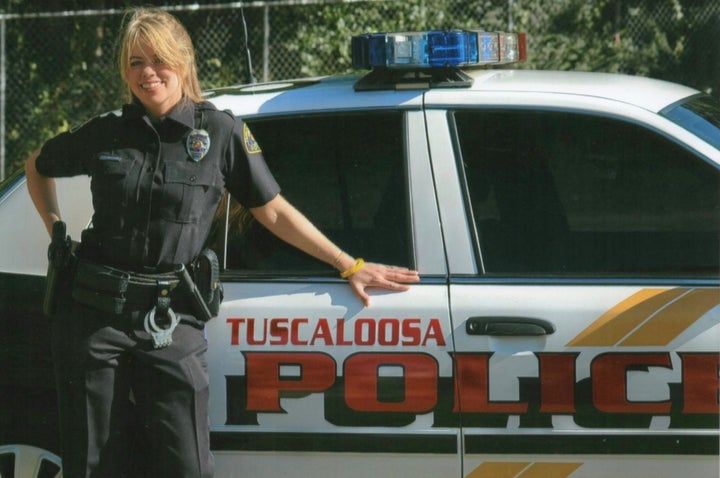 Before she took maternity leave, Alabama police officer Stephanie Hicks was right where she wanted to be in her career. She'd finally landed a spot in the narcotics division, a goal of hers since starting at the Tuscaloosa Police Department in 2007.
Narcotics work was often dangerous. There was that time Hicks posed undercover as a prostitute. Another time she masqueraded as a drug dealer. But she loved it. She wanted to focus on drug issues, having grown up in Tuscaloosa and seen the damage that prescription drug abuse was doing to her community.
By the time she went on maternity leave in 2012, she was investigating illegal prescription drug sales, counseling and doing community outreach. In her last performance review before she went on leave, Hicks' supervisor wrote that she "exceeded expectations."
Then the baby came. For 12 weeks, Hicks was home with her little boy. The baby's collar bone broke during delivery and he needed extra-tender care. He had colic and was constantly crying. She was either breastfeeding him or expressing more milk, using an electric pump, pretty much around the clock.
At no point did she back away from her plan to return to work, she said, nor did she intend to stop breastfeeding once she was back on the job.
"That was never the plan," Hicks, 38, told HuffPost recently. Like many other working mothers, Hicks figured she'd bring her pump to work and take two breaks during her 8 a.m. to 4 p.m. shift to express milk. Friends of hers, including at least one in another division of the Tuscaloosa Police Department, had done much the same.
But from the moment she returned to work, nothing went as planned. Hicks said her supervisors treated her differently, refusing to accommodate her need for pumping breaks, among other problems.
"I was blindsided," Hicks said.
Less than two weeks after she came back, Hicks quit her job. She felt like she had no choice. Her supervisors had essentially given her an ultimatum: Give up breastfeeding or quit the police force.
"There were no other options," Hicks said.
But she hadn't really given up. Wary after a colleague warned her that supervisors weren't happy about her leave, Hicks had been secretly taping her own conversations with supervisors. Armed with that evidence, she filed suit against the Tuscaloosa Police Department for discrimination.
Now, nearly five years later, she's scored a decisive win ― for herself and for women around the country.
In early September, the U.S. Court of Appeals for the 11th Circuit confirmed a jury's finding that the Tuscaloosa department discriminated against Hicks in violation of the federal Pregnancy Discrimination Act. The decision in Hicks v. City of Tuscaloosa appears to be the first time that a federal appellate court has recognized that employers are obligated to accommodate workers who are breastfeeding, just as they would employees who are injured, said Galen Sherwin, a staff attorney at the American Civil Liberties Union.
The ACLU, along with the Center for WorkLife Law at the University of California Hastings College of the Law, submitted an amicus brief on behalf of 22 women's organizations in Hicks' favor. They also helped argue the case before the 11th Circuit.
"My family has made great sacrifices for this fight. We have lost friends and colleagues, suffered great professional harm, and been subject to ridicule, mockery, and retaliation," she wrote on Thursday. "But I wouldn't have done anything differently."
"You shouldn't have to choose between working and breastfeeding," Hicks, who had her second son two years ago, told HuffPost. "Now women don't have to."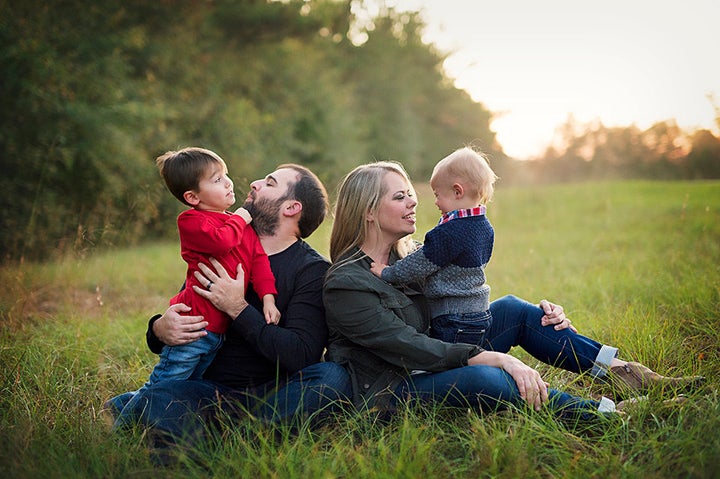 Returning to work from maternity leave is typically a bit fraught, especially for first-time mothers. But what Hicks experienced went far beyond the typical anxieties. (The following details are taken from the courts' decisions in her case.)
On her first day back at the Tuscaloosa Police Department, Hicks was written up for not changing the oil in her department-issued car. The department offered no evidence that the infraction had occurred. Later at trial, it would fail to provide a single other instance in which an officer in the department had been penalized for not changing a car's oil.
Hicks soon overheard two of her supervisors saying they would find "any way" they could to "get rid of that little bitch."
Only eight days after her return, Hicks was demoted from plain-clothes narcotics investigator to uniformed patrol officer. Her pay was decreased. Her regular weekends off were taken away; her hours were no longer set.
Hicks recalled feeling dumbfounded as to what she'd done wrong. "I just kept asking what's going on," she said. "I just went on leave and had a baby, and they kept saying you're a horrible officer. There was no evidence of that."
Hicks played one of her secret audio recordings for HuffPost, which she said was taken when she met with her captain to discuss why she was being kicked out of the narcotics division.
In the recording, he does not explain, instead yelling at her that he's "pissed off." He says she doesn't deserve to be in the narcotics division any more than anyone else does. "Pack your stuff up and go. I want you out of the office," he says.
The Tuscaloosa Police Department declined to comment on the case. Lt. Teena Richardson, Hicks' former direct supervisor, told HuffPost by phone that she did not want to discuss the matter.
When Hicks was out on maternity leave, according to the appeals court decision, a colleague heard Richardson complaining about Hicks taking too many weeks off. (Up to 12 weeks is the time-off set by the Family and Medical Leave Act for eligible employees.) And when she returned, it was Richardson she overheard calling her a bitch.
"Pack your stuff up and go. I want you out of the office."
As a patrol officer, Hicks once again had to wear a snug bulletproof vest. A lactation consultant and a doctor both told her that the tight vest would inhibit milk production and possibly even lead to infection.
Hicks told her supervisors about this right away ― the day after her demotion – and showed them a doctor's note. She asked for desk duty. It's not unusual for police officers to be temporarily assigned to desk duty if they're sick or injured.
Her supervisors didn't give Hicks that option. Instead, they suggested she just not wear the vest, a move that she believed would put her life at risk. They also suggested she wear a roomier vest, which would also be less safe.
She appealed to the police department's human resources office and the city's legal department, and they didn't budge.
"It was like being asked to jump out of a plane without a parachute," Hicks said, borrowing a simile that one of her lawyers used in court. "It was a slap in the face," she said. "I couldn't accept being forced to choose."
She quit the next day and never spoke to her captain again.
The jury trial in February 2016 was painful, Hicks said.
"There were so many hurtful things that were said," she recalled. "One of the witnesses testified that he heard my supervisor refer to me as a cunt, saying I should never have taken that much maternity leave."
Hicks will receive $161,319.92 from the city of Tuscaloosa, plus attorneys' fees and costs.
It's not clear yet if the city will appeal the 11th Circuit's decision. The police department referred HuffPost to its legal office, which pointed to a spokesperson for the city of Tuscaloosa, who sent HuffPost this statement: "Although we are respectful of the court's ruling, we strongly disagree with the decision. Currently, the City is evaluating the next step that will be taken in this matter."
The statement also said, "The City of Tuscaloosa and the Tuscaloosa Police Department strive to provide a workplace that is accommodating for all individuals and free of discrimination and retaliation."
At trial last year, the city tried to argue that Hicks' performance forced their hand. But the jury found all the evidence of discriminatory conduct more persuasive.
The Affordable Care Act requires employers to provide a private sanitary space for breastfeeding women to pump breast milk. Tuscaloosa did not. Hicks pumped in a locker room. Occasionally, janitors and random civilians would walk through, she told HuffPost.
"A lot of times it was very rushed," Hicks said. "My supervisor would be calling me on the radio telling me, 'Wrap those boobs up.'"
She said one supervisor suggested she could pump in a public restroom, hardly a sanitary space, when she was on patrol.
Since Hicks filed her case in 2013, the department has created a space for lactating women.
More broadly, the Pregnancy Discrimination Act requires employers to offer pregnant women accommodations so they can continue working ― like putting an expecting patrol officer on desk duty, for example, or switching a Walmart employee who lifts large boxes to handling the checkout line. The Supreme Court reaffirmed this requirement in a 2015 decision involving a pregnant UPS worker who was forced out of her job after the company refused to give her a lighter workload, even though the company made similar accommodations for injured male workers.
"My supervisor would be calling me on the radio telling me, 'Wrap those boobs up.'"
But when Hicks took her claims against the police department and the city of Tuscaloosa to trial, there was still debate over whether a nursing mother was protected. Courts had previously ruled that lactating women didn't have the right to any kind of accommodation under the Pregnancy Discrimination Act. One judge ruled that it was not sex discrimination to fire a woman because she was breastfeeding in part on the grounds that under certain circumstances men could also breastfeed.
"False distinctions and logical distortions," said ACLU attorney Sherwin, summing up the earlier state of the law.
The Hicks decision is the first to recognize that employers are required to accommodate breastfeeding women, Sherwin said. It's taken a long time, she added, for the law to catch up with the "basic facts of biology."
The victory is a bittersweet one for Hicks. Her career has been completely derailed. These days she's teaching classes at a nearby gym, as her family scrapes by with less income.
"A lot of people doubted my reasons for leaving my career to breastfeed my son," Hicks said recently, taking a break from preparing for her son's fifth birthday party. "I put my family at financial [risk], but I couldn't accept being forced to choose. I wanted other people to understand."
Ultimately she'd like to help other police officers navigate the maternity leave process, Hicks said.
"So many other mothers have reached out to me all over the nation, sharing stories of similar situations, who made the choice of quit breastfeeding or quit their job," she said. "I think so many mothers have the same feelings. But it takes someone taking action to change anything."
Are you a mother with a story about discrimination in the workplace? Please reach out to talk to me at emily.peck@huffpost.com.
Clarification: Language has been amended to reflect that Hicks' settlement and the lawyers' fees are separate.
Support HuffPost
The Stakes Have Never Been Higher
Related
Popular in the Community