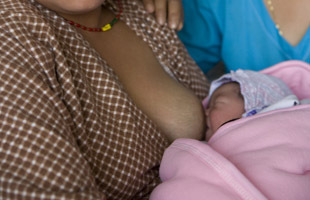 New research highlights the economic advantages of exclusive and continued breastfeeding in rich and poor countries alike, and the enormous cost of failing to support it writes Dr Flavia Bustreo, WHO Assistant Director-General.
As a young doctor working with refugees in the former Yugoslavia and Iraq, I saw how breastfed babies can prosper even under such challenging circumstances, and even when they are sick or small. So I am delighted that new research published today in The Lancet again confirms the health benefits of breastfeeding.
The findings show that breastfed infants are more likely to thrive physically and mentally into adulthood. Breastfeeding should be exclusive for at least the first six months of life and then with a mix of other foods, ideally up to the age of two. The authors -- a team of independent scientists, together with the World Health Organization and UNICEF -- also conclude that the health benefits are as significant in rich countries as in poor ones.
Breast is best: benefits worldwide for moms and tots
The message that "breast is best" applies equally the world over, and to children as well as mothers. Longer durations of breastfeeding improve maternal health by increasing birth spacing, and saves thousands of lives every year from reducing the risk of breast and ovarian cancer.
According to The Lancet series, improved rates of exclusive and continued breastfeeding could prevent:
820,000 deaths in children under 5 years annually
20,000 additional deaths from breast cancer annually (even at current rates, 20,000 deaths are averted)
Ovarian cancer and type 2 diabetes for some mothers.
Economic dividends
A less familiar finding is that higher rates of breastfeeding could also pay enormous economic dividends. Purely in terms of reduced healthcare costs due to improved breastfeeding practices, the study projects total savings of more than US$300 million in the US, UK, Brazil and urban China alone. These add to the other economic benefits associated with breastfeeding, such as higher IQ, greater school attainment and higher salary in later years. These economic findings are yet another brick in the now imposing wall of evidence that supports the case for exclusive breastfeeding.
50% by 2025
Despite the potential health and economic benefits, global rates remain well below international targets. Only 37% of infants are exclusively breastfed - a rate that has barely changed in 20 years. I know from my patients, colleagues and friends that breastfeeding is not always easy, but it is vital we greatly increase its prevalence.
WHO Member States have endorsed a global target to increase the rate of exclusive breastfeeding in the first six months to at least 50% by 2025. However, progress is worryingly off-track - a finding confirmed this week at a meeting of Member States in Geneva.
Barriers to progress
Globally, the low rate leads to ill health, which costs lives and puts a brake on the world's economy, affecting all countries. The research highlights the enormous economic consequences of failing to the increase the breastfeeding rate, estimating that global losses associated with the current low rate are US$302 billion annually - or 0.49% of world gross national income.
The authors identify the rapidly growing market for breast-milk substitutes (US$45 billion in 2014 and a projected US$70 billion in 2019) as a major barrier to efforts to raise the breastfeeding rate. Aggressive marketing of these products all too often persuades mothers to abandon exclusive breastfeeding too early or, in the worst cases, to put their newborn babies straight on formula.
Protect, promote, support breastfeeding
Reaching the global breastfeeding target will require rapid progress, but experience shows that rates can be improved dramatically and quickly. In Cambodia, imaginative and sustained mass media campaigns saw the rate of exclusive breastfeeding for infants under six months increase from 11% in 2000 to 74% in 2010.
Mothers are two and a half times more likely to breastfeed when the practice is protected, promoted and supported. This requires targeted interventions through education and health services, such as accurate information and breastfeeding support from health staff or peers.
But beyond health interventions, a political and societal shift are needed. For example, adequate maternity protection policies, and breastfeeding-friendly workplaces and public spaces. Organizations should review and seek to continuously improve their policies and support systems - this is what we are currently doing in my own organization. Governments also have a critical role - including in regulating the breast-milk substitutes industry.
As a society, we have a duty to ensure that breastfeeding is encouraged, supported and celebrated. The cost of not doing so in lives - and dollars - is far too high.
Popular in the Community