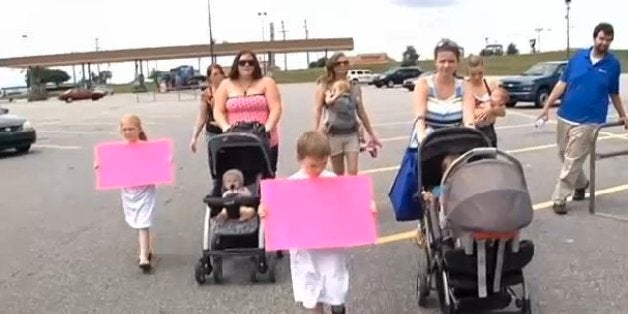 Those who shame mothers for breastfeeding in public have another thing coming if they think moms will take it.
Colabella explained to WISTV News that the alleged harassers told her to cover up among other sneers. "Not only were they staring at me, they were making rude and disgusting comments about how disgusting what I was doing was, and how I should cover myself, and how if what I was doing was even legal," Colabella told the station. (Hint: yes, breastfeeding in public is legal in all 50 states.
We have decided to organize a nurse in at the Walmart on White Horse Road in order to protest against the disgusting behavior of the Walmart employees and management. Hopefully we will encourage Walmart executives and management to educate there managers and employees about breast feeding, as well as, how to be courteous to those who do.
We welcome nursing mothers to breastfeed their child in our store. We recognize the intimate and personal nature of the decision a mother makes to breastfeed their child - and we never want to make her feel unwelcome in our stores because of it. We apologize if our customer felt uncomfortable during her store visit.
Still, these mothers stood their ground. "I want my son to be able to eat whenever he's hungry, however we are comfortable," Colabella told Greenville Online.
Like Us On Facebook |

Follow Us On Twitter |

Contact HuffPost Parents
Clarification: Walmart's statement was added to the story in full.
Related