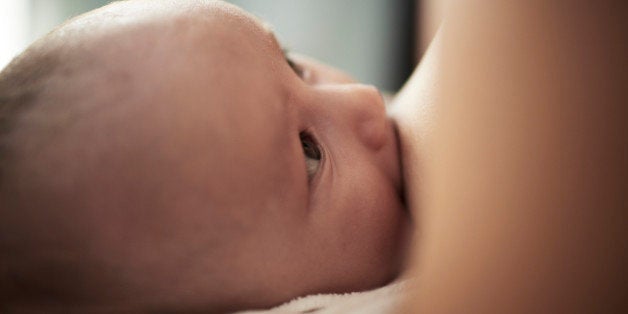 Breastfeeding gives a big boost to a child's development, and new research suggests its benefits may linger well into adulthood.
A large body of research has shown breastfeeding's positive effects on brain development, and longer breastfeeding specifically has been linked with improved cognitive, motor and language skills, as well as better memory in the first few years of life. A 2013 study published in JAMA Pediatrics even found longer breastfeeding was associated with improved verbal and non-verbal intelligence in children at 7 years old.
But could these effects persist into adulthood? A provocative longitudinal study published in the journal The Lancet Global Health suggests that the benefits of extended breastfeeding may persist into a child's 30s.
The new research, conducted by scientists at the Federal University of Pelotas in Brazil, found a correlation between longer breastfeeding and higher IQ scores, higher academic achievement and earning potential decades later.
Working from a 1982 study of breastfeeding habits of 6,000 mothers, researchers recently followed up with the grown children, who were asked to complete IQ tests and answer questions about income and educational achievements.
The study subjects were then divided into five groups based on how long they were breastfed. Controlling for other factors such as parental income and birthweight, researchers found a correlation between breastfeeding and increased intelligence, attainment of secondary and post-secondary degrees, and higher earnings as adults.
Interestingly, the longer the duration of breastfeeding (up to 1 year), the greater the benefits. Compared to children who breastfed for 1 month or less, adult children who had breastfed for at least 12 months had an average IQ that was four points higher, had nearly an additional year of schooling, and earned roughly $104 (U.S.) more each month.
"I was not completely surprised with the persistence of the benefits," the study's lead author, Dr. Bernardo Lessa Horta, told The Huffington Post. "In previous analysis, we had observed that breastfeeding was associated with higher educational achievement at 18 years of age. On the other hand, the magnitude of the association with income surprised me."
By way of explanation, Horta pointed to the presence of long-chain saturated fatty acids in breast milk, a type of omega-3 fatty acid which is known to be important for brain development.
"Breast is the best," said Horta. "Breastfeeding should be promoted not only for the benefits on the short term, but also for its long-term consequences."
While some women may have medical reasons that prevent them from breastfeeding, others face logistical challenges that are simply a consequence of lax public policy. The U.S. is one of only four countries in the world not to provide some kind of legally protected, paid time off for new mothers who work, according to the Harvard Business Review. Making it easier for new mothers to breastfeed would require a major public health effort, including better options for maternity leave and more baby-friendly workplaces.
Related