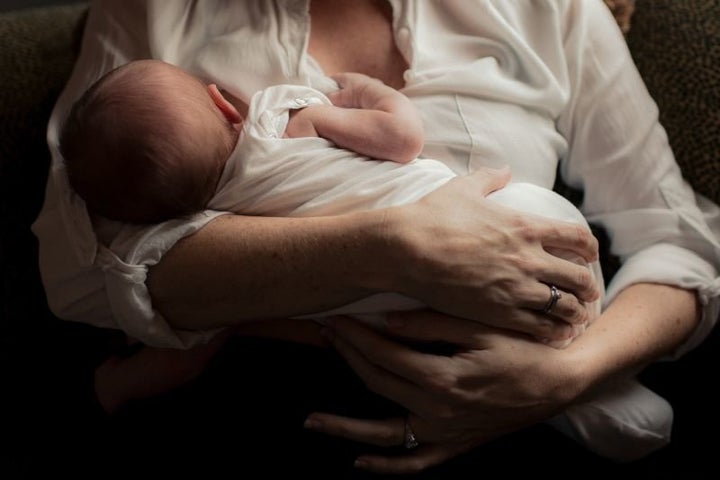 A church has apologized to a breastfeeding mom for telling her to "cover up" because the sight of a bare breast causes men to "lust and stumble."
On Father's Day, a member of the Naz Church in Brighton, Mich., allegedly sent a private Facebook message to mother of three Amy Marchant, 29, asking her to be discreet, after she was spotted nursing her 1-year-old child while waiting for her 4-year-old twins to finish Sunday school, according to a Monday story published by news outlet Livingston Daily.
"She said a few people were uncomfortable with my breastfeeding and she gave me three options: to either cover up or nurse in two private rooms in the church," Marchant, a mental health therapist, tells Yahoo Lifestyle. "I was shocked because we had been attending this church for two years, and I had nursed before with no problems."
Later that week, Marchant recorded a Facebook Live video about her experience, captioned, "This is how women get silenced." In the footage, she tearfully explains, "I see women all the time who shut down and stop trying to nurse because of this discrimination. … I chose to stand up for this issue for every future woman who walks through those church doors, that she will never have to go through that."
Two weeks later, Marchant met with the pastor to discuss the matter and to clarify her rights under Michigan law, which allows women to publicly breastfeed without penalty. However, Marchant tells Yahoo Lifestyle the pastor was "argumentative," especially as it pertained to breastfeeding laws and insisted that her actions could "cause men to lust and stumble."
Pastor Ben Walls, who did not return Yahoo Lifestyle's request for comment, told Livingston Daily, "That is what we want to say — we have nothing against breastfeeding and we are in favor. It's very hard because we understand that she was very hurt and we apologize to her. We're very sorry for the embarrassment and hurt caused when she was asked to cover or use one of those rooms. We apologize for her hurt and embarrassment; that wasn't the intention."
"It's such a tough thing," Walls said. "We believe in [breastfeeding], we're sorry for the way it was handled and we have apologized on many occasions, and I have written an apology and we have sat down and tried to think it through."
"We are not against anyone breastfeeding anywhere in the church," he added. "That is not what the problem was. Both breasts were totally exposed. … From their perspective, it's natural, we know, but we felt it inappropriate for boys and men, and we weren't trying to shame, we were trying to deal with others who were uncomfortable and how they felt. Hurt, embarrassment, and shame was not intended."
Marchant denies that her breasts were completely exposed. "However, I've chosen not to fight that issue because it shouldn't matter whether a mother's breasts are exposed while feeding her child," she tells Yahoo Lifestyle.
On July 31, Merchant met with Walls for a second time, this time with her attorney Bill Amadeo and Barbara Robertson of the Breastfeeding Center of Ann Arbor, in the hopes of obtaining a public apology and a commitment from the church to educate its community about the rights of breastfeeding moms.
However, Marchant says the meeting was equally unproductive. She has left Naz Church but is hopeful that her experience will help others who face similar discrimination. "I want mothers to know that change can happen," she tells Yahoo Lifestyle. "Women are just trying to feed their kids."
More from Yahoo Lifestyle:
Popular in the Community