To recognize Alyssa Milano and her support for breastfeeding in public, fellow moms have come together to honor the actress in a pretty fitting way.
Normalize Breastfeeding, a campaign dedicated to breastfeeding awareness, has arranged a virtual "nurse-in" on Jan. 15 as a token of appreciation for Milano and her role as breastfeeding advocate. The Facebook event page encourages moms to share a #brelfie (breastfeeding selfie) and help normalize breastfeeding.
Milano's recent appearance on "The Wendy Williams Show" inspired the event. While talking about breastfeeding in public, host Wendy Williams said, "I don't need to see that." Later, the host referred to breasts as "sexual things" and "fun bags." Milano responded with an important point about the sexualization of women's breasts.
"Yeah, but they weren't -- biologically they're not made for sexual things," Milano said. "That's what we've done to them."
Williams' commentary motivated a mother to write an open letter accompanied by a breastfeeding photo, which Normalize Breastfeeding shared on Facebook.
"I know you would never bring a fellow woman and mother, who represents everything beautiful and miraculous about being a woman and mother, on to your show to attempt to drag her down on national television," Tamara Perry wrote. "Breasts are not 'fun bags.' They are meant to nourish a baby, protect a baby, give life to a baby."
Perry also requested that Williams host a nurse-in on live television to "show the world how beautiful and wonderfully made a woman's body really is." In the meantime, Perry will co-host the nurse-in organized in honor of Milano.
So far, more than 2,000 Facebook users have said they are going to participate in the nurse-in. In a post on the event page from Jan. 10, Normalize Breastfeeding founder Vanessa Simmons wrote about the importance of speaking out against the stigma surrounding breastfeeding.
"Once no one bats an eye, complains, feels offended, or gets uncomfortable because of a mother's choice to breastfeed without a cover, then and ONLY THEN will it be NORMAL," she wrote. "Until then, I will press on."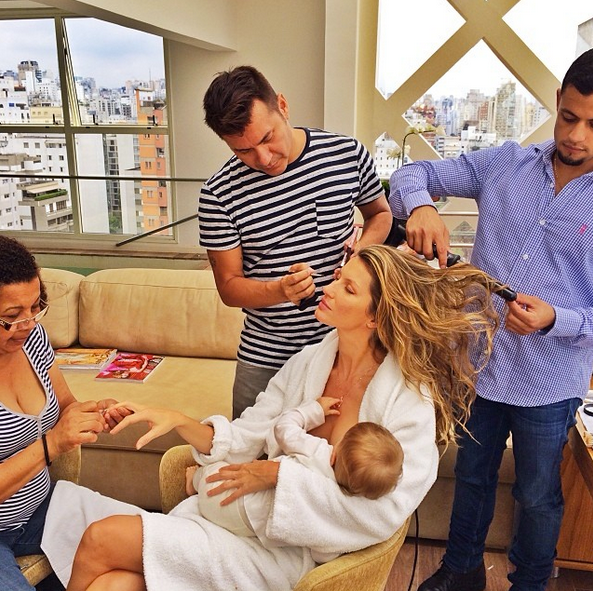 Memorable Breastfeeding Moments In Hollywood
Related