As The Daily Dot first reported, Jessica Martin-Weber, who runs an online breastfeeding community called The Leaky Boob, is leading the charge to get clarity from the Facebook-owned image-sharing network around its policies on photos of breastfeeding in the wake of her account being disabled earlier this month.
After she wrote on her blog on June 21 about the incident (she says she waited because she "wasn't sure [she] had the energy" for a fight) and contacted an Instagram representative via Twitter, Martin-Weber got a quick response explaining that the account had been suspended "by mistake" with apologies for the "inconvenience."
An Instagram spokesperson told The Huffington Post: "Our policies allow breastfeeding photos on Instagram. However, when our team processes reports, we occasionally make a mistake. In this case, we suspended this account and worked to rectify the error as soon as we were notified."
However, Martin-Weber is worried that Instagram will continue to disable the accounts of users who post breastfeeding photos, and is asking for support in getting the social network to clarify its policy on such images.
Moms need to see breastfeeding, it's important. Others need to see breastfeeding to put a stop to the dehumanization of women through the over emphasis on the sexual nature of the female body. Because we need to culturally encourage moms to breastfeed and go beyond just lip service and accept them fully in society without penalizing them by requiring them to hide feeding their children.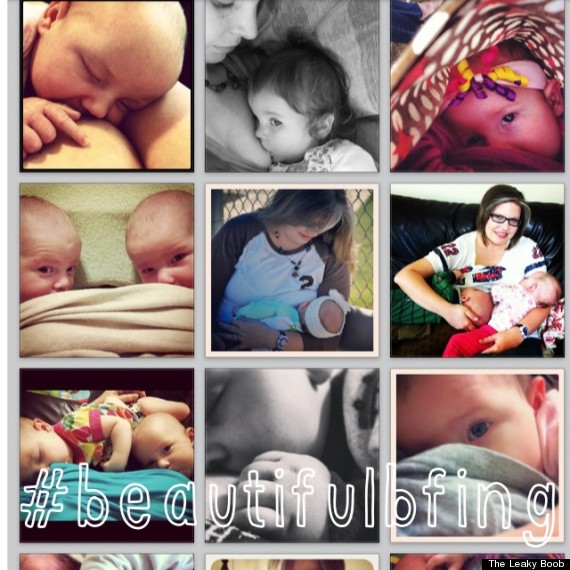 A compilation of Instagram breastfeeding photos posted on The Leaky Boob's blog.
The blogger also started a Facebook group called "Instagram, stop discriminating against breastfeeding mothers and babies" that is "dedicated to educating and inspiring Instagram to stop discriminating against breastfeeding mothers and babies by no longer deleting images of breastfeeding or disabling accounts that post them and to provide for breastfeeding images in their [terms of use]."
Instagram's Terms of Use policy bans "violent, nude, partially nude, discriminatory, unlawful, infringing, hateful, pornographic or sexually suggestive photos." The social network's Community Guidelines also ask users to avoid "nudity or mature content of any kind."
Neither set of rules refers to breastfeeding explicitly. In fact, the guidelines encourage users to be tolerant of material that doesn't break rules but might still be considered sensitive:
Instagram is a diverse community, and it is likely that you will come across things that offend you. If you are offended by a photo or video that may not violate any of the above guidelines, we'd suggest you navigate away from the account, or even use our blocking feature. If you are unsure about the content, you can report it utilizing our built-in reporting functionality in order to bring it to the Instagram Team's attention.
Martin-Weber is no stranger to conflicts over breastfeeding photos on social media. Her fights with Facebook over the removal of breastfeeding-related material started in 2011 when The Leaky Boob's Facebook page was removed (also by "mistake") and subsequently reinstated.
On her blog, Martin-Weber says that the importance of sharing breastfeeding photos on social media goes beyond sharing personal shots with family and friends -- it's about normalizing breastfeeding and creating a support system or "village" for moms everywhere.
In an email to HuffPost, Martin-Weber said she hasn't heard any more information from Instagram since her account was reinstated, but said she has heard that a different account, @blissfulbreastfeeder, was disabled over the weekend.
Social media, and Facebook in particular, have a rocky relationship with breastfeeding mothers who've wanted to share photos on the sites.
We agree that breastfeeding is natural and beautiful and we're glad to know that it's important for mothers to share their experiences with others on Facebook. The vast majority of these photos are compliant with our policies.

Photos that show a fully exposed breast where the child is not actively engaged in nursing do violate the Facebook Terms.
Related