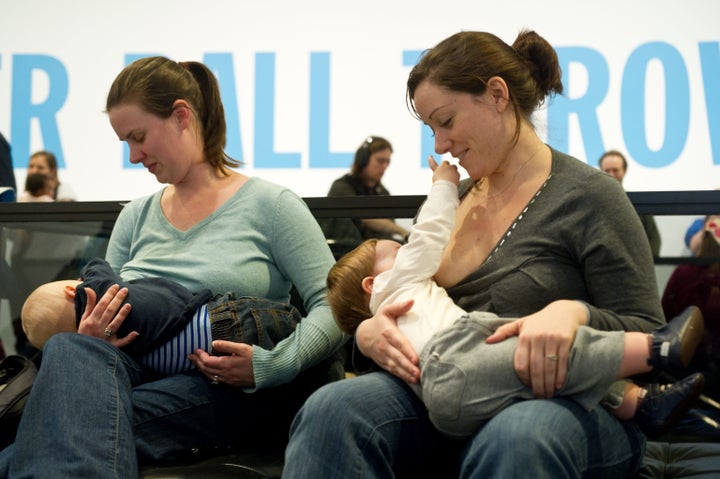 When Paige's daughter was 6 months old, her boss called her into his office and demanded to know how long she planned to breastfeed.
Paige, a research assistant at a university in Tennessee, says she had been pumping three times a day for 20 minutes at a time, closing the door to her office so she could use a hands-free model and continue working. But her boss was unhappy.
"He said my pump breaks were the equivalent of another employee leaving during work hours to go to the grocery store, which was a ridiculous analogy for more reasons than I could count," said the 32-year-old mother of two.
Several groups, including the World Health Organization, recommend women breastfeed exclusively for the first six months after giving birth and continue breastfeeding for two years or longer while supplementing with complementary foods. Breast milk is rich in nutrients and antibodies that can stave off disease.
But recent estimates suggest that less than half of American women actually breastfeed six months out, and only 22 percent breastfeed at one year after birth.
Reasons for the disparity abound, with experts and mothers citing cultural expectations, insufficient support services immediately post-birth and day-to-day physical issues. Now a new study -- one of the largest, most nationally-representative in years -- suggests that a major factor is the amount of time women take off before returning to work.
Writing in the journal Pediatrics, researchers examined the effect of three factors -- total maternity leave length, paid maternity leave length and the amount of time women actually took before first returning to work -- on both breastfeeding initiation and duration.
They found that the total amount of time women took off before first returning to work, regardless of whether it was paid, did affect breastfeeding rates. Women who waited at least six weeks to return to work were more likely to start breastfeeding.
And the more time women took off, the more pronounced the effect.
Those who returned at or after 13 weeks were almost twice as likely to continue breastfeeding predominantly beyond three months, prompting researchers to conclude that if new moms delay their return to work, the overall duration of breastfeeding in the U.S. may lengthen.
But that's not an option for many women. The Family and Medical Leave Act (FMLA) grants eligible employees who work in a public agency, school or company with 50 or more employees 12 weeks of unpaid leave per year. But Dr. Chinelo Ogbuanu, the new study's lead researcher and an epidemiologist at the Maternal and Child Health Program of Georgia's Department of Community Health, said she was surprised by the number of women who reported returning to work earlier.
"It's possible that a woman may have 12 weeks of maternity leave, but she goes to work before that leave time is finished because she has to financially," said Ogbuanu. "But that is what really matters -- people actually taking as much leave as they possibly can."
The study itself did not delve into why returning to work inhibits breastfeeding, but Ogbuanu personally offered several explanations. Many offices do not have adequate breastfeeding areas, she said, and some women find it more difficult to produce milk when pumping. Stress is another possible factor, because it can decrease a woman's milk supply, as are demanding work schedules that simply don't leave women enough time to pump.
"I found that pumping really didn't help my personal relationships at work," said Sarale Hickson, a mother of two from Oregon. "I had to get other people to cover for me, I was never free at break times so I could not grab a coffee or lunch with someone. I was very focused on how much time I was taking away from work time, so I did not feel comfortable stopping for a chat even."
Susan Burger, president of the New York Lactation Consultant Association, encourages working moms to be forgiving of themselves when they feel anxiety over pumping at work.
"This is so emotional for women," she said. "I rarely, if ever, encounter a mother who isn't trying to do the best by her child. They're just trying to work things out in their own contexts."
The authors of the new breastfeeding study hope that it encourages policymakers to consider measures that could help working women continue breastfeeding. They mention possible measures like increasing the length of time off granted by the FMLA and providing monetary compensation for women.
For her part, Paige was eventually able to reach a compromise with her boss. She agreed to pump only twice a day including on her lunch break, making up any time beyond that after work. It forced to give her daughter more formula to supplement, but she was able to continue breastfeeding -- right up until her daughter's second birthday. But it wasn't easy.
"If your supervisor isn't supportive it's not going to happen," she said. "I think this is the situation for many, many working mothers and it's one that needs to be addressed."
Correction: An earlier version of this article incorrectly suggested the World Health Organization recommends mothers continue breast feeding for up to two years. The WHO recommends breast feeding for two years from birth or longer.

Support HuffPost
A No-B.S. Guide To Life
Related
Popular in the Community