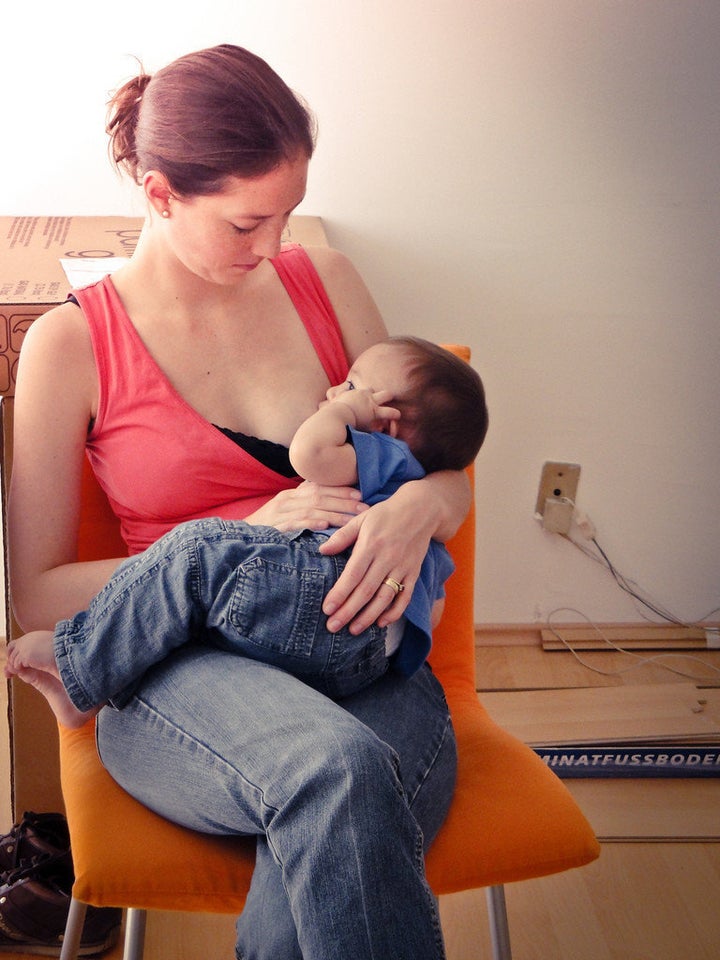 Breastfeeding caused a media blitz in 2012. Protests over the removal of certain pictures of women breastfeeding caused a clarification of Facebook policy in February. In March, Beyoncé breastfed baby Blue Ivy in public. In April, Miranda Kerr posted pictures of her breastfeeding baby Flynn on her Twitter account. In May, Terran Echegoyen-McCabe and Christina Luna caused a viral sensation and ultimately received warnings from the Washington Air National Guard when they took pictures breastfeeding their children in uniform. The May 21st Time cover featured a picture of Jamie Lynne Grumet nursing her 3-year-old son. On August 28th, Professor Adrienne Pine breastfed her sick daughter during class when daycare was not an option. Breastfeeding has captured our national media attention.

In addition to permeating 2012 media coverage, new government policies have focused on increasing the rates and longevity of mothers who breastfeed in America. The White House Task Force on Childhood Obesity and the First Lady's Let's Move! Initiative support policies that make it easier for women to breastfeed if they so choose. In February 2011, the IRS reversed its long-held position and, for the first time, deemed pumps and other breastfeeding supplies as medical expenses that are eligible for a tax deduction. In January 2011, the Surgeon General issued a Call to Action to Support Breastfeeding. Healthy People 2020 increased the national goals for rates of breastfeeding. And, the Fair Labor Standards Act (FLSA) was amended in 2010 to create the first federal protections for nursing mothers at work.
This last government action has particular relevance during National Work and Family Month (NWFM). One goal of NWFM is education on work-life matters, and simply put: Not enough working moms or their employers know about these new breastfeeding at work rights (and their limitations).
So what are these new rights? Employers must provide job-protected "reasonable break time" to non-exempt workers to express breast milk at work for up to one year "each time such employee has need to express milk." Employers also must provide a private location other than a bathroom to express milk free from coworker or public intrusion. Studies demonstrate that the milk supply of nursing mothers that are not provided reasonable breaks and comfortable locations to express is harmed. Given current workplace norms, it is not surprising that approximately 20% of mothers that start breastfeeding continue to do so after returning to work. These new provisions are critical in changing this number. They also build upon a growing number of state laws that offer nursing women rights at work.
But, the federal law has limitations. First, the scope of the law is limited. It only covers non-exempt (hourly) workers. It does not cover directly nursing one's baby; only expressing milk by pump or hand. (Ironically, none of the breastfeeding examples from the first paragraph are covered under this law.) It does not require paid break time. Nor does it protect nursing workers from discrimination. It does not offer a tax credit to businesses that voluntarily provide model lactation policies. It does, however, give employers with less than 50 employees an exemption if compliance would create an undue hardship. (Attempts to address these limitations are found in other lactation provisions of bills pending in Congress.)
Second, while a promising and incredibly important move in the right direction, the law's text is confusing and additional guidance from the government is needed to help the law reach its potential. Key terms are undefined in the text and regulations have not been created yet to clarify these ambiguities. How much and how often is break time "reasonable"? What does "free from intrusion" mean? Enforcement and potential penalties for violation also are unclear.
In December 2010, the U.S. Department of Labor took a vital step when it issued technical assistance and a request for information on this law. After reading the over 1,850 public comments submitted in response to this request, it is clear that these textual ambiguities matter. The comments demonstrate that workers' needs to express milk vary, what is reasonable in regard to time and location depends on a range of factors and may change over time (e.g., time it takes to get to/from required space, to express milk, to use particular equipment, to store and sanitize equipment; age of the child; particular job duties; length of shift; characteristics of the specific industry; and many other considerations); and a cultural shift is needed to change the perception that a place "other than a bathroom" is needed. (Hundreds of comments shared stories of the bathroom being the default location to express milk at work before this new law.)
The Department of Labor got it right when it acknowledged that there is a "wide variety of workplace environments, work schedules and individual factors that will impact the number and length of breaks required by a nursing mother, as well as the manner in which an employer complies with the break time requirement." Nonetheless, these preliminary interpretations are not binding law and the 1850+ comments make clear that addition specific guidance is needed.
The Department of Labor should take advantage of this string of high-profile media stories involving breastfeeding and issue guidance on this law as well as highlight other best practices that businesses have voluntarily undertaken that go above and beyond these new requirements. Employers, managers, and nursing mothers need clarity. History demonstrates that a lack of clarity leads to costly litigation.
In the meantime, during National Work and Family Month, employers should take time to review their policies to ensure compliance with this new law and support nursing workers.