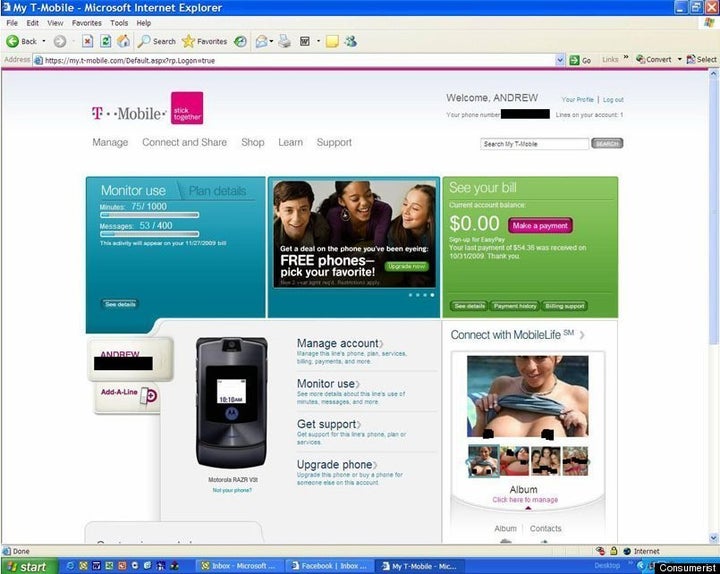 A T-mobile customer, "Andrew", reported an unusual problem with T-Mobile's website: according to the Consumerist, when "Andrew" logged in to pay his bill online, he got flashed by pictures of topless women
UPDATED: Several HuffPost readers have written in to report of similar problems and "flashing" on their T-Mobile phone bill.
One reader, Dennis G., wrote,
I thought it was just something a friend had sent me, but last week when I went to pay my bill online, I was confronted with a pic of a women orally pleasing a man. I really didn't know what to think, but after reading that I feel much better.
Another reader, Moloy B., shared the experience, and T-Mobile's reaction to the problem:
When i logged on this morning to check my bill, i saw a pornographic image of a couple engaged in intercourse under the heading "Connect with MobileLife". I called customer service to complain about the problem in the afternoon after seeing the same image on my page on multiple logins from different computers. But they simply said that they have not heard of such a problem from other customers and it is not a problem with their website but possibly some virus in my computers.
HuffPost reader Phil S. sent in this screenshot of what appeared: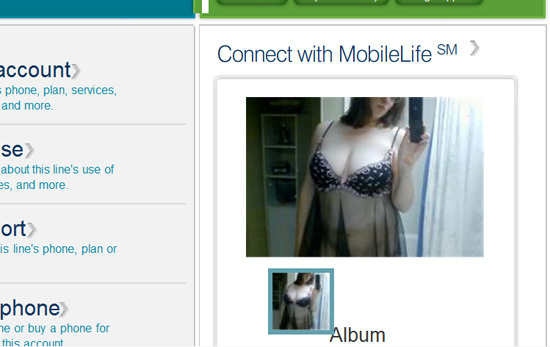 UPDATED: T-Mobile released a statement regarding the "adult" photographs appearing on its site, saying:
T-Mobile is aware of reports from a few customers who have seen inappropriate or unwanted pictures in their online "MyAlbum" section within their MyT-Mobile account. We are taking these reports seriously and actively investigating these issues.


Our initial analysis of the reports leads us to believe that pictures were likely sent to some customers' mobile number by a third party, whether the customers knew the sender or not. If a customer has not had picture messaging enabled on their handset, a picture sent to them may be delivered only to their online MyAlbum account. For this reason, some customers are surprised when they see the picture for the first time in their MyT-Mobile account.
T-Mobile suggested that while this "investigation" progresses, customers can prevent receiving picture messages by using T-Mobile
Related
Popular in the Community