In an effort to better understand the reality of how distant Barbie is from the average woman, I created a parody featuring what her breasts might look like at her current age of 55-years-old. It's a sad, sad truth but as women age, their breasts go south. And if we take into account that Barbie's bust equates to a double FF cup size she'd definitely be suffering from back problems by now. With breastfeeding and menopause behind her, it's not unrealistic to think she'd have looked down to witness the fall of giants. Sure, as the years go by, gravity takes hold: resulting in droopy, saggy breasts. No wonder, Barbie, by her mid-fifties may be considering a breast lift and/ or augmentation to regain her fantastic plastic breasts.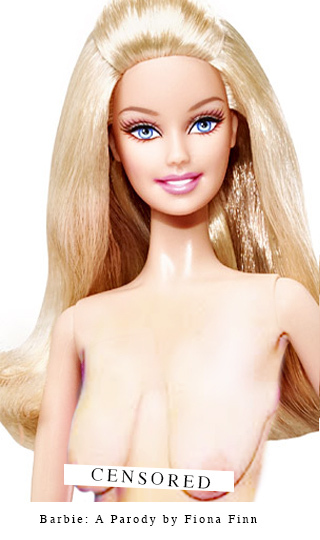 Do Barbie's boobs hang low?
Do they wobble to and fro?
Can you tie them in a knot?
Can you tie them in a bow?
Can you throw them o'er your shoulder
Like a bag that has a boulder?
Do Barbie's boobs hang low?

Now we can add Breast Lift Barbie to the long list of controversial parodies associated with this iconic doll. Yeah, yeah, yeah... I'm pretty sure that Barbie will continue to be spotlighted and parodied for years to come. How do I know this? Well, I happen to agree with Dr. Phil who said "the best indicator of future behavior is past behavior." So, looking back there's Welfare Barbie, 'S & M' Barbie, Gangster Barbie, Exotic Dancer Barbie, Transgender Barbie, and yes, even Divorce Barbie who comes with all Ken's stuff. And I'm just getting started. Sure, some of these spoofs are just plain wrong but some aren't just funny, they're downright hysterical, not to mention thought provoking.
I, Fiona Finn, as a parodist, just love the artistic freedom to be able to criticize in order to make social statements. If you think about it long enough you'll realize most parodies are really protests. And the fact that I'm allowed the right to protest and parody proves freedom and democracy are still at work in America today. It just so happens to be that Barbie is one of my favorite subject matters to parody. But don't get me wrong; when it comes to poking fun at Barbie, the icon, it truly comes from a place of love. Really, how could I not love her, I spent the first decade of my life playing with that beautiful doll and subconsciously, the next thirty plus years trying to look like her.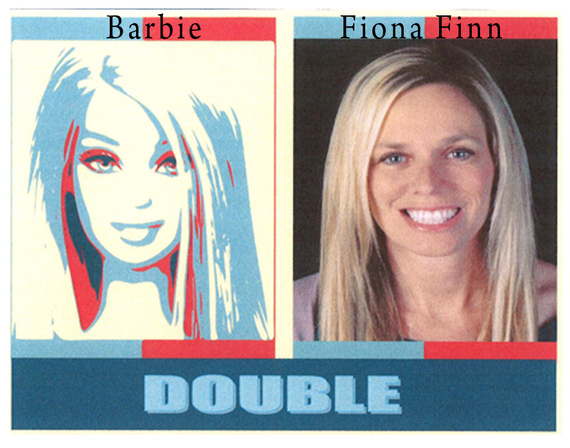 Like many girls, I wanted to look like a Barbie with her perfect body and yes, even her mountainous, hard-plastic breasts. But large breasts were not to be for me. I grew up flat chested, unable to increase my breast size no matter how many breast lifting and firming exercises I did. Yes, I even sang the boob workout song. You know that song, right? It goes like this... "I must, I must, I must increase my bust, the bigger the better, the tighter the sweater, the boys are depending on me!" But I was naturally thin, unable to gain enough weight to make my boobs larger. Thus, I had to resort to just faking it. As a tween, I stuffed my bra daily with toilet paper or socks but by adulthood I moved to wearing padded bras, even falsies.
Incidentally, can you believe I attracted a husband with what else? A breast fetish! Oh yes, he wanted my breasts bigger. Yet, not too little and or too big, you know somewhere just shy of stripper sized. So I decided, with his push, to enlarge my breasts to a full C cup. Sure, part of me wanted to make my husband happy, but I also wanted to look better in and out of my clothes. I'll admit it; playing Barbie influenced my life and choices. So, I decided to what Barbie had to do with my life in my recent memoir RAW: One Woman's Journey through Love, Loss, and Cancer.
Think about it, with over one billion women having grown up playing with Barbie why wouldn't her breast play a role in how those women think breast should look? I mean, Barbie was in fact the first doll ever in American history created with an adult body, i.e. she came with boobs! Lots of young people grow up never seeing what normal natural breast look like, and I'm no different. Other than my Barbie doll, I'd only witnessed nudity on the pages of a National Geographic magazine. Still, I can't forget seeing countless bra-less women with extremely saggy breasts and thinking how I'd prefer to grow up having Barbie breasts.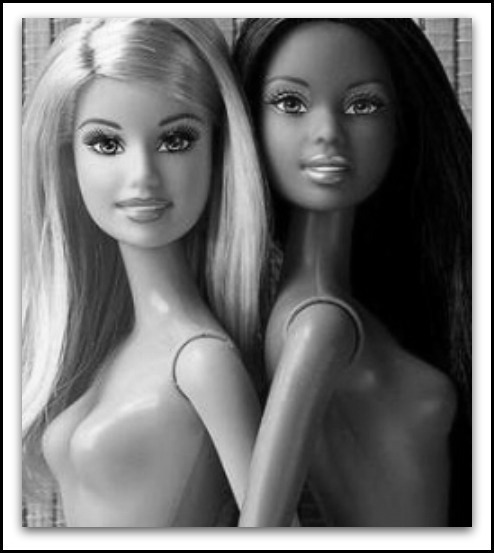 But as I grew older and somewhat wiser, I realized that although some men and women have aesthetic preferences there's no right or wrong when it comes to female's breasts. And since they come in all shapes and sizes it doesn't matter if your cup size an A- almost nothing, B- barely there, C- can't complain, D- darn big, E- enormous, F- fake, G- get a reduction, or H- help, I've fallen and I can't get up. Or whether you have perfectly shaped, swooping, sagging, drooping, small, large, none, even or uneven, natural, or surgically enhanced breasts. Really, it's your life and your body. It all comes down to feeling good about yourself! Remember, we must, we must, not focus on our bust, Barbie is not alone, with fake boobie syndrome. You're a prize, not a size! So girls, forget about your sweater, and love yourself--its better!
Here is the link to the fact that Barbie was in fact the first doll ever in American history created with an adult body.
Related