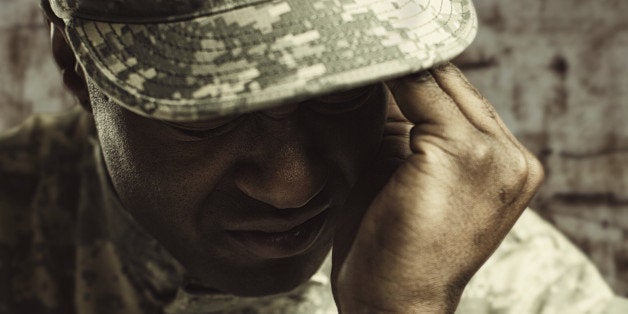 The issues our veterans face are very important to me. I'm a big supporter of Congressman Tim Ryan's work to improve the quality and variety of care that America's heroes receive and what Mindful Nation does with the military as well as in schools and hospitals, so I was excited to read the recent research from Emma Seppala, Ph.D., associate director of Stanford University's Center for Compassion and Altruism Research and Education, about how meditation and breathing exercises can help veterans recover from post-traumatic stress disorder. According to Seppala, this is the first randomized controlled study on a form of meditation or yoga for veterans with PTSD that has shown such long-term, lasting effects. I was touched by how much of her heart she put into her science when she said, "This study was the most moving research experience of my career. The veterans in the study told me things like, 'Thank you for giving me my life back.'"
Traditional medication and therapy are not always effective in treating or preventing the flashbacks, severe anxiety, and high suicide rates associated with PTSD. To see if meditation could provide help and answers, Seppala and her colleagues worked with 21 veterans from the wars in Afghanistan and Iraq, teaching them Sudarshan Kriya yoga, which other studies have shown can help treat anxiety, addiction, and depression. "It resulted in reduced PTSD symptoms, anxiety and respiration rate ... [and] showed the strongest effect on hyperarousal and the re-occurrence of traumatic memories and nightmares," Seppala said.
What's especially important is that it isn't just a short-term fix. As Clifton Parker wrote in the Stanford News:
When the scientists asked the veterans whether they had continued practicing at home, a few had but most had not. The data showed that whether or not they had practiced at home, it did not hinder meditation's long-term benefits.

One reason, Seppala suggested, is that Sudarshan Kriya yoga retrained the veterans' memories.

Before the breathing meditation training, participants reported re-experiencing traumatic memories frequently and intensely, Seppala said. Afterward, they reported that the traumatic memories no longer affected them as strongly or frequently.

While most veteran studies see large dropout rates, most of the veterans in Seppala's study stuck to the program.
As we celebrate Veterans Day, let's support more research and programs like these that help our veterans.